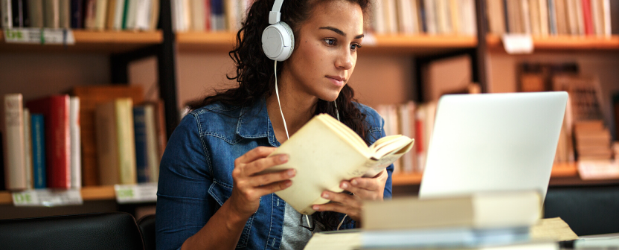 GCSEs are generally the first academic qualifications that we come across during our school life. This is because they are taken by 14 to 16-year-olds, but the misconception is that GCSEs can only be studied by these age groups. The truth is, these qualifications are available to anyone at any age, and they come in a range of subjects.
This isn't always the case, but in many instances, you require a certain number of GCSEs to apply for jobs. If you don't have these prerequisites, then you can obtain them later in life. English and Maths are generally the core subjects that learners need, and if you want to know how to take GCSE courses online, continue reading.
What is GCSE Course?
GCSE is defined as the General Certificate of Secondary Education (GCSE) and it is an academic qualification that covers a range of subjects, with English, Maths and Science being the fundamental ones. A GSCE is a standalone qualification but a group of them are generally listed as requirements to further study or certain job roles.
You don't have to worry if you didn't achieve these qualifications at school, as it is possible to take GCSE Maths courses for adults later in life. If there is a specific career that you are hoping to work towards, it is worth researching what prior qualifications you need to embark on your academic journey.
What GCSE Courses are there?
GCSE courses come in a wide range of subjects, from academic and technical to humanities and languages. If you are seeking a GCSE English course for adults, or a specialised qualification in psychology, you can undertake these GCSE courses online via Stonebridge Associated Colleges.
GCSE Mathematics
Arguably, Maths and English are the two main subjects in the UK's national curriculum. So much so that many jobs and higher-level courses need applicants to have GCSEs or equivalent in these subjects. The GCSE (9-1) Mathematics Foundation Tier (including exam) will provide you with a strong understanding of Maths, as well as problem-solving skills.
This is one of many GCSE courses online, and it follows the Pearson GCSE (9-1) Mathematics Foundation Tier specification. If you opt for this course, you will cover the following mathematical principles:
Number
Algebra
Geometry
Measures
Statistics
Probability
Throughout the online course, you will be given a range of quizzes that will help you track your progress and improve your knowledge. To pass this qualification, you will need to undertake an examination at an official exam centre. These exams take place in May/June each year, unless new rules are implemented by the government, and bookings open in January, unless stated otherwise.
GCSE English Language
Just like Maths, English is an essential part of the curriculum and having a GCSE in English Language is beneficial from a career standpoint, as well as intellectual development. If you did not obtain this qualification at school, you may want to consider a GCSE English course for adults. The GCSE (9-1) English Language (including exam) will help you develop a range of creative writing skills as well as an understanding of the mechanics of the English language.
This course adheres to Pearson GCSE (9-1) English Language specifications, so during your study, you will cover the following:
Vocabulary
Grammar
Punctuation
Spelling
Writing Structure
You will also learn how to evaluate and compare various types of texts, both fictional and non-fictional. This, along with specified teachings, will help you develop your own writing structures.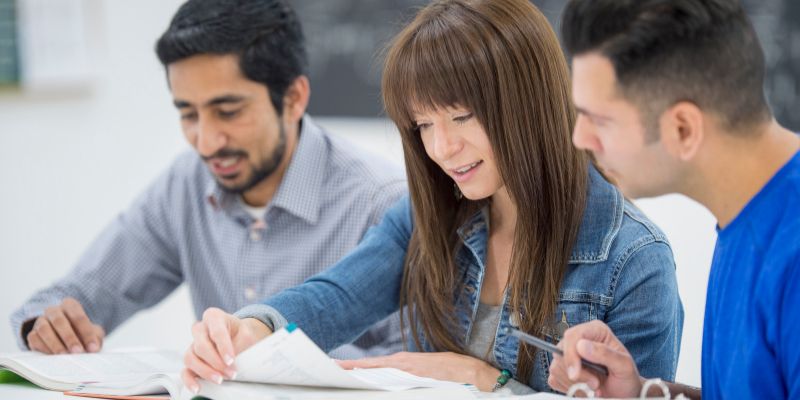 How Can You Study Online?
By opting for GSCE courses online with Stonebridge Associated Colleges, you will cover the approved syllabus through online materials. You will have the freedom to complete the course from the comfort of your own home, with no need to commit to classroom study. This way of learning is ideal for anyone who doesn't have the time to do in-person learning.
Perhaps you have young kids to look after and only get some free time in the evenings. If this is the case, you can still study GSCE Maths courses for adults. In fact, you can study a range of different GCSE subjects online with Stonebridge Associated Colleges.
How Maths and English GCSE Courses Can Help Your Career
As mentioned, you may need a certain number of GCSEs in order to progress into further study. In fact, by having GCSEs, you will be able to take A Levels, as well as courses like those provided by the RQF (Regulated Qualifications Framework).
It is important to note that there are equivalent qualifications to GCSEs. Functional Skills Level 2 give you the same level of qualification and can be used as entry requirements for college courses, further education, apprenticeships, and certain jobs. This realm of study includes Maths, English and ICT, but you can specify the subjects you want to study.
Sign Up Today
If you are interested in undertaking GCSE courses online because a job requires them, or you want to embark on further education, then enrol on your specified course today. Stonebridge Associated Colleges is one of the UK's leading distance learning providers, offering more than 650 courses and enrolling more than 50,000 students at any one time.
To speak to one of our Career Advisers to learn more about available GCSE online courses, give us a call on 0121 392 8288. Alternatively, you can visit our support centre or click below to get more details about our online GCSE courses.