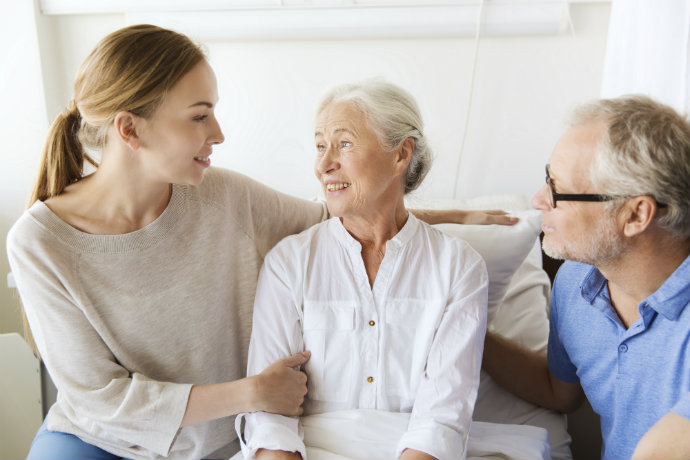 Imagine a world where you couldn't experience everything fully
Food is insipid at best; reading becomes more of an effort. Your family complain that they can't hear themselves think when you watch the television, and you can't really tell what your grandchildren are talking about when they come to see you, so it makes it hard to talk back to them.
Sensory loss for older adults is probably an inevitable effect of increased age, and to make matters worse, many conditions to which older people are prone can speed up the sensory losses. These may include diabetes, glaucoma, sinus problems, and more.
Sometimes sensory losses can have serious knock-on effects, and when you care for someone who has suffered one or more of these issues, it is good for you to be aware of them and of what you can do to help.
How sensory loss can impact a person
Sensory loss isn't always just as simple as not being able to see so well any more. It can have deeper effects on a person, and knowing the possibilities can help you care for them better.
Mental health issues
Figures have shown that people who lose the sight in just one eye are more likely to become depressed than those who lose sight in both. This is an insight into the way our minds can work against us. Living with uncertainty is a risk factor in some mental health issues, and not knowing if they are going to be cut off from the world one day soon, could affect some people quite badly.
Putting processes in place to reassure the person you care for, especially if they are beginning to lose some of their senses, is a positive step towards boosting their wellbeing. For example, you could encourage your client to always tell you if they don't understand something you say.
In addition, there are organisations dedicated to helping people with sensory loss, such as Deafblind UK. They provide services – including specialist carers – to assist people with the issues that may cause them the most worry.
These organisations can also provide information and advice to carers who work with people with sensory loss. Care organisations and private carers should always be prepared to work in tandem with other agencies to ensure that the people they care for get the best possible services that they need.
Safety issues
Taking care of themselves and remaining independent is often a very important thing to older people, especially if they want to remain in their own homes for as long as possible. As carers in a home care setting, we have a huge responsibility to help them stay safe. However, certain sensory losses, such as taste and smell can have an impact on an older person's safety.
Fire safety is a huge deal for anyone, but for older people whose mobility may be compromised, it is even more serious.
As a carer you can help the people you care for by ensuring that any fire safety equipment in their homes is fully working and compliant with health and safety laws.
However, it is also really important to remember that your own responsibilities around health and safety must be applied at all times.
"As a home carer, I remember being very tired and often stressed with my workload. One particular time, I was 6 miles down a motorway when I realised I couldn't remember turning off a lady's grill. I turned around at the next junction, took myself back, and found that I had in fact turned it off.

It made the rest of my lunchtime appointments late by 20 minutes, but it was so much more important to ensure that I had left the lady's home safe, particularly as she was unable to walk unassisted."
Overall health issues
Difficulties in identifying the taste of food can often result in habits that are not good for the overall health of a person.
"Twice I have handed over the salt cellar to someone in their 90s, only to whip their food out from under them to remove the white, snow-like layer of salt that they poured over the top!"
Sometimes salt, fat, and sugar are the only flavours that an older person can identify, and this can lead to long term health issues that are no less important just because someone has advanced years.
Helping them experience the type of food and flavours that they want, whilst assisting with their overall health can sometimes be a matter of negotiation, and it helps if you know a bit about how food flavours work together to improve the overall experience.
Communication issues
Hearing and sight problems are the biggest contenders when it comes to creating difficulties in communication with older people. For most, degeneration of sight or hearing can be gradual, and it is therefore very important that they have regular tests so that any needed changes to prescriptions for glasses or hearing aids can be spotted early on.
The types of communication problems that can stem from these losses can include miscommunications when we talk to the people we care for. We may not speak loudly or slowly enough, but often it is more important to speak clearly, and to face the person so that they can see your face properly.
It isn't just lip reading – not everyone who is deaf is able to lip read, especially if they have not had hearing loss for a long time. However, facial expressions and body language play a very strong role in overall communication, so allowing them to see your face is a big part of assisting their understanding in what you are saying.
All in all, as long as you stay as communicative as possible, and as aware as you can be when it comes to health and safety, you should be able to easily assist the clients you have who suffer a degeneration in their sensory experiences.
It just takes a little thought and empathy, as well as the application of health and safety training you have received through your work as a carer, and a healthy dose of common sense.
Do you know someone who has suffered sensory loss? What are your thoughts? Let us know below…