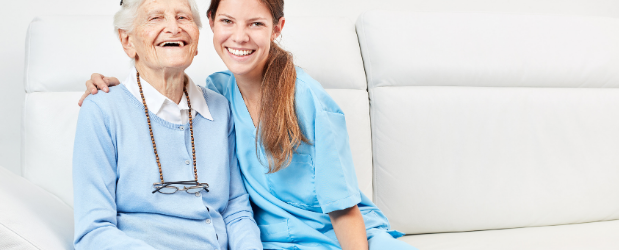 Social work is an involved and multifaceted profession that concerns itself with people's wellbeing.
It focuses on promoting social change, advancement, unity and the empowerment of both individuals and entire communities in society. To do this effectively, those in social work need to understand people better. And they do this by studying their behaviours and the external social, economic and cultural influences that affect them.
Social workers are the qualified professionals at the heart of this movement. And they're found in every facet of community life from care homes to hospitals and mental health clinics. They work closely with individuals and families to find ways to put them on a better path in life. Providing them with access to support networks and services that will help them get there.
To be a social worker, you'll need to study a relevant degree and become a member of a professional body. Depending on your progression goals and specialism, you may need postgraduate qualifications too. This takes a few years of study to achieve. But, once qualified, you'll be in a position to make positive changes to people's lives professionally every day.
What areas of Social Work are there?
Generally, once they've qualified, social workers in England will go into either children's or adult services. However, there are numerous areas and opportunities for specialisation allowing you to work with particular groups of people.
Through your studies, you will learn about the many issues that can impact people young, old and of varying ability. Often inspiring soon to be social workers towards an area they feel passionate about, in which they'll focus their efforts.
There are many options available, but some of these areas are:
Administration and Management: Working with organisations to ensure they stay true to their values and mission while empowering employees to participate in decision-making.
Advocacy and community organisation: Pressing the case of individuals and groups with influential others about situations which affect them. With the aim of minimising any negative impact by preventing proposed changes that would leave them worse off.
Ageing: Working with the elderly to provide clinical counselling and evaluations of mental health and overall well-being. Improving the physical, social and financial tasks they face and helping them to live as independently as possible. Or to transition to sheltered accommodation and residential homes.
Substance abuse: Helping people recover from substance use disorders through counselling and group therapy. While helping them to navigate community resources, secure housing and employment.
Child welfare: Protecting vulnerable children by helping families raise them in safe and loving environments, intervening where necessary to ensure their safety.
Developmental disabilities: Helping individuals and families of those with developmental disabilities understand their rights, protections and the help that's available to them.
International Social Work: Helping refugees integrate into new communities and become self-sufficient.
Criminal Justice Social Work: Advocating for people accused of crimes and the victims of crime, supporting those imprisoned and their family members.
Mental health and clinical Social Work: Assisting mental health patients as they navigate their illness. Guiding them towards medical interventions, resources to improve their quality of life and working with them on their individual needs.
Policy and planning: Identifying social problems, studying their needs and associated issues. Then conducting research, proposing legislation and suggesting alternative approaches or new programmes.
Each avenue generally has ample room for progression and increased responsibility. Depending on your specialism and level of experience, social workers can earn anywhere between £24,000 to £40,000 per year.
What does a Social Worker do?
In most cases, social workers have a set number of cases they'll be assigned to. This could be a combination of both families and individuals, who they'll work with to navigate their problems.
They will identify those who need help, assess the situation and their requirements, as well as any available support network. With this information, they work with clients to determine their goals and devise a plan that will improve their wellbeing.
They can help them adjust to many challenging situations they may be facing. From divorce to illness and unemployment. They'll research available community resources and refer clients onto them where necessary. Helping those that need benefits apply for them with government agencies.
They can respond to crisis situations like child and domestic abuse, as well as natural disasters. Completing and maintaining records and following up with clients to make sure their situations have improved.
Where do Social Workers work?
A lot of social workers work for local authority children's or adult social services. However, more opportunities are becoming available in settings like children's homes, prisons and primary care trusts.
Others work in the voluntary and private sectors. Perhaps in private practice either solo or alongside other social workers or mental health professionals. Freelance work is also an option in staffing agencies, which can lead to both short-term and permanent employment.
Most social workers will operate from an office, though there will be a lot of time spent out on the road visiting clients. Their working hours are generally around 37 hours per week. Unless they work in residential settings. Otherwise, they generally only have occasional weekend or evening work when working with child protection and adoption teams.
Can I work in Social Work without a degree?
While you need university qualifications to become a social worker, other opportunities in social care don't require a degree.
You can support people and positively impact their lives in other roles without such intense study. More commonly, employers for social care positions prioritise your values and attitude when determining if you're suited to care.
Some entry-level positions like a Social Work Assistant don't always require specific qualifications if you have some form of experience. Others you can pursue by studying shorter vocational qualifications, securing trainee or apprenticeships.
Courses in social care can equip you for a range of roles while evidencing your learning and enthusiasm to employers. As would more tailored courses in mental health, alcohol and substance abuse, dementia care and working with children. Taking the time to study a course relevant to your desired area can help you stand out from the competition. 
Once employed, there is usually lots of room for progression to supervisory, management and senior roles.
Getting Started
If you aim to study social work at university but don't have the relevant qualifications, we can help.
Our online Access to Higher Education Diploma (Social Work) stands in place of A Levels. And it can be completed in much less time. Since you log on and learn when it suits, you can work through the course as quickly as you like. Meaning you can be finished and on the way to university within a year.
Stonebridge Associated Colleges is a leading UK online course provider. Our online courses allow you to study from home, at your own pace. So, you can qualify quickly and take the next step towards your career.
Take a closer look at our social work online course by clicking the button below.