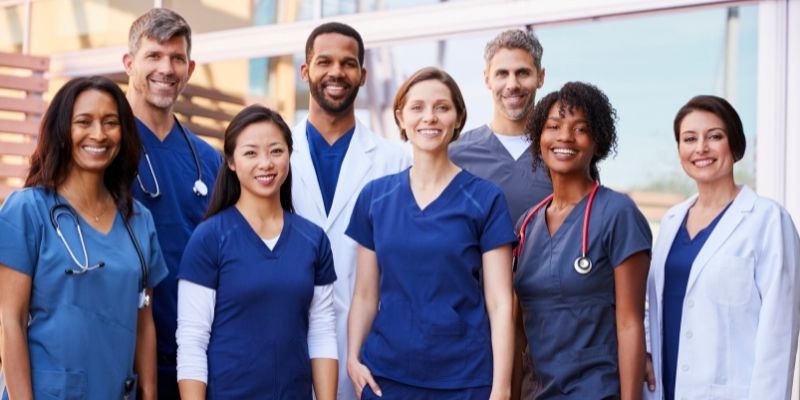 The healthcare sector among many things is vast, dynamic and continually evolving. As technology and modern medicines advance, healthcare professionals are better positioned to save and change the lives of the patients they work with.
For these reasons, having a career in healthcare can be incredibly rewarding. Depending on your role, you can have a direct hand in helping patients recover and maintain their health over time. Or, give them a new lease of life through cutting-edge cosmetic and restorative procedures.
No matter your interests, you can align yourself with almost any role to suit. From Mental Health Nurses to Surgeons and Palliative Care Assistants, each provides a specific service and are important in their own way.
Though, if you aren't sure which area you want to work in, choosing the career you want might not be so straightforward. Having so many options means you can find a role that suits you perfectly, but knowing which this is might not be immediately obvious.
This is why an access to healthcare course is so beneficial, as it helps you explore your options before making an informed decision. Find out more about how this course can help you below.
Explore Roles in Healthcare
An access to healthcare professionals course teaches you about the vast scope of healthcare services that are available today. So, rather than just focusing on one area, you'll discover many that give you the chance to find which one suits you best.
You'll explore fascinating modules like:
Health and wellbeing
Cell biology
The history of the National Health Service
Human reproduction, growth and development
The roles and responsibilities of health care professionals
Human nutrition and the digestive system
The human endocrine and nervous system
Understanding dementia
Classification and use of social drugs and medicine
Mental health and illness
Human disease and prevention
The course is helpful for anyone who wants to become a healthcare professional but needs time to make their decision on the capacity they want to work in. Learning such an extensive range of modules will prepare you for what is involved in different healthcare roles, giving you a clearer idea of where you see yourself in the future.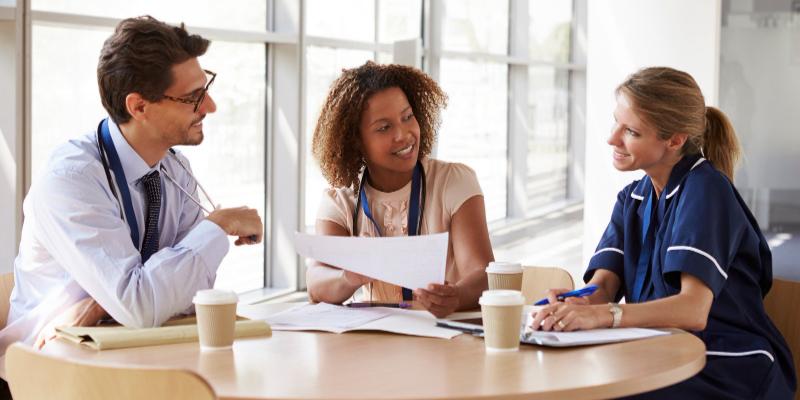 Inclusive healthcare vocational courses like these also equip you with the foundational knowledge to move onto higher level learning. So, you can be assured an Access to HE Diploma (Healthcare Professionals) will help you move onto your ideal healthcare degree.
Degrees you could study are:
Midwifery
Nursing (Adult, Child, Mental Health, Special Educational Needs Learning Disability)
Forensic Psychology
Clinical Psychology
Dental Nursing
Radiography
Pharmacy
Medicine
Physiotherapy
Dental Surgery
Occupational Therapy
Paramedic Practice
This list is by no means exhaustive, there are many other degrees you could pursue with your access to healthcare professions course. However, it is worth noting that each university sets its own entry requirements, and some universities don't accept access courses. So, it's wise to check with your chosen university before enrolling.
Study Healthcare at University Without A Levels
Among many of its draws, one of the most attractive aspects of the access to healthcare course is that it removes the need for A Levels.
As a Level 3 qualification, taking one access course can get you the same as three individual A Levels. Not only saving you from the hassle of studying three separate courses but reducing the time it takes you to qualify.
This is a huge benefit to any learner, though it can be especially helpful for those going into a healthcare career. This is because the length of some healthcare degrees is longer than average courses. Plus, you might need to get postgraduate qualifications for certain roles.
Therefore, by cutting the time it takes to complete Level 3, you're shaving off valuable time in the overall process.
Learn When it Suits You
Previously, the way you could gain an education was incredibly limited. If you couldn't commit to full-time study in a classroom, there weren't many other options available to you.
This alienated many would-be healthcare professionals from pursuing the career they wanted because they simply couldn't study alongside their other commitments.
Now, you have the option of studying your degree part-time and completing the courses before this stage online when it suits you. This makes becoming a qualified healthcare practitioner much more accessible.
What's more, as the access to healthcare course is entirely online, you can move through the materials at your pace. So, even though you have a full year to complete the course, you can finish in much less time if you need to.
On average, Stonebridge Associated College's students gain their access qualification within 9-12 months, though it is possible to do in as little as 6!
Get Started Today!
If you ever saw yourself as a healthcare professional but couldn't feasibly complete the qualifications required, now you can. Our online access courses help learners of all ages make the switch into their ideal careers.
As a leading UK distance learning provider, Stonebridge Associated Colleges work with industry experts to deliver courses that equip our learners with essential skills. So, you know that the education you receive will help you take the next step to become a healthcare professional.
Once qualified, we also provide a range of healthcare short courses to help you maintain your registration and advance your skills.
Find out more about how you can start and develop a healthcare career through the use of our online courses. Talk with our Course Executives on 0121 392 8288, contact them online or click to view our Access to Higher Education Diploma (Health Professionals) below.