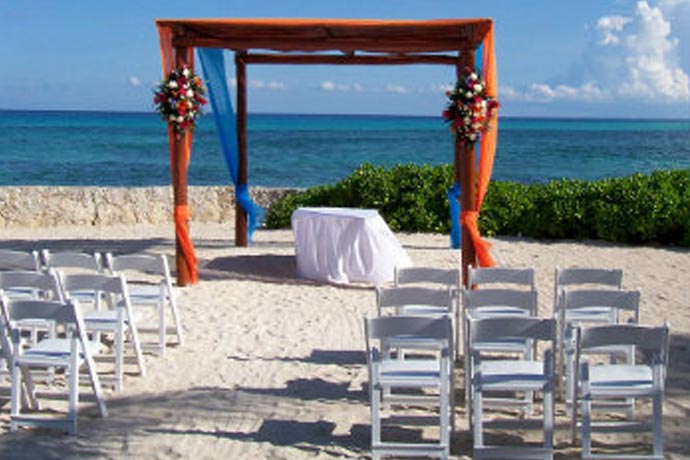 Why take a course in wedding planning?
Undertaking the wedding planning and event management course can provide a gateway to a whole array of exciting opportunities which can really make a difference to the lives of lots of engaged couples everywhere, especially those planning on getting wed abroad.
With the wedding industry becoming increasingly fast-growing, there's scope for lots of involvement in the industry and opportunities to become employed full/part-time or even self-employed.
Finding an Appropriate Type of Wedding Ceremony
An important aspect within the early stages of wedding planning is deciding what type of ceremony is best suited to you and your partner.
Traditional – typically a religious ceremony and often takes place in a church or any other place of worship
Non-religious – a ceremony with no references to faith or religion, usually with simpler vows and usually held in a registry office
At home – garden weddings and marrying in the back garden are very popular in countries like the USA and Australia

Ever thought of an Overseas Wedding?
What better way to create cherished memories on your big day then to have a wedding abroad whilst immersing yourself in another culture. With unique, picturesque backdrops, it can also double as a complimentary holiday for you and your guests.
Five Reasons to get married abroad:
 1. You want a tropical beach wedding – what better way to mark the beginning of the rest of your lives together then with an exotic location where there is the great possibility of combining your wedding and honeymoon into one and even looking forward to guaranteed sunshine.
2. Your money goes further – getting married overseas can be a lot easy and inexpensive as you think and can easily be done on a shoestring. All of the important things are already included in your main package as such as the venue, catering services and decorations. Most overseas venues have their own in-house wedding co-ordinator who will undoubtedly support you in every aspect of the planning process. Even better, if friends and relatives pay for the wedding and honeymoon – a free wedding!
3. You want to go against the norm – Forget the same old wedding food, all the other "rules" of traditional weddings, and most of all, the unpredictable British weather. Make your experience all the more interesting by exchanging your vows in a way which will provide a whole lifetime of memories.
4. You want to create an intimate environment – getting married abroad means you can be a lot more selective about who gets invited and creates more intimacy rather than awkwardly bumping into people who you rarely see or speak to and whose names you can't even remember.
5. You want some escapism – many couples like to get away from everyday life and constantly crave a change of scenery.
Whether it's an overseas wedding that you're looking for or whatever type of ceremony is right for you, then you'll be in the best hands with a wedding planner and events manager.
A supportive
wedding and events manager
can really help you personalise your wedding down to the very last detail to make sure your day is one to remember.