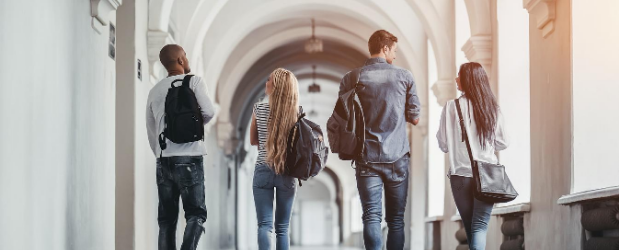 Universities ask for a combination of different qualifications as part of their application process. This is because undergraduate level study requires a high standard of academic capabilities to complete.
GCSEs are a steppingstone qualification towards higher education. Normally completed by students between the ages of 14–16-years old during their school years.
GCSEs are the first time your grades hold some weight when considering your future. Studying a range of topics help you decide what interests you. As well as teaching you the fundamentals of that subject to build on with further studies.
Although GCSEs are not assigned UCAS points you'll be hard-pressed to find an undergraduate course that doesn't ask for them. Most universities will ask for a minimum of 5 GCSEs to support an application.
However, that's aimed at school-leavers so those of us with life experience may have some wiggle room on these terms. That being said the benefits of taking a GCSE stretches far beyond university entry points.
Read on to learn how taking a GCSE can help you get into university and more.
Literacy & Numeracy Skills
Most universities will ask for GCSEs in maths and English grade C/4 or above as part of their entry requirements. Qualifications in these two subjects show you have the basic literacy and numeracy skills required to study at a high standard.
Although some universities will accept Functional Skills level 2 this will be on a case by case basis. It's best to check with the admissions department of your desired institute before enrolling on one of these courses.
If they don't accept Functional Skills level 2 then it would be in your best interest to study GCSE English and maths before applying. Otherwise, you won't get very far in the application process.
English and maths qualifications are core subjects and you'll utilise the skills learnt throughout your life. Even without considering university, GCSE maths and English are sound investments for your future personal and professional development.
Life Experience
Now more than ever universities are seeing the value in hands-on life experience. This is because they're aware of how experience can benefit not only your studies but others in the class too.
Your previous professional experience and skills could waiver the number of GCSEs needed depending on how lenient the universities are.
It should be noted however that you'll more than likely have to complete a foundation year before studying the full degree. However, it forgoes the need for completing various GCSEs to get onto an undergraduate degree.
Although some requirements might be absolute such as a GCSE in maths. This might be because of a heavy mathematical component on the course. If they won't budge, there isn't much you can do apart from getting qualified.
And it's never too late to start learning and accumulate those qualifications.
Although life experience can help support your application you'll still have a better chance if you secure your GCSEs. GCSEs prepare you academically for the next stage in your learning and beyond.
Academic Advantage of GCSEs
Some GCSEs might not be essential requirements for the university course you're aiming for but can still benefit you academically.
By studying a GCSE subject you're giving yourself a solid foundation to build upon through further studies such as A Levels or an Access to HE Diploma. You'll need either one of these qualifications to support your application onto a degree course.
GCSEs aren't required for online A Level study like they are in college. However, it can make your learning easier if you already understand the core principles.
By working through various stages of education you'll be putting yourself at the best possible starting point for undergraduate study.
You'll also develop time management, problem-solving and analytical skills in preparation for your degree. Without these skills it can be a struggle to keep pace in a classroom setting.
It's also a great way to test the waters and see if the subject matter is right for you before committing to a three-year course.
Studying for your GCSEs at home
Studying a GCSE as an adult has never been easier. Online learning providers offer the same regulated GCSE qualifications as their bricks and mortar counterparts.
So, you're able to work through your studies at whatever pace suits you best. You won't have the pressure of trying to manage classes on top of an already packed schedule.
You're able to learn at the right time for you. That could mean after the school run or during your lunch breaks, simply log in and start learning whenever is ideal.
The only date you'll have to keep in mind is your exam date. GCSE exams are usually in May/June so make sure you're prepared.
Moreover, the courses are designed with an adult audience in mind and not just the material from school.
Content isn't copied from a textbook for 14–16-year olds and uploaded online. Thought and planning go into creating a more relatable course for an older student.
This should make you more engaged with your studying which in turn helps you retain the knowledge far better.
Although distance education means an independent learning style, you'll still receive support throughout your studies.
An expert tutor guides you through your learning experience providing constructive feedback and assistance when needed. Through regular check-ins with your tutor you'll be able to tailor your studies to the areas that need it most.
Distance education is an opportunity for the learner to be in control of their learning and enjoy their experience.
Getting Started With GCSEs
Whatever undergraduate degree you're aiming for GCSEs could provide the relevant knowledge and skills required to secure your place.
Stonebridge Associated College is one of the UK's leading online learning providers. We offer a range of GCSEs and A levels that are sure to aid you in your personal and professional development.
With a supportive tutor to guide you throughout your studies and flexible payment options to help you spread the cost.
For more information on how to prepare for your distance learning course read our top tips on our blog here.
If you're ready to get back into education contact a member of our sales team or enrol online now.