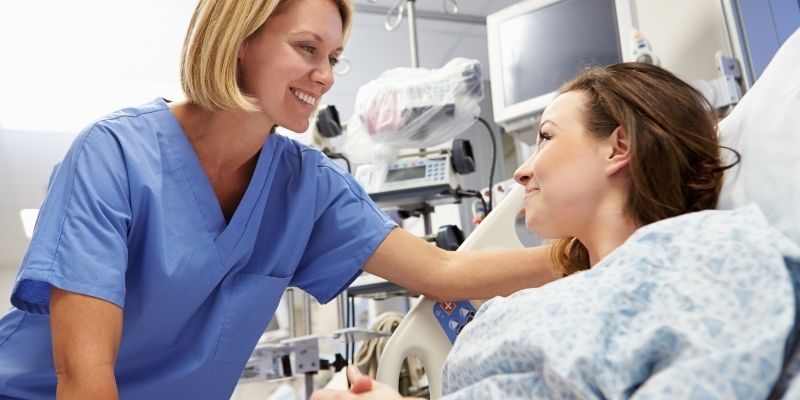 Are you hoping to take a step up in your nursing career and become a nurse practitioner? Are you starting from scratch and want to know the path you need to take to reach this high level of nursing? If so, there are various avenues you can take to achieve your career goal.
Nurses are part of the cornerstone of the healthcare sector as they provide essential care to patients as well as emotional support to their families. There are different types of nursing that you can work in, but if you want to reach the top of the career ladder in nursing, then a nurse practitioner is the role to pursue.
Below, we have explained the roles of a nurse practitioner, and the online nursing courses you can take ahead of degree-level study. With all this information at your fingertips, you will be able to work towards a rewarding and exciting career.
What are the Roles and Responsibilities of a Nurse Practitioner?
As mentioned, there are various types of nursing, with a nurse practitioner having more experience and a higher level of nursing education than others in the industry. If you want to work towards this coveted position, then before you enrol on any nurse practitioner courses, you should make yourself aware of the roles and responsibilities of the profession.
Essentially, a nurse practitioner is responsible for providing primary care, as well as specialised care to patients. Being in this position will give you a blend of caregiving responsibilities and tasks that tend to be carried out by physicians.
Generally, as a nurse practitioner, you will be responsible for doing the following:
Providing primary care 
Providing acute care 
Performing check-ups 
Diagnosing health conditions 
Requesting laboratory tests 
Prescribing medication 
Referring patients to specialists 
Doing research 
Maintaining records of patients' medical history 
Is it Worth it Being a Nurse Practitioner?
There are many reasons why becoming a nurse practitioner is beneficial, and we have outlined a few of them below:
Always in Demand
All of us seek job security, but that is not always guaranteed in every position. For a nurse practitioner, though, they are always going to be in demand. Throughout your professional career, you will have various opportunities to expand your skillset and further your career.  
Well Paid
Working as a nurse practitioner is not only personally rewarding but financially, too. The average salary of a nurse practitioner in the UK is upwards of £50,000 per annum. However, salary is dependent on the type of sector that you are working in.
Specialise in Your Passion
Once you have studied all the relevant nurse practitioner courses, you will be able to progress into a specialised area that you feel passionate about. By doing this, you may be able to contribute to certain projects and research.
No Two Days are the Same
You will experience plenty of variation when working as a nurse practitioner, and you will be facing daily challenges. Every day is a learning experience, and you will be able to apply new techniques to your work, using the best approach to care for your patients. 
What is the Fastest Way to Become a Nurse Practitioner?
A nursing degree is a necessity if you want to become a nurse, but you need qualifications to get there. If you are starting from scratch, then it is important that you meet the entry requirements of your chosen university. If not, you will be unable to study a nursing degree.
Generally, students need 3 A Levels in certain subjects to be accepted on degree level nursing courses. UK-based learners that don't have A Levels may want to consider studying for an Access to Higher Education Diploma (Nursing). Not only could it lead to university acceptance, but it is also one of the fastest ways to kickstart your career as a nurse practitioner.
Stonebridge Associated Colleges provides accredited online nursing courses that will put you on the right path towards becoming a nurse practitioner. If you're looking for the fastest way to get your career off the ground, then study for an Access to HE Diploma. This is because you can achieve the qualification in less than one year.
An Access to Higher Education Diploma is the equivalent to 3 A Levels, and you have two years to complete it but on average, learners achieve their Diploma in 9-12 months. Usually, it takes two years to finish A Levels, so by opting for an Access course, you can speed up the process. With these online nursing courses, you have the freedom to study at your own pace and in your own time.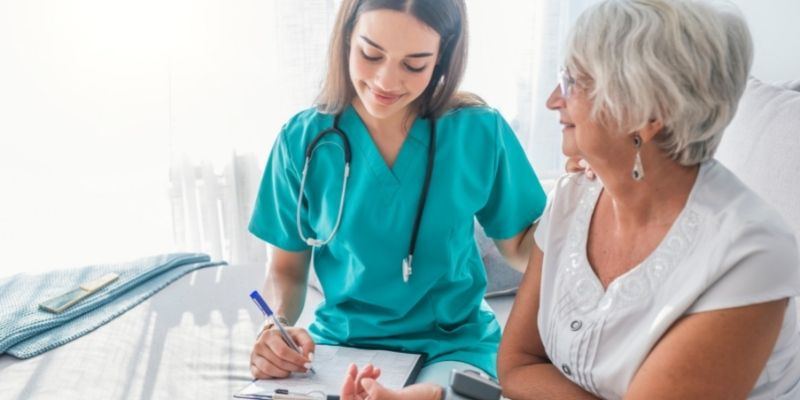 Please note the following requirements needed to take our Access to HE Diploma (Nursing) course:
GCSEs (or Functional Skills Level 2) in both English and Maths at grade C/4 or above
You must be aspiring to study a nursing degree at university
Our accredited online nursing courses are designed to prepare you for life in the industry. An Access to HE Diploma will give you a solid foundation of nursing practices, as well as techniques that will prepare you for degree-level study.
There are 19 units in total, and you will begin with the following:
Academic Writing Skills 
Preparing a Written Assignment 
Health and Wellbeing 
Cell Biology 
The History of the National Health Service 
Human Nutrition and The Digestive System 
The Roles and Responsibilities of the Registered Nurse 
The next stage of your study will consist of covering the below units:
Introduction to Psychology 
The Human Endocrine and Nervous System 
Social Factors in Health and Social Care 
Understanding Dementia 
The Human Muscular and Skeletal System 
Classification and Use of Social Drugs and Medicines 
The final part of your course will cover the following topics:
Mental Health and Illness 
Human Immunity 
Understanding Poverty 
Health Promotion 
Human Disease and Prevention 
Equality and Diversity within Healthcare 
To achieve your diploma, you will need to obtain 60 credits by passing a series of assignments as opposed to taking exams. Forty-five of your credits will come from graded units, while the remaining 15 will come from ungraded units that focus on study skills.
Please note that every university sets its own entry requirements, and while most universities accept Access to HE Diplomas, you should check before applying.
There is no doubt that the Access to Higher Education Diploma (Nursing) is a quick way to get to university and embark on your career path towards becoming a nurse practitioner. However, if you want to go down the A Level route, you can do so by studying them online with Stonebridge Associated Colleges.
How Many Years Does it Take to Become a Nurse Practitioner?
Generally, it takes around 6 to 8 years of studying and training to become a nurse practitioner. We have already covered the steps you need to take to study a nursing degree at university, but what happens when you get there? Below, we have outlined the journey nurse practitioners generally take to achieve their desired role.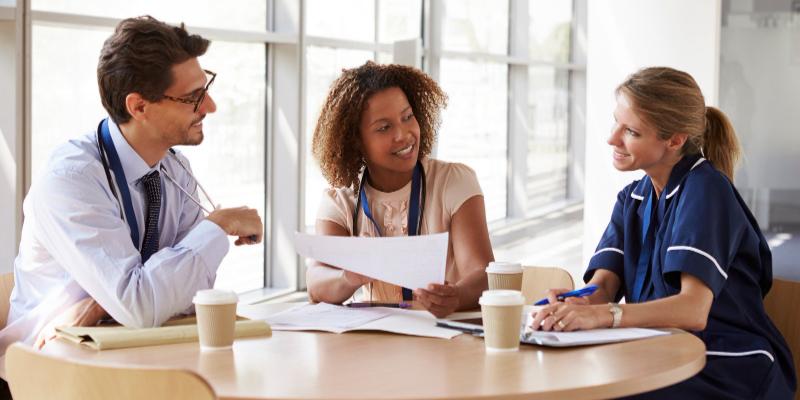 Achieve a Bachelor's Degree
Once you have obtained A Levels or an Access to Higher Education Diploma (Nursing), you can go on to study an undergraduate degree in nursing or a related subject. It will take at least three years to complete degree-level nursing courses, UK learners.
Get Registered
Once you have an accredited bachelor's degree, you will be eligible to register with the Nursing and Midwifery Council (NMC). Being registered will allow you apply for high level roles.
Get Experience
Being a registered nurse will open up a realm of opportunities for you, and if you want to work towards becoming a nurse practitioner, you will need to gain clinical experience. This will provide you with skills and techniques needed to work as a nurse practitioner as you will be learning from experienced nurses. 
Study for a Master's Degree
To become a nurse practitioner, you will need to study a Master's degree in nursing, a process that could take one to two years to complete.
Licence and Certification
To become licensed, you will need to complete the following steps:
Achieve a Master of Science in Nursing degree 
Complete a two-year post-registration clinical experience period 
Pass a national certification exam 
You may also require an International English Certificate to show that you can speak the language 
Once all of the above steps have been completed, you can apply for nurse practitioner jobs.
Begin Your Journey Today!
If you are looking for online nursing courses that can lead you towards a career as a nurse practitioner, then Stonebridge Associated Colleges can help. As one of the UK's leading distance learning providers, we offer a range of nationally recognised qualifications that help learners achieve their career goals.
If you want to kick-start your academic journey, or you want more information about nursing courses, UK learners should speak to one of our Course Executives on 0121 392 8288. Alternatively, you can contact us online or click below to find out more.