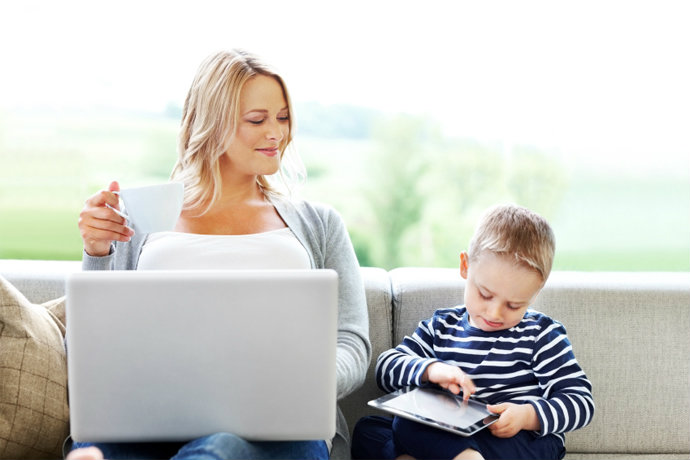 Have you thought about starting a business at home?
A recent article in the Daily Mail caught our attention about stay-at-home mums making an income by retraining and then carving out new careers in the digital world of social media marketing.
The article talks about the problem that mums face in raising young children and still managing an exciting career. You may ask yourself, what's the best way to return to work without being billed for expensive childcare costs – perhaps running a part-time or home based business is the answer?
"Despite government plans to encourage more women back to work – Chancellor George Osborne has said that he wants to get 500,000 mothers back into employment by 2016 – childcare costs and stagnant wages ensure that a work/life balance is still unattainable for many families."
Jo Tweedy, Rise of the Digital Mum 
Why businesses need social media marketing
Social media has gained huge momentum over the past few years. A large majority of us use Facebook to keep in touch with friends, use Twitter for celebrity gossip; or share great stuff on Pinterest and Google Plus.
People love to share and show off. If a company caters to a person's greatest needs or wants, then they'll likely tell the whole world about it. Word-of-mouth marketing can do wonders for a product or service. It can also stir up some negativity, so it has to be managed and responded to as soon as possible.
Managing all these social media channels is not an easy task, though, so a well-thought plan is needed. This is why many businesses prefer to employ social media specialists to handle their digital online presence. Specialists can work from home; with their experience and expertise, they know what works and what doesn't.
The explosion of blogging
Blogging or vlogging (video blogging) is another great work from home idea that has exploded over the last decade.
People from all walks of life can benefit from it, but it could be especially suited to stay-at-home mums.
Money can be earned via blogging by placing ads, earning affiliate commissions (selling other peoples' products), selling your own products online or reviewing products and taking commissions on orders.
There's many popular blogs which provide their audience with great information and earn the blogger or vlogger a great living.
Other careers that can be carried out from home 
Starting a home-based business can become a reality – you just need to take the plunge. You could start up a home business based on your favourite hobby or on a skill that comes natural to you. Perhaps if you're talented when it comes to sewing and you create garments for your children – learn how to set up a webpage, and then sell what you sew.
Here's a selection of our distance learning courses that can be studied from home and then operated from home:
Dress Making and Fashion Design Course
5 tips that make for a successful mumtrepreneur at home
1. Do What You Love
Actually doing what you love sometimes means that you ignore other peoples' expectations. No one else should tell you what kind of work you should love.
2. Treat Your Home Based Business Like A Business
Don't treat it like a hobby or a temporary fad. Put an entire room aside in your home, invest in equipment, make a business plan and reach out to potential customers.
3. Become An Expert In What You Do
Keep learning and overtime you'll become increasingly more experienced in your chosen field. Practise makes perfect and with client testimonials, new customers will seek you out.
4. Put Yourself Out There
Try out every possible method for selling your products and services to get your business up and running. You'll be able to rely more on referrals from your happy clients after you have a solid customer base.
5. Charge What You Think You're worth
You may put yourself out of business if you're too cheap and don't get paid what you're worth. It's also important to avoid unnecessary expenses. Remember to stay on top of money owed to you.
No one can guarantee that your home-based business will be a success, but if you work smart, price your products and services correctly, and keep your customers happy, then you'll stand a good chance.
It's wise to continually invest in your own knowledge and training. Reading relevant books, attending seminars and enrolling on courses can develop the skills to ensure your success.
We wish you luck. Remember, we have hundreds of courses that can help you make a change and start a business that you love. Take a look at this link: https://www.stonebridge.uk.com/a-z