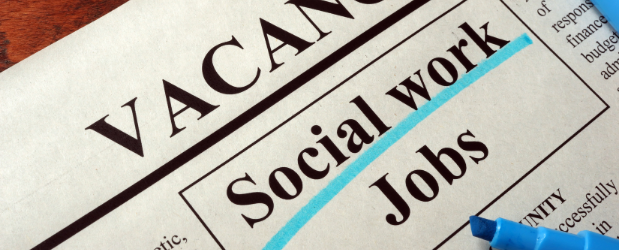 The main aim of a social worker is to improve people's lives in a highly focused way. This is achieved by supporting individuals with identified needs, whether it's related to mental health, ill health, poverty or disability. As such, many people find a career in social work fulfilling.
Social work efforts extend across a broad spectrum, supporting adults, children, families, older people, mental and physical health or disabilities. But professional social workers will typically specialise in just one of these areas.
Though an undeniably challenging career, it positions you to extend a helping hand to those at-risk and vulnerable. Helping them out of emergency and crisis situations and removing them from harm.
What's more, supporting, advocating and empowering others helps you to develop too. Providing you with many opportunities to find your niche and enhance your skills. Which not only leads to career advancement but self-improvement.
Find out more about what is involved in the role, the many areas you can work and how to get qualified below.
Working as a Social Worker
People enter the social work profession at all stages of life. Different skills and life experiences can lead them one way or another into the role. Though, generally, they are driven by a desire to help.
Supporting Others
Social work is a profession that focuses on supporting people. The main aim of a social worker is to enhance the service users social functioning, overall well-being and self-determination.
People of any age, from any background can receive assistance from social workers if they have an identified need. You will support them as they over come their challenges, ensure they meet their identified goals and are safeguarded from harm.
As a social worker, you need to be driven by wanting to make a tangible difference in the lives of others. Since social work assists people dealing with issues like child abuse, poverty, disability and mental health, it provides an ideal opportunity.
You can help at risk individuals manage a range of social factors and support those in need of additional support after a period of ill health.
Through your work you will support individuals to reach their goals and live independently. Your actions and those of the wider multidisciplinary team can have a direct impact on their wellbeing and that of their family and friends.
Unfortunately there are times when the cases your working on become matters for the police. Notably in instances of neglect or abuse. You may be called upon to give evidence or use your knowledge to make recommendations to the court regarding the best interests of your client.
Explore your interests
A highly appealing aspect of social work is the diverse nature of the profession. You may spend some of your time at a desk. But a lot of it will be spent out in the community, supporting people in various settings.
You'll either work in a statutory or non-statutory role. Statutory positions require you to act in accordance with and enforce the legislation that protects your vulnerable clients. Non-statutory roles don't require you to enforce the law. As a non-statutory social worker, you'll be employed within the charity sector or in specialist roles where you support particular needs.
Either way, each day will present new challenges which gives you the chance to discover your interests and skills.
You'll choose to support individuals, families and communities in one of three main areas:
Child, family and school
Medical and public health
Mental health and substance abuse
Through working in these areas, you'll gain experience with many groups of people like:
Young offenders
School non-attenders
People with learning and physical disabilities
Individuals with mental health conditions
People suffering from addiction
The elderly
The homeless
The support you provide can range from helping individuals find accommodation to accessing support services or giving evidence in court. You'll also work alongside a diverse range of professionals like government officials, health and education professionals, legal services and psychiatrists.
Social work exposes you to many situations and challenges that allow you to utilise your strengths and explore interesting avenues. Enabling you to mould your role to suit as you discover the areas where you're most effective.
Develop your skills
There is ample room for progression and development within social work with many specialist areas available to explore, alongside supervision and managerial positions.
After completing your induction and training, you have the freedom to pursue roles in different aspects of the profession. Where you'd provide support to certain groups of people or cater to a particular set of needs. Some specialist roles include:
Day-care social worker
Education welfare officer
Healthcare social worker
Homelessness officer
Mental health social worker
After which, you could progress into more senior roles within your specialism or branch from one specialism into another.
You could also move up and become a manager, senior practitioner or team leader. Or with further education, become an educator, therapist or researcher in the field. The scope of career opportunities within social work is vast and caters to different interests and skills.
How can I get qualified?
There are numerous courses you can take to start gaining skills that will benefit you in a fulfilling social work career.
From courses on social care with children and families to those helping you understand domestic abuse and the restorative process.
But to secure a paid position as a social worker, you'll need a degree in social work. This needs to be approved by Social Work England and most undergraduate programmes run over 3 or 4 years.
There is also the option to gain your academic learning and hands-on practitioner experience by enrolling in an intensive training programme. Step Up to Social Work is a great option that awards a postgraduate diploma in social work upon completion.
To go down these routes you'll need to meet the entry requirements to apply to university. Aside from A Levels, you can do this through an Access to Higher Education Diploma.
Getting Started
Access to HE Diplomas are profession focussed. So you can get familiar with the area before studying it in detail at university.
An Access to HE Diploma (Social Work) teaches you all about social work theory and practice, psychology and sociology. You'll understand crime and deviance, prejudice, discrimination, poverty and other important topics that will help you in your career.
Upon successful completion, you'll have a level 3 qualification that allows you to study social work degrees at accepting universities.
What's more, this course is completed entirely online. Enabling you to study to meet university entry requirements, without affecting your current work or family care commitments.
With flexible payment methods available, you can take the next step towards a fulfilling career in social work today.
Find out more about the benefits of studying social work online with Stonebridge Associated Colleges by clicking below.