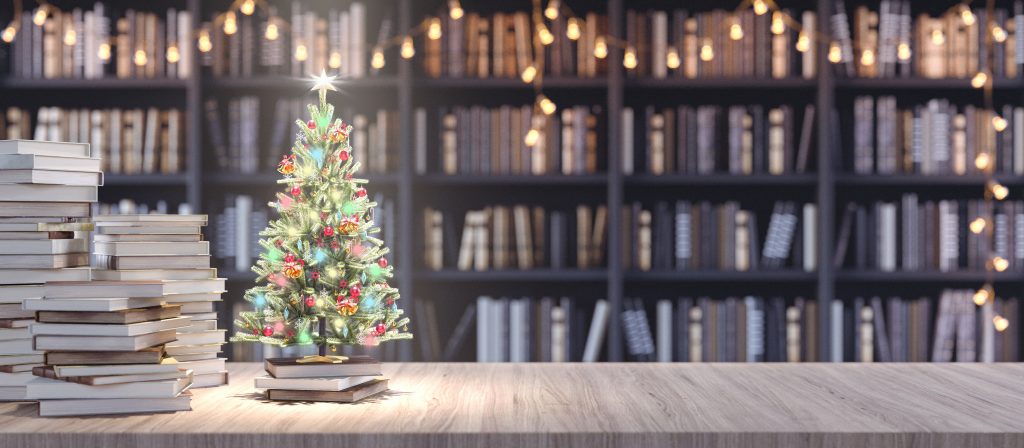 With Christmas just on the horizon, you're probably spending your time running around the shops trying to get everyone's presents ready, right? Or maybe you're seeing friends and family before the end of the year?
In between all the pre-Christmas meet-ups, shopping trips, festive markets and events, we bet you have barely had a chance to draw breath, let alone think about studying. Let's face it, the prospect of a successful study session during this time of year seems pretty bleak.
But what if we told you that it is possible to fit your studies around Christmas, without sacrificing or missing out on all the festivities? All it takes is finding the right approach and studying at Christmas time will be a breeze!
1) Have a reward system
Christmas treats are everywhere. Festive coffees, gingerbread, chocolates and other goodies are in abundance this time of year. And you can use them to your advantage by creating a personal reward system. We all work best when we have an incentive to. Just think about the carrot and stick analogy: the treat of a carrot will always bring better results than the threat of the stick!
A reward system sounds difficult but it couldn't be easier (or tastier)! For example, create a rule that for every study unit you complete, you treat yourself to a pumpkin-spiced latte or a slice of chocolate yule log. Or, if you're looking for a non-food-orientated reward, opt for watching your favourite Christmas film or enjoying some pamper time after completing a module. That way, not only will you feel that your hard work gets rewarded, but you'll also not miss out on the season's goodies.
Jot your rule on a sticky note and place it on your laptop or desk to help spur your learning on over the Christmas period.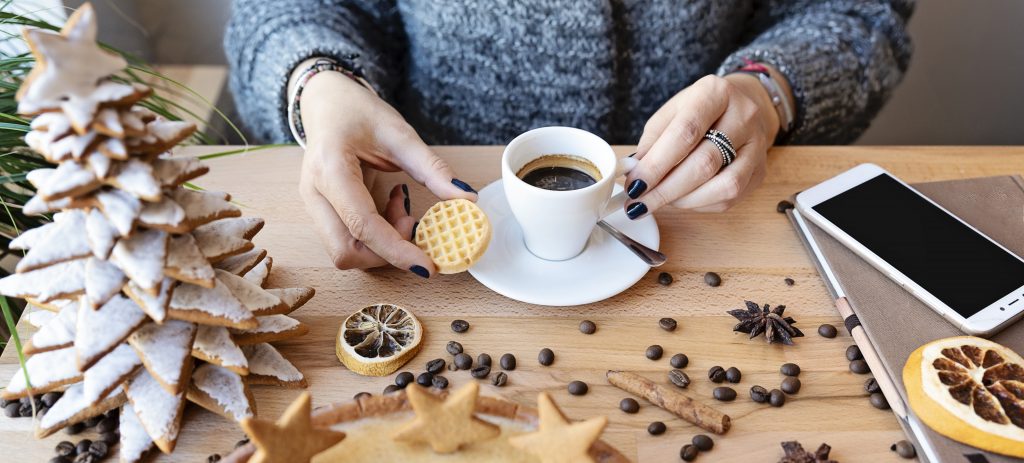 2) Get family involved
Christmas is all about family, friends and having the ones you love around you. So why not use that tradition to help you study? Ask a family member or close friend to test you on your subject. You can get them to quiz you with a set of prepared questions or hold up cue cards, which will keep your mind ticking over your course material without you sacrificing your pre-Christmas catch-ups.
This also keeps studying interesting and varied and will help you identify areas that you need to focus on and develop in the future.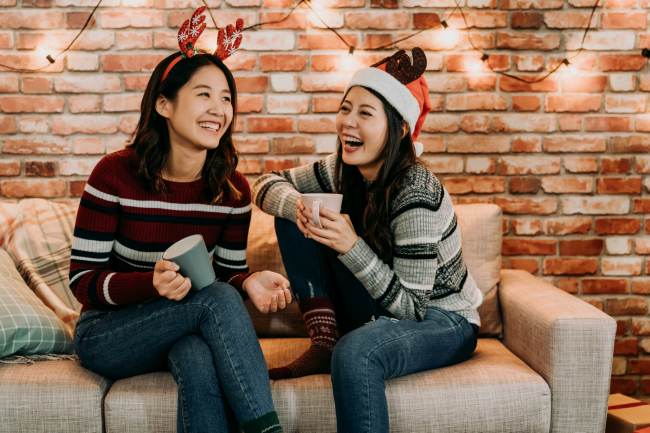 Don't forget about your distant relatives too! Christmas is prime time for the relatives that you haven't seen for 10 years to come out of the woodwork and descend on you. After the awkward hellos, you will invariably get asked what you have been up to. This is your chance to share what you have been learning and keep your studies fresh in your mind, even when you're not reading up on your subject.
Talking about your course will consolidate what you have learnt as it'll prompt your brain to subconsciously process the information, thereby making it much easier to retain. Plus, studies have shown that teachers are the best learners, as the recounting of a lesson forces the brain to retrieve the information it's stored. So, don't hold back on telling your great aunt facts about foot health or animal care – it may just boost your learning!
3) Work little and often
The last thing you want to do is keep yourself locked away from all the festivities and fun. This will only get you down and demotivate you, making you unlikely to start studying at all. So, rather than spending hours sat at a desk, why not grab some study time when you're en route to the shops or commuting to work? You could even fit in 10 minutes or so of revision whilst you wait for your favourite Christmas cookies to bake in the oven!
You may think that you won't learn much this way, but you'd be wrong. The average human attention span is 14 minutes and the brain has been found to take in information for only 45 minutes in one sitting. Therefore, studying for short bursts throughout the day is the most effective way to learn. It's the best way to retain information too. Learning in bite-sized chunks allows the brain to digest the material properly, thereby giving your memory and recall abilities a boost – no more information overload or study fatigue!
4) Organise yourself
We all know that organisation is important for a successful study session; however, it is essential at this time of year. The Christmas period can be chaotic. With parties to attend, presents to wrap and long-lost relatives and friends popping by to spread some cheer, December can be stressful. That's why you need to take the stress away from studying if you want to make real progress over Christmas.
One way of doing this is by creating a priority list. There's nothing worse for your productivity than sitting at home worrying over the 20 things you need to do. Rather than stressing, it would be better to take the time to work out what your priorities are.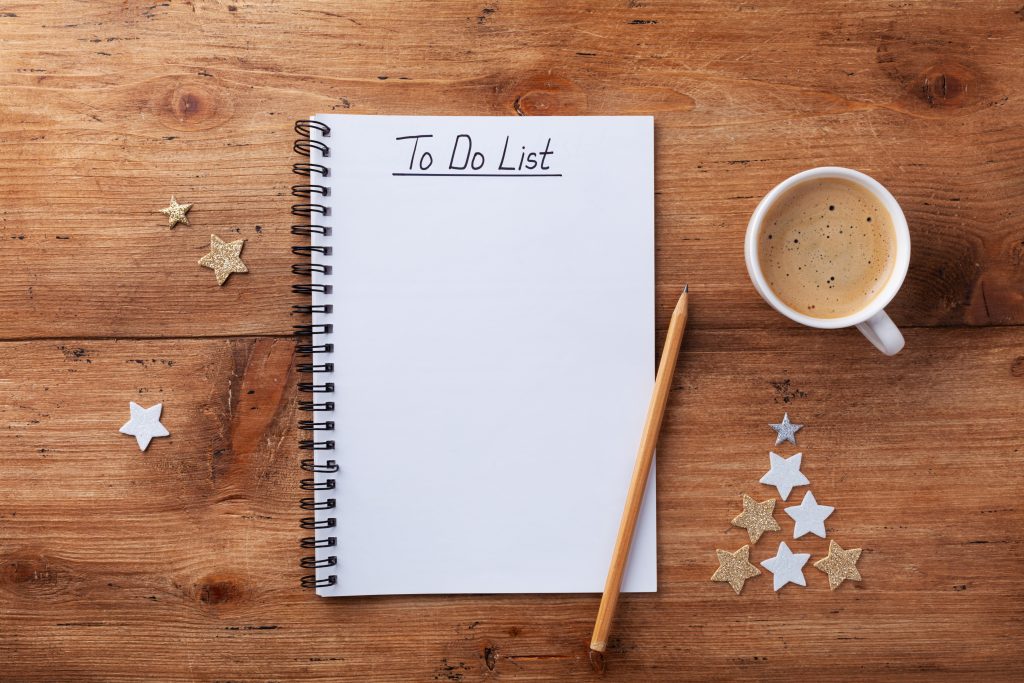 Create a bullet list and number each task (1 being the highest priority and 10 the lowest) or colour-code them to highlight your main goals for the festive season and give you a clear focus. This will also break your tasks into smaller, more manageable chunks, which will make studying less daunting and help keep stress at bay. Plus, nothing beats the feeling of ticking tasks off your list and leaving your study session knowing that you can enjoy the festivities guilt-free.
If you're not a list person, using a wall planner or diary will also do the trick. Writing out a study schedule and figuring out how you can manage your time will allow you to keep track of your aims and juggle facts and figures with mince pies and candy canes throughout the season!
Hopefully, we have shown that you can study at Christmas without missing out on all the festive fun! It really is possible to have the best of both worlds; it just requires a little planning and finding the right balance between work and play. So, with that in mind, here's an extra tip for you: make sure that you take stock of what you have achieved so far, take a well-earned break and enjoy everything that Christmastime has to offer!