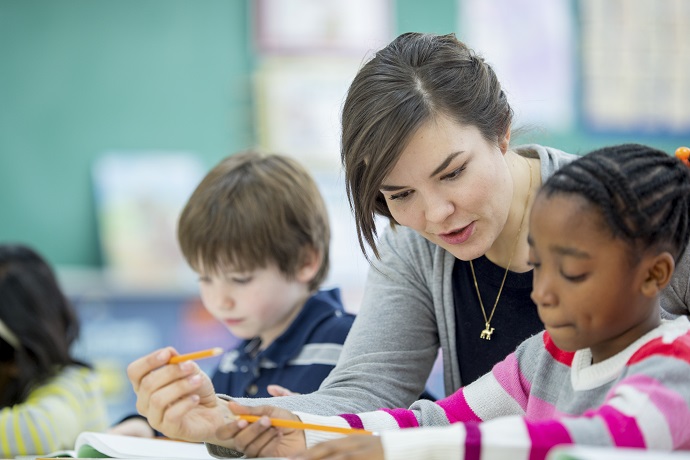 For anyone passionate about working with children, a career in the education sector is both rewarding and convenient:
Positions are local.
Hours are flexible.
Roles are creative and varied.
Traditional teaching jobs can be time-consuming, but classroom support is in demand. Local authorities are investing in qualified staff, that have the tools to work in a number of education settings. If you want to find employment in a school, but don't have the experience to become a teaching assistant, we can help.
What do teaching assistants do?
With class sizes increasing, teachers are struggling to find time to work one-to-one with students. It's important that children are guided and encouraged, to reach their full potential. That's where your skills and resources can come in. Day-to-day teaching assistant tasks include:
Listening to children read.
Supporting small groups in lessons.
Helping pupils with special educational needs (SEN) or English as a second language.
Supervising school trips or sports days.
Preparing activities and learning materials.
Putting up displays and keeping classrooms tidy.
You'll have the opportunity to get involved at every stage of a lesson and make a noticeable difference. Seeing children and young people make progress over time, makes jobs in education uniquely worthwhile. Teaching assistant roles are also hands-on and active, offering an ideal alternative to office work.
What qualifications do I need to become a teaching assistant?
Competition for teaching assistant jobs can be high, so making sure that you have the right qualifications on your CV is essential. There isn't an official course for teaching assistants, but employers look for qualifications that are accredited and also listed on Ofqual's website.
Every school will have different requirements for aspiring teaching assistants, but experience working with children is important. We provide a variety of teaching assistant courses, some of which require a practical placement. You can develop your skills and apply information from your course to real classroom situations.
To be successful at interview, you'll need to showcase your abilities. Studying online in your spare time suggests a commitment to self-improvement and fantastic time management skills. Employers also look for people who are passionate about what they do, and our qualifications are a fantastic way to take an in-depth look at the education industry.
Teaching assistants must be able to build good relationships with parents, teachers and children. A placement in a local school can even lead to a full-time job. Getting to know staff will help you to get a feel for the day-to-day environment, which will put you in a great position when applying for a teaching assistant role.
Adaptable training
Do you want to change your career, but you're worried about how to become a teaching assistant with no experience? Study with Stonebridge College and get the qualifications you need to work in a classroom. Build your confidence, explore your options and prepare for your first interview.
Distance learning makes it possible to design a schedule that works for you. It's the simple way to update your skills, without affecting family life or your full-time job. Complete your course in your own time and impress employers with your knowledge.
You'll cover topics including:
Safeguarding children.
The stages of development in children and young people.
Encouraging positive behaviour.
Supporting learning activities.
Working in a team.
Create your perfect career
We offer a range of teaching assistant courses, so you can choose a direction that's right for you. The Teaching Assistant: CACHE Level 3 Award in Supporting Teaching & Learning in Schools is a fantastic place to start, because you do not need a placement for this course. You can maximise your employment prospects by carrying out voluntary work in local schools and making useful contacts.
Wherever you want to take your teaching assistant role, Stonebridge College will be behind you all the way. A dedicated personal tutor will answer your queries and offer advice, while like-minded learners will keep you motivated. Become a teaching assistant with no experience, by beginning a course that will fast-track your training. We help over 2000 students a year to gain a recognised teaching assistant qualification, which is a crucial stepping stone to a successful career.