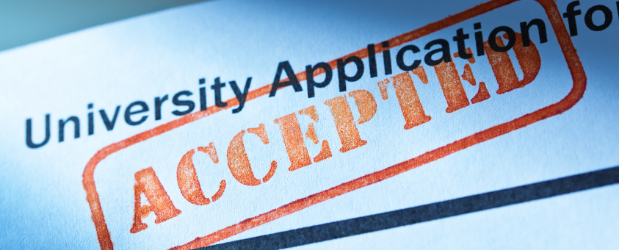 Access to Higher Education Diplomas have been designed with the input of universities and employers. This ensures they provide the perfect blend of subject-specific knowledge and skills. Preparing you for study at university level and equipping you to excel in your chosen profession.
They are recognised as Level 3 qualifications. So they can be studied as alternatives to A Levels and Scottish Highers.
Depending on your performance, you can achieve four potential grades; Fail, Pass, Merit or Distinction. There can be variants on these, such as a Distinction with Merit, but generally, these are the four grading categories.
The reason this matters is because the grade you come out with will determine your eligibility for university study. Universities can stipulate tough entry requirements for their courses. So, doing just enough to get by likely won't land you a place on your desired course. Especially when you'll compete with A Level students who have been studying at least two or three subjects.
Where Access to Higher Education Diplomas will be accepted
They provide an A Level equivalent qualification. But there is some mystery and confusion as to how widely they are accepted. A Google search will bring up numerous student forums debating which universities have accepted and refused previous students.
Though many are happy to consider students with them, others do not. Believing the content covered fails to provide a high enough level of education to merit a place on their courses. Which can vary greatly depending on the type of subject a student aims to study.
There are many exceptional universities you can study at throughout the UK. We didn't have time to investigate each one. So, we looked into the top 10 as voted for by the Times Higher Education World University Ranking. You can see what their stance is on accepting Access to Higher Education Diplomas below.
Some Access to Higher Education Diplomas include one or two A Levels as part of the course. This prestigious institution recommends students take this option where it is available. Especially if their desired degree has specific subject requirements. They claim that conditional offers are more likely for students with an Access to HE Diploma. Providing they have gained Distinction for all the Level 3 credits. Plus an A or A* grades in any A Levels taken.
They advise students to contact the university ahead of applying to discuss the suitability of their qualification.
The University of Cambridge has a subject-specific stance on the acceptance of Access to Higher Education Diplomas. They believe achieving Distinctions in all relevant subject units provides adequate preparation for some subjects. These being Psychological and Behavioural Sciences as well as most arts subjects (besides Economics). Though they note that certain subjects may have additional academic requirements.
However, they don't believe an Access to HE Diploma online is enough preparation for other subjects. Such as science or Economics.
You can apply with an Access to Higher Education Diploma. But you will need to contact the college admissions office to discuss your individual circumstances.
Their stance is not specifically stated. Though it is widely known that ICL does not accept Access to Higher Education Diplomas for their courses. ICL is a STEM university. It's likely they feel it provides insufficient preparation to tackle their courses successfully.
UCL states on its website that it does consider Access to Higher Education Diplomas. However, they make mention that some degree programmes require specific subject knowledge. Their website is very helpful in that each course page details these specific subject requirements. Plus the grades you'll need to achieve to be considered.
For example, they welcome an Access to Higher Education Diploma for their Information Management for Business BSc course. However, students must achieve a Pass. With a minimum of 23 credits awarded with Distinction in the Level 3 units. And the remainder of the Level 3 units awarded with Merit.
Acceptance of Access to Higher Education Diplomas is not so clear cut with the London School of Economics and Political Science. They take a more rounded approach to assessing your ability. Assessing Access to HE Diploma students alongside other applicants using the entirety of information presented on the UCAS application.
Anyone with potential can be asked to sit the School's Undergraduate Admissions Assessment (UGAA). Then a decision will be made on your acceptance based on these results and the information on the UCAS form.
The University of Edinburgh list 'Other college Access courses' as acceptable alternative qualifications. But only in place of their standard entry qualifications for 'adult returners'. Defined as 'someone who had a break of at least three years in formal education, and who has not yet achieved a degree.' Including people under the age of 21, they aren't classed as a "mature student".
If you fall into this category, it would be well worth contacting the university to discuss your eligibility.
Access to Higher Education Diploma students are welcome at King's. If they achieve a certain number of Level 3 credits at Distinction and Merit level.
In some instances, entry requirements specify compulsory or preferred subjects. Students then may be asked to provide information on the subject content of their Access to HE Diploma. They advise checking each online programme page for the subject-specific requirements.
Manchester states that entry requirements will vary for each degree. Some not accepting all the recognised qualifications listed on their site. Others may have subject pre-requisites and therefore require specific grades.
For the Access to HE Diplomas, they specifically require a diploma with a minimum of 60 credits overall. At least 45 need to be at Level 3, 30 credits at Distinction and 15 at Merit in a relevant subject area to the chosen course.
For example, their Bachelor of Nursing – Adult Nursing degree states:
'Of the 45 credits at Level 3, 30 must be at Distinction grade and the remaining 15 credits at Merit. Also, 30 of the 45 Level 3 credits must be in science or health-science related subjects. You must also have GCSE English Language and Mathematics at grade C or 4 or above. We no longer accept equivalents to GCSE for English and Maths. We also consider other factors on an individual basis, such as additional educational achievements, life experience and work-related skills.'
Again, recognised QAA Access to HE Diplomas are accepted at the University of Warwick. Provided that essential subject requirements are met. The university asks that students refer to the individual departmental entry requirements for clarification.
Access to HE Diplomas are accepted, and the specific grade and subject requirements are listed on each degree course page. However, this university asks for the exact name of your qualification. Which modules you are taking at Level 2 and Level 3, and which modules are graded. They also want to know the name of the awarding body to help determine the eligibility of your qualification.
Should your course title differ slightly from those listed, you are urged to call the university directly. This is to ensure they will accept your qualification. They could deem it to have insufficient content to meet a specific subject requirement. In this case, you may be required to provide an additional qualification.
Study an Access to Higher Education Diploma Online
So, only one out of the ten top universities in the UK declines Access to Higher Education Diplomas. Therefore, there is an excellent acceptance rate for the majority.
However, you must achieve top grades to be considered. Your results need to prove why you are worthy of a place on the course. Especially over someone who has studied longer to achieve qualifications in numerous A Level subjects.
It is also well worth your time to strike up a conversation with the university you aim to study at. Find out first-hand what they expect and keep in contact with them throughout your studies. That way they can be assured of your progress and you can keep tabs on any changing entry requirements.
Access to Higher Education Diplomas offer an excellent second chance at university level study. They provide a streamlined route into higher education for thousands of people every year. Helping them on the way to achieving academic and professional success.
If you feel like an Access to Higher Education Diploma could be the right option for you, consider studying one online with Stonebridge Associated Colleges. A leading UK online course provider with an extensive range of available Access to Higher Education Diplomas.
Browse the range by clicking the link below.