If you have a passion for midwifery, then naturally you'll be asking yourself 'how do I become a midwife?'. In the past, routes into the profession were more limited, with a strict list of qualifications to complete, but now you can become a Midwife in more flexible ways.
You still need a degree level qualification, approved by the Nursing and Midwifery Council (NMC), to become a qualified Midwife in the UK. However, there are more qualifications you can complete to get to this level of midwifery course. So, while you do need qualifications to become a Midwife, you can choose the qualifications that suit your needs and learning style.
If your aim is to become a Midwife, you can take your first steps towards this career path by completing nationally recognised online courses. Access to midwifery courses are perfect for aspiring midwives who don't have traditional A Levels. Below, we will explain what is involved in midwifery and how you can get a job in the industry by first studying this midwifery course online. 
What Does a Midwife Do?
A Midwife is a crucial person in the pregnancy and birthing journey of an expectant mother. They are widely regarded as the first point of contact for help and guidance during this transitional period as they do more than help deliver babies.
As a Midwife, you will provide care and support, as well as advice and information, during the pregnancy, labour, and the postnatal period. As such, your role is heavily focused on helping expectant and new mothers make decisions about the care that they receive, as well as offering guidance to new parents.
For these reasons and more, midwifery is considered a highly active and varied role, with responsibilities including:
Monitoring mothers and babies during pregnancy
Assessing programmes of care at a hospital or in the local community
Offering antenatal care
Advising on health and parenting issues
Assisting with labour, including pain management
Working closely with external agencies to ensure that the right support is available
During midwifery courses, you will learn the roles and responsibilities of a Midwife in detail. The person under your care will likely ask you plenty of questions regarding their pregnancy and childbirth, and it is essential that you have the answers. First-time mothers may feel nervous and uncertain, so it is your job as their Midwife to put their minds at ease. 
As part of your role as a Midwife, you will carry out clinical examinations and work with other health and social care services to support the expectant mother. Not only will you be caring for the mother-to-be, but you will also be supporting their family during the process. After the baby is born, you will help the new mum learn how to feed and care for their newborn during the first few weeks of life. 
Once you have studied a midwifery uni course and are qualified, you have a statutory responsibility to stay up to date with current knowledge of the profession. As such, you will need to complete midwifery CPD courses that continue your professional development.
Where Can You Take Your Midwifery Career?
Midwives can be based in NHS hospitals, private maternity hospitals, GP surgeries, birth centres or in the community. Wages can differ depending on which environment you work in, though midwifery salaries start at band 5 in the NHS, equivalent to £24,907.
With experience working as a General Midwife, you can go on to specialise in areas such as neonatal intensive care. Senior midwifery staff can take home up to £40,000. Clear pathways for progression mean that there are plenty of opportunities to take on more responsibility as a Midwife. Should you move into leadership roles in midwifery, you can earn even higher.
When you're working as a Midwife, no two days will be the same. You might be attending a home birth, training student midwives or helping mothers manage pregnancy and birth alongside mental health issues or enduring disorders. For this reason, it's a uniquely rewarding role that attracts people from all educational and employment backgrounds.
What Qualifications Do You Need to Become a Midwife?
To become a Midwife in the UK, you must complete midwifery university courses that have been approved by the Nursing and Midwifery Council (NMC). Midwifery uni courses last three years and you'll spend your time studying whilst gaining practical experience. After graduation, you'll go on to register with the NMC and can then apply for midwifery jobs advertised on the NHS website or in the Royal College of Midwives journal.
Each university sets its own entry requirements, though, for a typical midwifery degree programme applicants traditionally needed at least 5 A-C (or 9-4) GCSEs (including English and Maths) and 2 A Levels.
However, now you don't need A Levels to become a Midwife. Instead, aspiring midwives can study online Access to midwifery courses that allow you to access university and begin your midwifery career without traditional Level 3 qualifications. All you will need to enrol on midwifery university courses is GCSE Maths and English or equivalent Level 2 qualifications, in addition to your Access to midwifery course.
Can I Get a Job if I Study a Midwifery Course Online?
Stonebridge Associated Colleges provides the online Access to midwifery course as the ideal alternative for aspiring midwives who want to secure employment without studying A Levels. As such, you can get a job as a Midwife by studying midwifery courses online.
This is because the Access to Higher Education Diploma (Midwifery) provides you with the foundation knowledge you need to progress into degree-level study, and ultimately onto a midwifery career.
The Access to midwifery course is a Level 3 nationally recognised qualification that is regulated by the Quality Assurance Agency for Higher Education (QAA). This ensures that it is recognised both by universities and employers (though it is best to check with your chosen university first). By opting for this course, you can be assured of the quality of your education.
Stonebridge Associated Colleges is one of the UK's leading distance learning providers. With more than 650 courses and over 50,000 students enrolled at any one time, you can put your full trust in our course offerings. 
Why Choose a Distance Learning Midwifery Course?
Traditionally, students would achieve nationally recognised qualifications in schools, colleges, and universities alone. Now, it is possible to achieve various accredited qualifications online thanks to distance learning providers like Stonebridge Associated Colleges. The Access to Higher Education Diploma (Midwifery) is 100% online, so you won't have to spend hours of your day in a classroom. 
This makes the Access to midwifery course is ideal for anyone who wants to become a Midwife but hasn't currently got time to commit to full-time education. By undertaking this online midwifery course, you can tailor the learning journey to fit around your lifestyle, and you have two years to complete the units.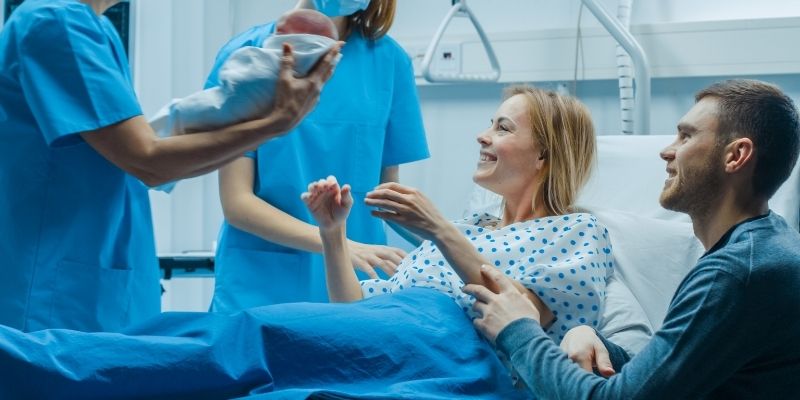 There are many reasons why people just like you are choosing online courses. Not only will they achieve a desired qualification, but they also have full control over their learning schedule. Some of the many reasons why someone would choose to study a midwifery course online are as follows: 
You can study at your own pace 
You have 24/7 access to your course materials 
You don't have to neglect your existing commitments 
You can complete your course remotely anywhere in the world 
Going back to education later in life can be daunting, but completing midwifery courses from home will build your confidence in a comfortable space. With dedicated modules on academic writing skills, independent study and putting together assignments, you'll be more than prepared for university.
Studying midwifery courses part-time makes it possible to fit assignments around a full-time job and family commitments. You can work online, with the support of an experienced tutor, and get knowledge you need to hit the ground running in the next step of your learning journey.
What Is Involved in An Access to HE Midwifery Course? 
The Access to Higher Education Diploma (Midwifery) is made up of various units, covering every element required to progress into degree-level study. You will delve into general health and mental wellbeing, as well as equality and diversity in healthcare.
When you eventually get a job as a Midwife, you will be dealing with people from all different types of backgrounds, so it is important that you know how to be respectful and understanding. 
During this Access to midwifery course, you will learn about the structure and function of the human reproductive system, and how hormones play a pivotal role. One of the units of this midwifery course will also cover the events that occur between conception and childbirth.
Overall, the Access to HE Diploma (Midwifery) explores topics including:
Contemporary health issues
Approaches to health
Human reproduction, growth and development
The roles and responsibilities of health care professionals
As well as the medical and psychological aspects of midwifery, you will also be taught how to develop academic writing skills and how to prepare a written assignment for the assessments. 
At the end of each unit, you will be required to complete an assignment. Once each assignment is finalised, your tutor will provide you with feedback to help you progress to the next stage. Upon successful completion of the Access to midwifery course, you will receive an Access to Higher Education Diploma (Midwifery). Many universities accept Access to HE Diploma's as part of their entry requirements, giving you a great opportunity to get into university. 
You have two years to complete the Access to midwifery course after you enrol, but on average, students finish within 9-12 months. If you have the capacity, it is possible to achieve the qualification in as little as 6 months!  
Begin Your Career Path Today! 
If you have been asking yourself, 'can I get a job if I study a midwifery course online?', the short answer is 'yes'. If you have the relevant number of GCSEs but don't have A Levels, you can study for an Access to Higher Education Diploma (Midwifery) online at Stonebridge Associated Colleges. Once achieved, you can use this qualification to apply for a place at universities who accept Access to HE Diplomas as part of their entry requirements. 
If you secure a spot at the university of your choice, then through a combination of theoretic study and practical training, you should obtain a midwifery degree. Remember, to get a job as a Midwife, the degree needs to be approved by the Nursing and Midwifery Council. There are a few steps you need to take to get a job in the industry, and Stonebridge can help you along the way. 
As soon as you enrol, you will be sent the relevant course materials, meaning that you can start studying instantly! For more information about the course, give our Course Executives a call on 0121 392 8288. Alternatively, get in touch via our support centre or click the link below to view our Access to HE Diploma (Midwifery) in more detail.