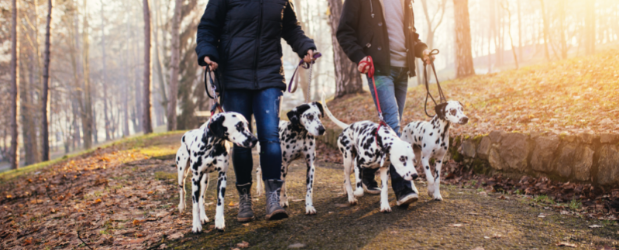 Dog walking is undoubtedly a business venture to consider if you are passionate about, and enjoy spending time with dogs. Exercise is such a simple task that has a very positive impact on many aspects of the animal's overall health.
Dogs need to be exercised, usually more than once a day to stay healthy and remain stress-free. Many pet guardians have actually admitted to skipping walks often, due to simply not having time. This has inevitably led to a number of people starting successful dog walking businesses.
The estimated dog population of the UK currently stands at around 10.1 million, and the pet industry profits are at an all-time high. Meaning that pet carers are willing to spend on services for their pets.
If you are looking for a career that allows you to work with animals, in the outdoors and the freedom to work for yourself, dog walking may be the right path for you.
The average cost of a dog walker in the UK is around £20 per dog. Obviously dependent on the length of the walk, and sometimes the breed.
With few investment or start-up costs, and the opportunity to walk more than one dog at a time, your new business could become profitable fairly quickly.
Find out more about what it is like to a dog walker, and how to set up a successful dog walking business below.
Research the Dog Walking Business Market
To succeed in your career as a dog walker, you need to carefully research your market to understand which dog walking services are in demand. The internet can help you to find where the gaps are.
Typical questions to research can include:
Which areas do dog walkers cover?
What is the hourly rate of most dog walkers in my area?
Are group walks in demand?
Do you have a dog walking park in your local area?
These are just examples of questions you can consider when researching the market. But the fastest way to find feedback and information is to ask other dog walkers directly, either face to face or via Facebook and other platforms that they have a presence.
Start-up Costs
Dog walking has some of the lowest start-up costs around. However, while low you will still need a budget for things like dog walking insurance, registration, and marketing.
Of all of these costs, it is marketing that will be your biggest ongoing expense. Although you can find inexpensive ways to market your business, and still be effective in attracting clients, it's something you will always need to invest in.
The primary expenditures you need to know as you establish your dog walking business include:
Liability Insurance
This covers you against claims from members of the public in the case of any injuries. You should expect to pay anywhere between £80 to £150 a year for this.
Criminal Background Check
Although this is not compulsory, most people will not do business with you if you do not have a police check certificate. Especially as they are entrusting you with their animal. This will cost you around £30 to acquire but will help you to grow your client base in the long run.
Flyers and Business Cards
Distributing flyers and business cards still rank as one of the top ways to target potential clients locally. On average, you can print 5000 flyers for around £100.
Know the Rules and Regulations
Adhering to the DEFRA Animal Activity Licensing Standards and adhere to the rules and regulations set by the UK government is essential. If you fail to follow them, you could see your license cancelled.
The National Association of Pet Sitters and Dog Walkers (commonly referred to as NarpsUk) can help you know the rules and regulations the government want you to follow. Some of the rules you'll need to adhere to include:
Rules on meeting dog owners before the initial booking
Restrictions on the number of dogs you can walk at one time
Procedures for recording the work you have completed
Protecting customers personal information
Ensuring dogs wear collars with the address and name of the owner
Cleaning up after the dogs to avoid fines
Gain Skills and Experience
Gaining experience in dog walking is essential if you want a successful career. At the start, you can offer your services for free or at a discounted rate. This can help you to win over your first few clients.
Although it is not essential to have qualifications right now, this is expected to change in the near future. However, you do need to possess certain skills, these include:
Patience – allowing the animal the time it needs to get used to you and its surroundings
Reliability – be someone your clients can depend on, being on time for every walk
Being physically strong – being able to handle all breeds of dogs, of all different sizes, as well as being comfortable walking for long periods of times
Compassion – treating your customers (both the animal and the humans) with care, kindness, and respect
Customer service skills – building relationships with clients and keeping them satisfied with your service
Remaining calm and confident – you need to be able to calm dogs down when they are feeling anxious and also confidently handle situations of conflict between dogs if it should occur
Communication – Have regular conversations with your clients, and clarify details. Often, times of walks change last minute and you need to be available to respond and react
You can start a dog walking business without any training, but it could be fairly difficult to do so. This is why dog walking courses are fairly popular.
These courses teach you more than how to handle dogs on a lead. They are a step by step process guide for being a dog walker. Including legislation, requirements, and the essentials to start up a regulated business surrounding animals.
Study a Dog Walking Course
The Dog Walking and Pet Sitting for Professionals Level 3 Award covers both dog walking and pet sitting. It is Ofqual and CCEA regulated qualification, developed by iPET Network, a recognised awarding organisation.
This course teaches you the necessary skills for a career as a professional pet sitter or dog walker. It teaches you the legislation requirements for providing a professional dog service, the best practice in terms of small business and the basic principles of canine behaviour.
This award also explores the fundamental requirements of setting up a regulated small animal business. As well as the financial, marketing, and operational requirements for a dog walking and pet sitting business.
Besides giving you the knowledge of business operations and building your confidence with dogs, getting qualified also proves your capabilities to potential clients.
Start your Learning today
Stonebridge Associated Colleges can help you with your ambition to set up a dog walking business. As one of the UK's leading distance learning providers, there is a huge selection of animal-related courses to choose from.
Every course is designed by industry experts, giving you the knowledge and skillset, you require to have a successful career with animals.
As an online course, the Dog Walking and Pet Sitting for Professionals Level 3 Award allows you the freedom to study at your own pace, wherever and whenever you want to. Without having to sacrifice any pre-existing commitments.
Find out more about how you can get started by clicking below.