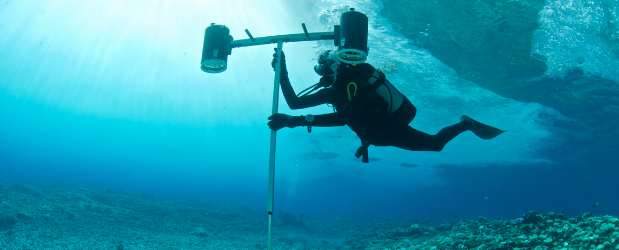 It's estimated that at least 30,000 species a year – around three an hour – are being driven to extinction. With wildlife species under such threat, there's never been a more important time to start a career in wildlife conservation.
Part of this rapid decline is due to the swift increase of the human population. With so many people to cater for, natural resources are being used up at an unsustainable rate. This rapid consumption destroys wild habitats by around 5,760 acres daily. Endangering the animals and plant life within them.
As a wildlife conservationist, you'll strive to protect these species and their habitats from external threat. And these threats can include anything from man-made developments to new hostile species or the effects of climate change. Which means there's room to align yourself with any area you feel particularly passionate about.
Keeping wildlife populations balanced is essential for a stable ecosystem, as each species plays an important part. So, whichever aspect of conservation you decide to work in, the work you do will make a difference.
Find out more about whether a career in wildlife conservation is right for you and how to improve your employment prospects below.  
Is a Career in Wildlife Conservation right for me?
There are a large number of roles that fall within the realm of wildlife conservation. All of which include their own set of duties and goals and take place in different settings.
While there are instances where conservationists encounter animals up close, there's a common misconception about the level of interaction involved. Many people are under the impression that you'll be in close proximity to animals when out in the field. However, encouraging the regeneration of a thriving wild habitat requires as little human disruption as possible.
You will get to see them, so don't be too disheartened. But this will usually be from a safe and comfortable distance. There's also a considerable amount of administrative work involved in most roles, which many people don't realise. As you need to log the data you've collected out in the field and analyse your findings.
This admin element, however, is only part of the work you'll complete. Conservation careers are renowned for being diverse. Attracting people who thrive on being active and having a different task to work on each day.
You will likely be involved in a combination of community work, wildlife observation, research, events, awareness and educational activities. Specific skillsets are required for each role, but there are some every conservationist needs to have.
Necessary skills:
Analysing and investigating – to gather information for research purposes.  
Attention to detail – to spot the identifiers of different plant and animal species.
Patience – to carry out periods of observation to collect the required data.
Planning and organising – to arrange both the necessary people and resources.
Map reading and navigating – to find and record sites and locations of interest.
Communication – to relay findings and educate others about conservation.
Teamwork – to drive group projects successfully.
Time management – to complete projects on time and meet deadlines.
How to Improve your Employment Prospects
As a career that is active, diverse and involves work that many people are passionate about, conservation is highly competitive. While there aren't set entry requirements, there are things you can do to stand out and get noticed.
Gain Experience
You can get involved in conservation both as a volunteer and in paid positions. As it's a fast-paced and dynamic career, you'll need to be able to fall into place quickly. So, when going for a paid role, employers will expect to see that you've gained essential hands-on experience and relevant training.
The best way to get this experience is by volunteering with organisations you'd like to be employed by. Trying to find opportunities that are involved with the work you'd eventually want to be paid to do. That way, you'll be a natural fit for a position when one becomes available.
Getting experience will help you become comfortable and familiar with the work that will be expected of you. Proving your capabilities to employers and helping you build contacts which again are useful when it comes to job hunting.
Volunteer opportunities exist all over the world, so don't limit your options by looking only in the UK. You can experience exotic habitats and species in overseas locations. Though you could work with them in the UK too by volunteering with zoos, safari parks and nature reserves.  
Study Conservation
While qualifications aren't essential in many conservation roles, they prove your dedication to the field. And that you've got the necessary skills for a career in wildlife conservation.  
Certain roles do require higher level learning, and the qualifications you need will depend on which role you're going for. Many conservation professionals have postgraduate qualifications like PhDs. But these are typically required for heavily science-based roles like a Biologist, Ecologist, Zoologist or Researcher.
For the roles where postgraduate qualifications aren't necessary, you can study other highly targeted courses. These can be completed in less time and many provide a blend of practical training and theory.
View some of the conservation careers you can work towards and the related courses you can take below:
African Wildlife Conservation
Help protect animal species in Africa from hunters, illegal trade and poachers. Teaching local communities about the importance of conserving these species and providing general environmental education.
An African Wildlife and Conservation Studies Diploma will bring you up to speed on the particular challenges African wildlife faces. Helping you to align yourself with the many roles involved in this area of conservation.
Ecologist
Study ecosystems and the animals, people and plant life that exists within them, assessing how human activity affects the balance.
An Ecology Diploma is a great way to start understanding the intricacies of different ecosystems.
Marine Conservationist
Protect seas, shores and at-risk marine species by preventing human damage within marine ecosystems and restoring those that have existing damage.
Learn about the life that exists in marine environments in a Marine Conservation Studies Diploma.
Wildlife Rehabilitator
One of the roles that requires physical contact with animals. Work in partnership with rehabilitation centres and animal sanctuaries to rescue sick or injured wildlife. Rehabilitating them before returning them to their natural habitat.
Develop animal rescue skills in this Wildlife Rehabilitation Studies Diploma.
Zookeeper
Care for and ensure animals that are kept in zoos are being looked after with the highest standards of welfare in their related environments. Making sure each animals' needs are met and that they're receiving physical and psychological enrichment.
Gain an essential mix of academic and practical training for the role in this Level 3 Diploma in Zookeeping.
Get Conservation Skills Online
No matter which area of conservation you want to work in, you can most likely find a course that relates to it online. This allows you to retrain or upskill for your ideal conservation career without disrupting your current schedule.
Many courses are completely based online. Allowing you to complete the materials as quickly as you like and qualify when you're ready. The courses that encompass a practical training element have these available to book at various points throughout the year. Giving you even more flexibility and freedom in the organisation of your learning.
Find out more about the benefits of studying towards your conservation career with Stonebridge Associated Colleges. Click below to view our range of courses relating to wildlife conservation and the details on how to get started.