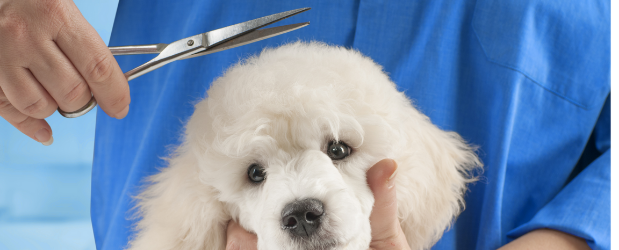 Being a pet groomer is a very rewarding career, especially if you consider yourself to be a dog lover. Most pet groomers have high career satisfaction, notably because they spend the majority of their time caring for dogs.
Grooming is an essential part of a dog's care and regularly groomed dogs are proven to be happier and healthier. As a dog groomer, you will check dogs for injuries, parasites, infections and early signs of illness.
You will also offer pet carers information on the correct care techniques to improve their pet's wellbeing. Pet groomers help maintain the overall hygiene of the pet and decreases the chance of health problems.
Course like a Dog Grooming qualification will give you the freedom to be in control of your work. Career flexibility is one of the main perks of a dog grooming business. When self-employed, you are able to choose the hours you work.
There are a few ways into a pet grooming career, although there are no specified requirements, qualifications are a popular choice to boost your career prospects. Pet grooming requires extensive knowledge. By taking a course in pet grooming, you are equipping yourself with everything you need for a successful and fun career.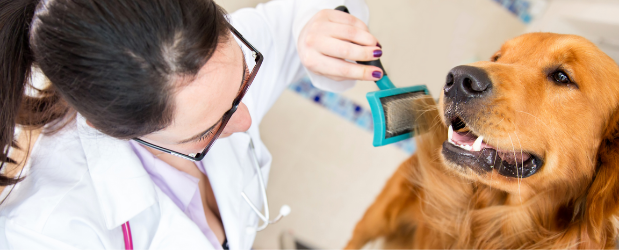 What Does a Pet Groomer do?
A pet groomer's main role is to keep animals clean and tidy. Whilst maintaining their health and happiness. They work on all of the animal from their ears down to their paws and claws. As well as brushing out any knots, mattes and checking for any signs of ill health.
Before you commence the groom, you will effectively communicate with the carer as to how they would prefer for the animal to be groomed. Once you understand what the carer is looking for, you'll be able to transport the pet to the grooming area to closely inspect the animal.
You'll use your knowledge of different animals and breeds and what techniques to use. Combining this with a variety of tools, you'll be able to commence the groom.
You'd start by brushing the fur, cleaning the ears, and clipping the claws if necessary. Before moving onto bathing the animal. Some animals may become nervous at this stage so using your knowledge of animals, you will keep the animal calm and comfortable.
Each animal is different, so you will need to be ready for different behaviours and be able to deal with them.
Once the animal is washed and rinsed off, you'll blow-dry the hair (where appropriate) and if required, start the cutting. This requires a lot of patience, to ensure the safety of both yourself and the animal. Especially around the more sensitive areas, like the paws and ears.
Once you have finished the groom, you will need to clean up and ensure your grooming space is ready for your next client.
You will be required to complete a handover with the pet's carer. To communicate anything unusual you may have come across, let the carer know how the animal behaved during the groom. As well as to discuss how to maintain the animal between now and the next groom. At this point, it is not uncommon to book the animal's next groom.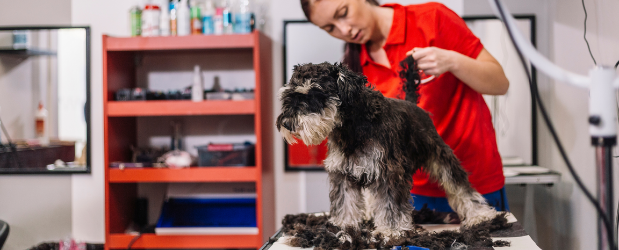 Key Qualities of a Pet Groomer
Being a good pet groomer requires in-depth knowledge, practical skill, and precision. Being an excellent, and successful pet groomer, falls to more than just your grooming skills.
As a pet groomer, you'll need additional skills and traits on top of your knowledge and training.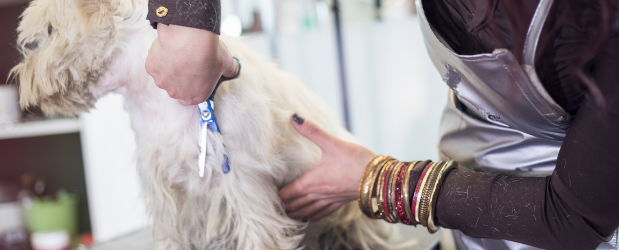 Excellent Customer Service Skills
Any client-facing business owner will understand the need for excellent customer service skills. You will spend most of your time with pets, but you will need to effectively communicate with pet carers.
You'll need to have a conversation with each carer to establish exactly what kind of groom they are looking for. To be able to deliver exactly what they want.
Carers are trusting you with the safety of the animal, as well as to look after them whilst they are in your care. You need to demonstrate your trustworthiness, primarily through your customer service skills and your knowledge.
By looking after your customers, you are promoting business growth. Happy customers are more likely to return, as well as to recommend you, or leave reviews to attract new clients.
Ability to handle all Pets Safely
Whilst it may be one of the most obvious factors, you need to be able to work effectively with animals and understand their behaviour.
Dogs, especially larger breeds, can be powerful animals and hard to control if they decide not to cooperate. You will not only be required to keep them under control but also correctly handle them so they can be groomed.
You must be mindful that it might be a challenge to groom certain animals as there is no guarantee that they would be properly trained. Therefore, you need to have the patience and experience to help them settle down.
Not only does the ability to correctly handle pets ensure their safety, but also your own too.
Patience
A pet groomer has to possess patienceas with many of the animals you'll be grooming will not always cooperate. Or act the way you require them to.
When grooming an animal that is either excitable or uncomfortable, they may move around a lot. You need to have the patience to stay calm when this happens.
You need to be able to confidently reposition the animal, or simply work around their agitation.
Similarly, when animals act up you need to be have a cool head and recognise it's not about you. Indeed, they could be telling you that there's a problem and your attentions could discover the problem.
This is also why it is essential to know how to correctly handle animals, especially larger breeds of dogs.
Get Qualified to be a Pet Groomer
Although, no previous experience is required to become a pet groomer. There are a few career options, such as working in a salon or completing an apprenticeship.
However, due to the fact that grooming is such a complex specialism, requiring extensive knowledge, courses are a very popular choice.
By learning all of the processes and choices of cut, you are already ensuring that your career is a successful one. With courses on offer from entry-level to experienced, and including salon management, you can study everything you will need to know about pet grooming.
Enrolling on a Dog Grooming and Salon Management Level 3 Diploma will teach you all about the safe operation of a dog grooming business. You'll gain knowledge of animal welfare, and health and safety legislation.
Spread over eight units, you will learn about the practical elements of dog grooming. The cuts required for each breed, as well as how to handle the different breeds. Canine behaviour, Canine emergency first aid and health checking. This diploma even equips you with customer service skills and how to interact with a range of different clients. You will also develop your skills in managing customer complaints and how to identify the types of problems that may occur.
Offering you 403 guided learning hours, on completion of this course, you will be ready to open and run your own Dog Grooming Salon.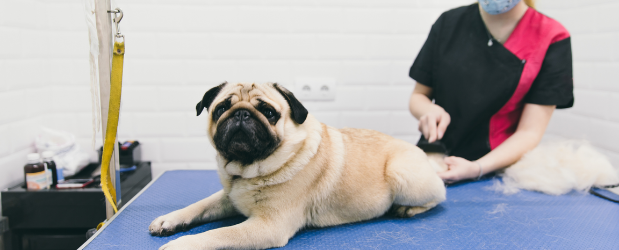 Study Online
Stonebridge Associated Colleges is one of the UK's leading distance learning providers. There is a huge selection of grooming courses to choose from. Every animal-related course is designed in deliberation with employers and industry experts, giving you the knowledge and skillset, you require to succeed in your career with animals.
As an online course, it gives you the freedom to study around your already established schedule. You are on your own timeline, allowing you to complete the course as quickly as you wish.
Find out more about our Pet Grooming courses by clicking below.