Working as a photographer is the perfect way to combine your interests with the opportunity to be creative. You may not feel like you're innately artistic, but if you can capture inspiring images of the subject in front of the camera, the results you achieve can be incredible.
When you think of a photographer, you would be forgiven for thinking they were limited to taking glamourous pictures of models for high fashion magazines, or taking those breath-taking shots of landscapes and wildlife that we often see in the National Geographic.
The truth is you can combine an interest in almost anything with a career as a photographer. Professional photography images are used in everything from advertising medicine to shedding light on the life that exists on and outside of our planet.
If you're handy with a camera, and you like the idea of a career that pairs this with your passions, read on to find out some of the many interesting careers you can have as a photographer.
Types of Photographers You Could Become
Photography is famously used for art, film and video. However, you may be surprised to know it is also an essential component of every field from business and manufacturing to science.
With the right set of skills, you could become an:
Astronomy Photographer 
Capture the life and celestial bodies that exist outside of our planet. A job in astronomy photography will have you pointing the camera at the sky to capture stunning shots of comets, planets, galaxies and stars. Who knows, you may even snap a picture of E.T and his friends!
Animal Photographer 
If you're obsessed with animals, there is no greater way to indulge this passion than by taking beautiful images of them. Animal photography incorporates both wildlife photography and pet photography. So, you can choose the area that caters to your specific interests. For example, if majestic wild animals are your thing then you can become a wildlife photographer. Though, if you're more interested in working with adorable pets, a pet photographer is the career for you.
Baby Photographer 
This is a branch of family photography that focuses on capturing images of newborn babies. Like animals, babies aren't always so easy to work with. They aren't likely to hold a pose for long and you will only have a short window of opportunity to get the shot before they fall asleep. This is why it takes a person skilled in baby photography to catch the moment families will cherish long after the baby has grown up.
Fashion Photographer 
The most glamourous of the photography careers is arguably working as a fashion photographer. If you make it in this career, your work could be featured on billboards and within stylish fashion magazines. You will need to know how to get the most out of your models and think outside the box to get creative shots that show the clothing in its best light.
Lifestyle Photographer 
People want to capture special moments in their lives to look back on in years to come. This is why lifestyle photography tends to focus on shots of proposals, gender reveals, graduations and other important milestones. If you want to be part of the happy moments people experience, becoming a lifestyle photographer would be an enjoyable career for you.
Landscape Photographer 
If nature has you captivated, a perfect way to incorporate this appreciation with your job is through landscape or nature photography. In landscape photography, your focus would be on shooting large-scale images of natural and man-made scenes. Whereas as a nature photographer, you would also take shots of flora and fauna and close-ups of natural scenes and textures.  
Nude Photographer 
If you appreciate the visions that were captured in the nude oil paintings throughout history, you can take a modern approach to this by working in nude photography. Not as rude as it may first sound, this genre of fine-art photography focuses on capturing the aesthetic qualities of the human body. This includes everything from its form to composition and emotional content.
Portrait Photographer 
If you want to capture images of people, portrait photography is a great way to do this. It can be more creative than first thought, and the images that come from portrait photography can be incredibly powerful. For instance, the haunting 'Afghan Girl' image captured by National Geographic photographer Steve McCurry caught the eyes of people around the world and drew attention to what was unfolding in refugee camps at the time.
Still Life Photographer 
Taking pictures of inanimate objects may not sound completely thrilling at first, but it is a highly artistic avenue of photography that is in huge demand. Still life photography can be images of one or more objects grouped together, arranged for impact. Companies around the world are calling on specialists in this area like product photographers and food photographers to show their offering in the most attractive way.
Street Photographer 
Street photography, or candid photography as it is otherwise known, captures the goings-on in everyday life. In this line of work, you would capture candid pictures of strangers and shots of the daily occurrences that people would otherwise miss. Your work would aim to capture the spirit of urban life.
War Photographer 
If you're passionate about shedding light on the conflicts taking place around the globe, becoming a war photographer would be a great way to draw attention to the realities of war. This highly dangerous career places you on the front line and directly in harm's way, however, it can and has brought many important messages into the public realm.
Wedding Photographer 
If you enjoy celebrations and a party atmosphere, becoming a wedding photographer is the perfect way to work in this environment and get paid. You need to capture both posed and candid images of the in-love couple and their guests, plus stunning images of the venue, wedding attire and anything else that captures the essence of their special day.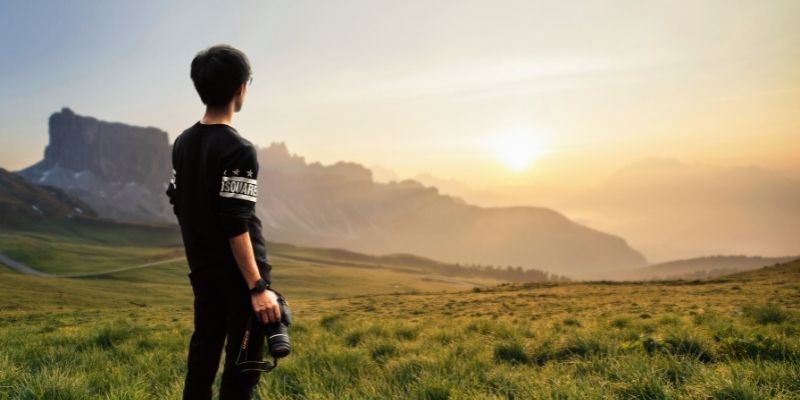 How To Become a Photographer
Anyone can become a photographer as a hobby, but if you want to get a photography job or become a freelance photographer and earn a living, you will need strong evidence of your capabilities.
Photographers are in demand, but that's not to say there isn't competition for photography jobs. Clients will be looking for photographers with a visible backlog of their work, plus qualifications that demonstrate their understanding of photography techniques and disciplines.
If you're wondering 'how much do photographers make?' you can command a higher salary as you gain experience, qualifications and gain a reputation. You can do this by:
Building a photography portfolio  
Designing a website that houses your work and contains your business details 
Creating social media accounts to promote your images 
Using relevant hashtags to get more eyes on your photography pictures  
Entering your work into photography competitions 
Gaining photography qualifications and certificates that evidence your abilities 
New photographers can expect to earn between £16,000 to £22,000 when starting out. With experience, this can reach anywhere up to £65,000 if you gain an excellent reputation for your work.
Study Photography with Stonebridge
If any of the above photography careers have you eager to pick up a camera and get practising, Stonebridge Associated Colleges can put you on the fast track to getting qualified.
Our online photography courses enable you to become a confident photographer from the comfort of home. A number of our online photography courses also provide you with nationally recognised qualifications, so you can prove your abilities to clients and employers.
Find out more by calling our Course Executives today. They will run you through each of our online photography courses, what they contain and how you can get started.
Call them on 0121 392 8288, contact them online or click below to view our photography course in more detail.