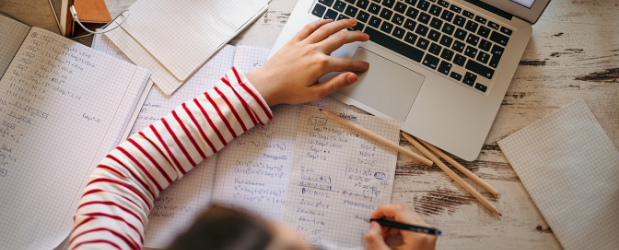 Distance education is when students learn outside of a physical classroom environment. It is a concept that provides many benefits that wouldn't be possible with classroom education. Making continued learning more accessible to a wider net of prospective students.
Without the need to attend a physical class, students can use their time more efficiently since travel isn't required. Plus, studying from home or wherever you're most comfortable, invites a more enjoyable learning experience. Outside of this, there are other benefits to distance education, but it depends on which type you choose.
The way distance education is delivered has evolved over time. Previously, it was mostly correspondence courses, where students contacted the school or institution by mail. Now, it is far more technologically advanced and has split into two typical categories; online classes or independent online learning.
Both options are incredibly popular and for a diverse range of reasons. Which you choose will often depend on the way in which you learn best.
While they have their differences, one thing they have in common is the quality of their regulated qualifications. Which go through the exact same accreditation process to those provided in traditional campus settings. So, no matter which learning style you choose, you will receive the same level of qualification.
Find out more about what distance education is and the differences between the two types.
Online Classes
This scenario is similar to traditional classroom learning in many ways. You join a class with other students at the same time, to learn from a teacher who delivers the lesson. The difference is you do this on a computer, from home or wherever you decide to study.
Many people like this style because it provides a halfway point between campus education and independent learning. They want some benefits that come with online study but perhaps aren't comfortable being left to their own devices.
Online class teaching structures are typically less rigid. They are also user driven. So, besides the classes delivered by the teacher, you initiate any other interaction. Your course may incorporate activities, peer-to-peer communication or student-instructor exchanges. But it's on you to make or involve yourself with those connections.
You generally do this through the online schools' facilities like email, message boards, instant messaging, video conferencing or chat rooms.
Class wise, while these are held at a specific time like they are on campus, there are generally less of them. Online class courses are usually delivered through a mixture of e-classes and online materials. Such as online reading, visual and audio recordings. This gives you more flexibility to manage your study schedule while still incorporating elements of the familiar classroom setting.
Independent Online Learning
This scenario is completely self-directed. You are provided with access to all the course materials, but it's on you to set the structure and pace. While you have a tutor on hand to help if you need assistance, they won't be regularly checking in. So, it's up to you to keep yourself accountable and make sure the work gets done.
Everything you need is housed in an online portal and delivered in a combination of varied and dynamic materials. Similarly, these will be a mixture of video, audio and reading exercises to create an engaging learning experience.
There aren't any classes, so you simply work through these materials as you please. Allowing you total freedom to decide when you learn, which is very appealing to those with already busy lives. Many students prefer this option since it enables them to learn while working and keeping to other commitments.
Generally, there aren't any deadlines besides the completion date, unless your course incorporates an exam.
Considerations
For many, learning within a physical class alongside other students isn't a pleasant thought. Asking questions in front of the group or trying to keep pace when you're struggling aren't usually fond school memories.
This can be eradicated somewhat in online classes as students can feel comforted being behind a screen. And completely in independent learning scenarios. It's much more encouraged to reach out to tutors with your questions and receive direct personal feedback and advice. This might be a benefit to you if you've previously felt the pressure of a joint classroom environment.
Another point to consider is the amplified choice of courses you get with online learning providers. On campus courses must generate a certain amount of money for them to be viable to run. They need to cover the overheads of running a physical institution. So, if a course isn't popular, it won't be provided.
Online classroom settings still have some of the overheads associated with on-campus learning. They still need a teacher, and to cover the cost of maintaining and providing any communication facilities for students. Though, their expenses are generally cheaper. This means there will be less risk in providing non-mainstream courses.
Something which is more evident with independent online learning providers. They have far fewer expenses involved in running their courses, so there is much more on offer for students. It isn't an exaggeration to say there is an independent online course for almost every niche. So, if you've not had any luck finding the exact course you want, you're almost guaranteed to find it online.
Getting the Most Out of Distance Education
In terms of how hard it is to learn online – it is open to debate. The regulated courses provided are no different to their off-line counterparts, but each person learns differently. One style of learning might allow you to thrive, but another person could find it more difficult.
Learning as part of a group with predetermined classes and deadlines helps many people stay on track. Someone else setting the structure and questioning your progress might stop you falling behind if self-motivation isn't your strong suit. If you want flexibility in certain areas but still need non-negotiable dates in the diary, online classes might be better.
Others want a way to fit their education around work, family or simply prefer learning on their own terms. If this sounds like you then independent courses would be the best option.
You just need to be realistic when balancing your coursework with other responsibilities. By planning ahead, breaking up the workload and setting out goals and deadlines, it'll be more manageable.
If you think distance education is a route you'd like to take, consider exploring independent online learning.
It's the most flexible method of education and doesn't require you to sacrifice employment or precious family time.
Stonebridge Associated Colleges is a leading UK distance learning provider. With independent online courses to suit almost every nice, you can achieve your learning goals online.
Click below to discover the many courses we have on offer or read more about getting the most out of distance education here.