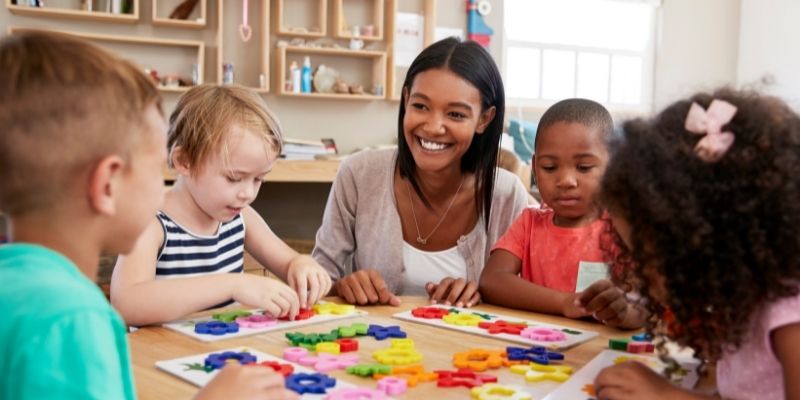 The person you become as an adult is being shaped from the moment you're born, through various influences and experiences. Understandably, parents and guardians play a huge role in a child's development, but similar can be said for teachers, particularly those who work in early years education.
If you have always had an interest in teaching or the idea of helping to shape a child's development is something you feel passionate about, then there are avenues you can take to become an early years educator. Below, we will outline the importance of education studies and early years, as well as how you can embark on a rewarding career in the teaching sector.
What is Early Years Education?
Early years education refers to the education stage for children aged 3,4, and 5 years old. In the UK, children aged 3 and 4 are entitled to 15 hours of early years education entirely free for 38 weeks of the year, and this education can be taught in various settings, including:
Day Nurseries
Nursery Schools
Pre-Schools
Childminding
Childcare begins at birth, and until a child is five, educators will follow the Early Years Foundation Stage (EYFS), which is a framework that covers all elements of care, welfare, and learning. If you are hoping to eventually embark on an early years education degree, then it is important that you have knowledge of this framework.
There are seven areas of learning and development that need to be focused on as part of education studies and early years, including:
Communication and Language
Physical Development
Personal, Social and Emotional Development
Literacy
Mathematics
Understanding the World
Expressive Arts and Design
A range of activities are encouraged to help children develop their understanding of the areas listed above. Through play, exploration, and creative thinking both indoors and outdoors, children are able to develop in a healthy and mindful way.
As an educator in early years education, you will be responsible for keeping parents and guardians abreast of their child or children's progress in the areas mentioned. During your education studies and early years teacher training, you will learn the importance of inclusivity as you will be teaching children from all backgrounds. You may also end up teaching children with special educational needs and disabilities.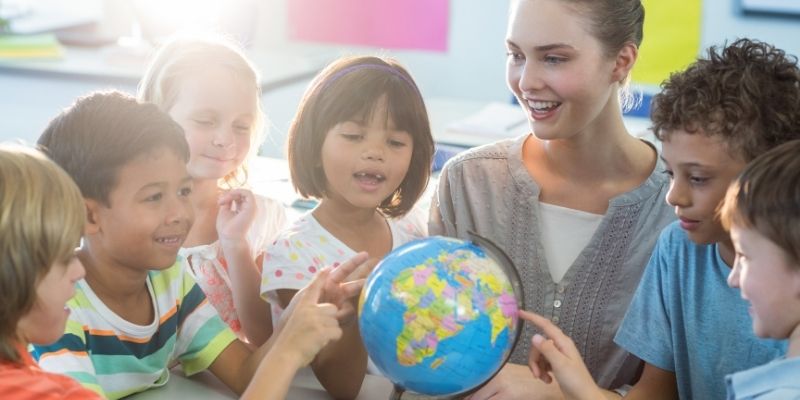 Why is Early Years Education Important?
It cannot be underestimated how important our childhoods are in shaping the people we become, and early years education is particularly significant. Children are like sponges, and when they are exposed to new learning techniques and behaviours, they soak everything up! Every experience and interaction can teach them something, which is why early years education is imperative.
A child's brain grows the most during the first three years of their life, making those years crucial when it comes to development. Through education studies and early years training, you will be able to help enhance the following attributes in a child:
Social behaviour
Language
Thirst for learning
Openness to diversity
What is an Early Years Educator?
An early years educator is a qualified professional who assists in teaching children under 5 years old how to develop and learn key skills while keeping them healthy and safe. An educator can work within an array of childcare settings, such as nurseries and pre-schools, and they can either work alone or as a supervisor.
If you go on to study an early years education degree, you will learn the various roles and responsibilities involved in working as an early years educator. Below is a snapshot of what you will likely handle should you progress into a professional role in this sector.
Plan and oversee activities that are designed to meet the needs of each child involved, helping them develop and learn a skill or behaviour
Support children through games to help them learn basic language and numeracy skills
Ensure that every child is cared for appropriately through feeding and nappy changes
Shape a child's learning experience based on the observations you have made about said child
Work closely with colleagues and other professionals, as well as parents and guardians, to provide the best level of care and support
What is an Early Years Educator Qualification?
To become an early years teacher, you will need to obtain an early years education degree at university. However, if you want to gather a strong foundational knowledge in a specific area of early years teaching, then consider enrolling on an online course with Stonebridge Associated Colleges.
The Diploma for the Early Years Workforce (Early Years Educator) NCFE CACHE Level 3 (RQF) will put you in a strong position for a future career. You will delve into the fundamentals of maintaining the health and well-being of children and the best practices for enhancing a child's development. The course is accredited by a National Awarding Organisation (NCFE) and the Council for Awards in Care, Health and Education (CACHE).
To enrol on the course, you either need to already be working in the early years education sector or have a placement arranged. Also, you require a GCSE in English and Maths at grade C/4 or above, but no other qualifications are required. If you do not possess these GCSEs (or equivalent qualifications), then you can study them alongside your diploma.
As part of your education studies and early years course, you will cover a range of units, with three core themes as part of your study. They include:
Health and Well-Being
Legislation, Frameworks and Professional Practice
Play, Development and Learning for School Readiness
To achieve your Diploma for the Early Years Workforce (Early Years Educator) NCFE CACHE Level 3 (RQF), you will need to successfully complete an assignment at the end of each unit. Some of these assignments will require audio or audio-visual evidence. You will also be required to complete a minimum of 350 hours on placement in an early years setting.
If the placement is in an educational setting that teachers multiple age groups, you can complete all of your hours in one place. However, if not, you will need to arrange a few placements to make up the following hours:
0 – 1 year 11 months (working with babies) – 25 hours
2 – 2 years 11 months (working with toddlers) – 133 hours
3 – 5 years (working with pre-school children) – 192 hours
Keep in mind that Stonebridge Associated Colleges provides an array of accredited courses related to early years education. Whether you want to gain an overall foundational knowledge, or skills in a specified area, then you may also want to consider the following courses:
Types of Early Years Educator Jobs
After obtaining an accredited diploma, you can go on to embark on further study. To qualify as a professional in the early years education sector, you will need to study a degree. Upon successful completion of this, you will be able to pursue the following careers:
Early Years Teacher
Primary School Teacher
Special Educational Needs Teacher
Teaching Assistant
Education Consultant
Learning Mentor
Please note that some job roles may require you to have additional qualifications.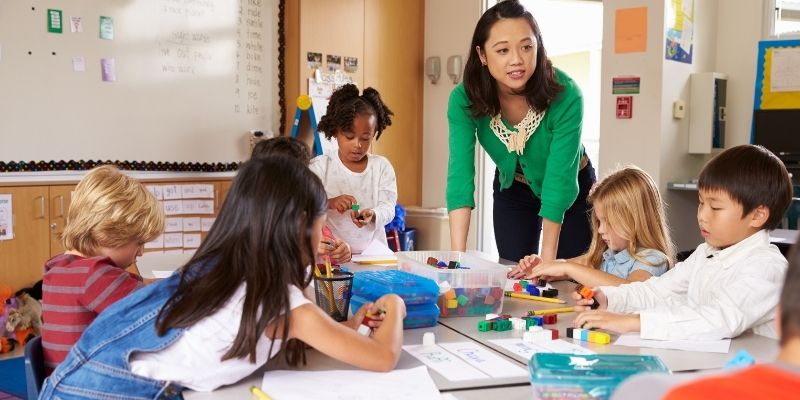 Why Online Study is the Way Forward
With Stonebridge Associated Colleges, you will be able to study for an accredited qualification in early years education online. Long gone are the days when the only way to earn an academic qualification was through classroom learning. By having access to all of your course materials online, you can study at a pace that suits you.
Ideal for full-time workers or those with families, an online early years education course can be completed around existing commitments. With tutor support available, you will have everything you need to successfully complete a course that can contribute to a rewarding career as an early years educator.
Stonebridge Associated Colleges is one of the UK's leading distance learning providers, with more than 650 courses and over 50,000 students enrolled at any one time. With our education studies and early years courses, you will be able to kick-start a new career or develop your existing position in teaching.
Begin Your Journey Today!
As soon as you enrol on your chosen course in early years education, you will be given instant access to everything you need to complete the course. At your own pace and in your own time, you can work towards a career that matches your ambitions! For more information about our early years courses, speak to one of our Career Advisors on 0121 392 8288. Alternatively, visit our support centre or click below to get more details.