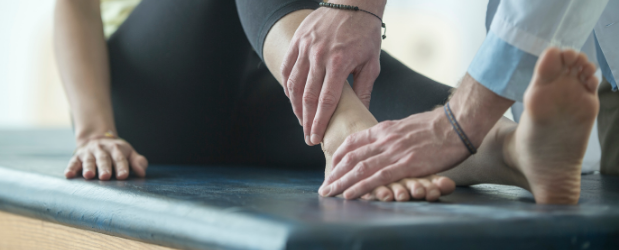 Revised and updated for 2020! An online diploma that takes you from novice to pro in foot health care.
Feet typically aren't everyone's favourite body part. Hidden away, they can be low on the list of priorities when it comes to maintenance and care.
However, they have a huge impact on our overall health and well-being. Neglect and poor treatment can lead to all manner of problems and infections. While some are curable, others can affect a person's mobility for life.
Foot health practitioners provide the advice and treatment needed to keep feet healthy. With their guidance, people can continue to put their best foot forward for years to come. Keeping damaging conditions at bay and staying mobile far into old age.
Get Qualified as a Foot Health Practitioner
If you're fascinated by feet and want to take this interest into a career, you can with an online diploma.
The Foot Health Care Practitioner (RQF) Diploma Level 3 provides the essential skills and hands-on training you need. This fully revised and updated syllabus takes you from beginner to professional. Equipping you to work independently in foot health and begin a new, rewarding career.
As a foot health practitioner, you will assess the structure and condition of the lower limbs and feet. Offering advice to clients and treating common issues like bunions, corns and calluses. You will also cut nails, remove hard skin, treat verruca's and in-growing nails. Through this and your advice on continual care, you will help to keep your patient's feet healthy.
While the elderly are especially prone to these conditions, you will treat patients of all ages experiencing foot health problems. You'll be the person that takes away the pain, insecurities and issues that impact people's lives and confidence.
What's more, in gaining this diploma you'll be entered on the Register for Foot Health Practitioners (RFHP). This is exclusively reserved for those who undertake a nationally accredited and recognised course. Demonstrating that you are a practitioner trained to the highest possible industry standards.
Forge Your Own Path
With an ageing population and increased focus on self-care, it is the perfect time to become a foot health practitioner.
Generally, only high risk or high priority patients are referred to the NHS for treatment. Leaving the vast majority seeking the help of private foot health practitioners.
Running your own foot health care practice would allow you to treat those unable to get NHS assistance. Providing an important service that positively affects the health of your community.
By studying the Foot Health Care Practitioner (RQF) Diploma Level 3, this becomes more of a reality. You will be taught how to set up and run a successful foot health care practice. Giving you the green light to launch your career the minute you qualify.
Take the next step to a future that puts you in charge of your prospects and patient health provision. Learn all you need to develop your business and become your own boss. Click below to enrol now.