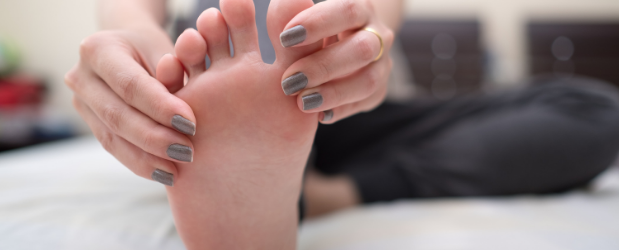 Foot problems are common, affecting people of all ages. The average human will walk the equivalent distance of five times around the world in their lifetime. That's a lot of pressure, considering they hold our entire body weight during the process.
Despite this we take very little care of our feet day to day. Ill-fitting shoes, neglect, poor conditions can cause infections and other problems to arise.
If feet become painful, the mobility of the individual deteriorates. Should it persist, it can have long term negative effects on their overall health and well-being.
Foot health practitioners provide an important service to their patients, as they alleviate many of the problems people experience. Where people cannot obtain help from the NHS, they can visit a qualified foot health practitioner for treatment and advice. Avoiding long term issues and keeping healthy and active for years to come.
It is an extremely rewarding role. Your guidance and treatment can improve painful and restricting conditions that cause upset and insecurities. Through your work, you will see a transformation that leaves the individual feeling happier, healthier and more confident.
Day to day you will examine the condition of patients' feet and administer treatment. There may be instances where you refer patients to their GP or a podiatrist. However, generally you will advise them on appropriate care and treat common foot health problems.
You will address issues like problem nails, calluses, verruca's and in-growing nails. A sensitive approach is needed since many people can be self-conscious about their feet. By putting them at ease, you'll be able to discuss their condition and how best to treat it without them feeling uncomfortable.
Get Qualified
You can study to become a fully trained foot health practitioner by taking an online course. The Foot Health Care Practitioner (RQF) Diploma Level 3 combines home study with hands-on training to get you industry ready.
You will learn about the function of the skin and skin nutrition. Plus, the importance of blood pressure and circulatory disorders to foot health along with many other fascinating topics.
Throughout the course, you will learn how to apply treatments using techniques in line with best practices. There will also be 5 days of practical training in a state-of-the-art facility. This gives you experience of working on real patients, under the supervision of experienced practising foot health care practitioners.
Foot health practitioners have the option of working for someone else or running their own business. To give you the best possible chance of success, you'll learn how to set up and run a successful practice.
What's more, once you qualify you will be entered on The Register for Foot Health Practitioners (RFHP). An entry only provided to those who undertake a nationally accredited and recognised course. This evidencing your expertise and confirming that you have been trained to the highest possible industry standards.
Enrol now and take the first step towards your new career in foot health.