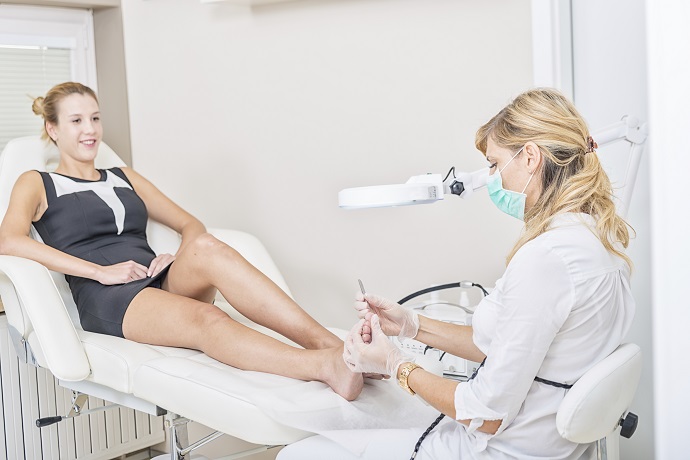 An aging UK population means that more people than ever before are seeking treatment for foot complaints. If you're looking for a flexible new career, with scope to set up your own business, this fast-growing industry could be for you.
With 26 bones supporting our weight, our feet are one of the most complex parts of our body. Debilitating conditions can quickly develop that make walking difficult and threaten our health. Feet are easily damaged and as we age, problems such as arthritis can make it a struggle to take care of lower limbs.
What does a foot health practitioner do?
Make a difference at the heart of your local community, by becoming a foot health practitioner. Day-to-day you'll offer advice to clients and treat bunions, corns and calluses. Older clients may require help cutting nails, preventing pain when moving around and keeping their feet in good condition. People with diabetes are at high risk of developing complications from foot injuries and you'll need to regularly see customers to check for any visible changes.
The profession combines practical care with giving consultations. Key tasks will include treating nail dystrophies, monitoring circulation and sterilising equipment.
Do you have what it takes to become a foot health practitioner?
To find success in the foot health industry, you'll need the skills to assess, treat and reassure. Foot conditions can be uncomfortable and distressing, so a sensitive approach is required in appointments. Your role will be to put customers at ease, while dealing with sometimes complex conditions, which means that squeamishness is out of the question.
You must be organised, to ensure that you can manage your schedule, and have the self-discipline to keep client details updated. If you want to set up your own company, business know-how is also essential. To compete in the foot health market, it's crucial to effectively advertise your services and develop a customer base.
Why work in the foot health industry?
Like many people, you may be looking for new career challenges later in life. Stonebridge offers flexible foot care training, enabling you to explore your employment options. Being your own boss can give you the freedom to set your hours and work close to home. Ideal for fitting around family life, a role in the foot health sector is also active and rewarding. Demand for foot treatments shows no signs of slowing down, and there's plenty of potential to progress in the industry.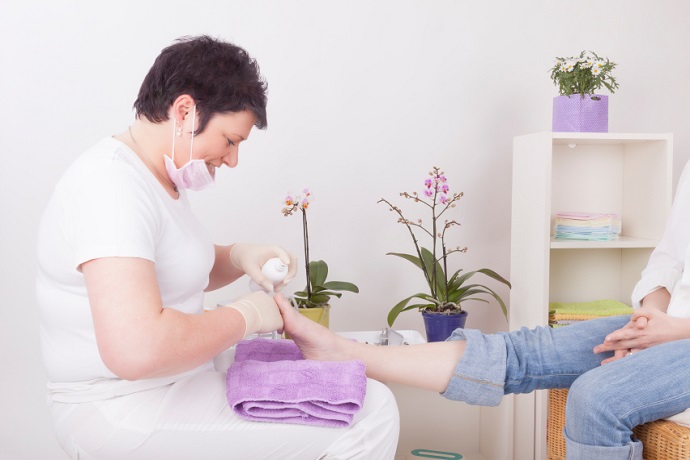 What qualifications do you need to become a foot health practitioner?
To get started, you'll need the knowledge to treat a range of foot disorders and hands-on experience working with clients of all ages. Stonebridge offers a foot care training course for beginners, that will equip you to confidently take the next step in your career. Find out how to become a foot health practitioner and build a business.
You'll study through blended learning, which enables you to complete theory modules from home, in your own time. You can then begin a two-week practical programme using our state-of-the-art salon facilities. Meet likeminded students, treat real clients and discover how to address a variety of common foot problems.
Where could you work?
Our recognised foot health course makes planning your career change simple. You can find employment at a local clinic, or start running your own business. You may choose to travel to see clients and foot health practitioners often visit care homes or community centres to treat more than one customer. Alternatively, if you need a bigger facility, you can rent a premises.
How can you develop your career?
With clients across the UK looking for professional foot treatment and expert advice, the possibilities are endless for growing your business. If you start small, there's scope to expand and set up branches in more than one location. It takes time to promote a brand, but determination and recommendations from satisfied customers will get the ball rolling.
As your appointments increase, you may decide to employ assistants and eventually take on a managerial role. Following foot care practitioner training, Stonebridge graduate Sharon developed her business from scratch and now employs five people.
You could combine a treatment centre with a beauty salon, or sell a range of foot products. Ambitious graduates can find long-term success in this diverse sector and you could even go on to become an assessor in the industry, or train the next generation of students.
To add to your earning potential further, you can continue your foot health studies at university. A degree can lead to a career as a chiropodist/podiatrist, with a salary of up to £39,000 per annum and the option to specialise in areas such as surgery, wound care or diabetes.
Foot health practitioners require medical knowledge, compassion and technical skill. If you're inspired to help other people, and want to learn how to become a foot health practitioner, Stonebridge has the foot care training course for you. Prepare for a new role, without giving up your current job, and find out where this unique career path could take you.