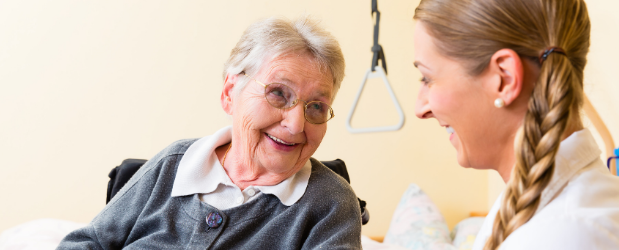 Adult social care aims to maintain and promote wellbeing for the elderly, disabled and those with physical or mental illness. It is designed to assist individuals to safely live independently.
Employment can range from supporting people in their homes, at day centres, care homes and more. You'll also provide information and advice for families and friends who are new to care responsibilities.
In 2018 there was an estimated 1.5 million people working in care with an ever-increasing demand. Which means there's ample of opportunity for employment for those looking to move into this vocation.
Although social care can be challenging, the work you'll do is extremely rewarding. You'll be able to clearly see how what you do can benefit people's lives.
If you're passionate about helping others and are looking for a fulfilling career this could be the right choice.
Is Adult Care right for me?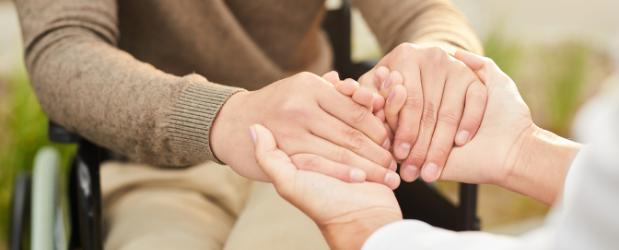 Working in Adult Care can make a huge impact on the people you care for. You'll be providing personal and practical support in a multitude of ways. This could be helping with cleaning and home maintenance to lifting their mood and just having a conversation.
You'll need to be a compassionate individual that wants to make a positive difference to those you work with. Whether you're working in a residential home or in a hospice, the work you do matters.
You'll need to be resilient because despite the many rewarding days, there will be some tough ones too.
It's important that you're able to keep calm and handle any situation that might occur. Sometimes people may not be able to communicate their needs clearly so you need to proactively identify issues. You will also need to communicate to the individual and their support network to ensure both their needs and their personal requirements are being met.
You will also need to be patient and considerate. Things that were easily achieved one day may not be the next, so you'll need to adapt easily and show compassion.
Those who are genuinely empathetic will be the ones who can provide the highest quality of care. And in turn, be better and more fulfilled in their job role.
A day in the life of an adult carer
Your day-to-day tasks will vary depending on who you're caring for and where you are located. As an adult carer you can work in residential homes, domiciliary, hospices, assisted living and even in the community.
With those who need support living at home you'll help with a variety of tasks. This can include household jobs such as washing clothes, shopping and even preparing meals.
Depending on how able they are you may need to assist with personal care too. This could include washing, dressing and helping them eat or walk. You'll might also need to monitor their health, keeping records of their weight and any medication they need.
And most importantly you'll need to get to know their interests and needs to support their mental wellbeing as well as there physical.
You may need to support families who have new caring responsibilities by recommending training and identifying skill gaps. As well as provide emotional and practical support to them too.
You could also find yourself working alongside other health and social care professionals and need to complete administrative tasks.
Getting Qualified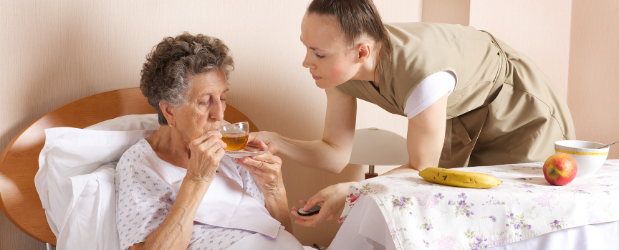 Although qualifications aren't essential to finding employment in the care industry it certainly helps.
Those with qualifications will receive in-depth knowledge that can be used in a variety of different care settings. As well was the opportunity to progress with their careers at a faster rate than those without.
A Level 3 Diploma in Adult Care can be completed through an accredited online learning provider. By taking the Diploma online you're able to engage with your learning whenever suits you. So you won't have to sacrifice any income or rearrange your other commitments whilst your studying for your new career.
A Level 3 Diploma is equivalent to A Level study. You'll gain a substantial amount of knowledge and be able to use your qualification to support university applications.
Should you choose to continue your studies further you'll have a strong grasp of the fundamentals of social care.
Those with a diploma in Adult Care can go on to study social work, occupational therapy or nursing. Assuming all other criteria is met too.
What you'll learn on a Level 3 Diploma in Adult Care
The course structure will differ slightly depending on your provider. However, they will all cover the core elements in working in health and social care.
Make sure your qualification is accredited so that employers recognise your diploma once completed. Regulated courses ensure the quality of training meets the standard required for employment.
On a Level 3 Adult Social Care programme you will study:
The principles of diversity, equality and inclusion in adult social care settings
The principles of safeguarding and protection in health and social care
How to handle information in social care settings
The importance of health and safety in social care settings
The principles of communication and personal development in adult social care
Once complete you'll have gained a solid understanding of social care. You will discover what it means to care for adults and young people in a variety of settings.
As well as learning the core principles that you will demonstrate through your care.
Career Progression
By getting qualified you're giving yourself a better chance of getting into higher paid roles in care. You'll also have the opportunity to study further should you choose to do so.
Although providing care is a vocation, Level 3 Adult Care can help you enter professional health and social care roles.
Because of the foundational knowledge it provides it gives you a great starting point to build on. Whether that's in social work, nursing or another social care related degree.
A degree can qualify you in related professions where you'll be able to maximise your earning potential. As well as specialise in what you're passionate about.
Without a degree you'll still be able to progress into more managerial job roles in care.
There are also many avenues of employment in the care industry. So you're able to move across to other areas and learn and develop your skills even further.
Whatever area of adult care you decide is right for you Stonebridge Associated Colleges could help you realise your ambitions.
Stonebridge Associated Colleges is one of the UK's leading online learning providers. We offer a broad range of courses to suit your needs including the Level 3 Diploma in Adult Care.
Your studies will be guided by an experienced and dedicated tutor. They will provide constructive feedback through and any extra assistance where needed.
We also have flexible payment options to help you spread the cost. To learn more about online learning visit our blog here.
If you're ready to get into a rewarding career in social care get in touch or enrol online below.