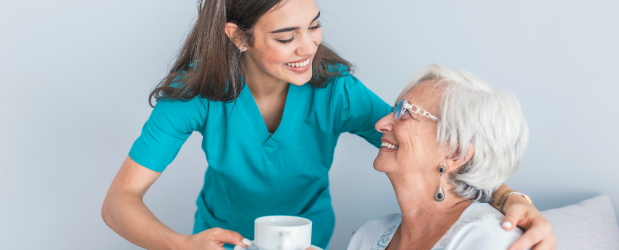 As a caregiver, you will invest your time caring for people with differing abilities and a range of challenges. You'll be responsible not only for the physical aspects of the individual's welfare but providing emotional support too. Through your efforts, you will help those in your care lead happier, more fulfilled and independent lives.
The type of care you will offer will depend on the nature of the challenges the individual has to overcome. As such, there is certain knowledge and skills caregivers need to succeed in their roles.
If you're considering caregiving as a career, you need to be prepared for a heart-warming yet emotional challenge. You will be a pillar of support for your clients, helping them to overcome their challenges and achieve their goals. You'll also be expected to monitor their condition and report any new issues or health concerns to the appropriate stakeholders.
People can require additional support for many reasons. Whether they're recovering from an injury, living with a mental health disorder or becoming less able as they age.
As a caregiver, you'll be on hand to give them the support they need. Aside from helping out with day-to-day tasks, you'll need knowledge of other aspects related to their circumstances. Find out more about the different areas you can work in and the specific knowledge and skills caregivers need.
Knowledge of their area of care
All caregivers tend to perform a number of similar duties in their supporting roles. People with diminishing or limited capacity can often struggle with the same tasks and daily chores. So, in your caregiving role you will often help clients with:
Household activities like food shopping, meal preparation, cleaning and help them to manage their money.
Bathing, general hygiene and dressing.
Managing medical care which includes administering medication and maintaining records.
Scheduling appointments with healthcare providers, support services and other third parties.
Liaising with healthcare providers and support services on behalf of your client.
Listening to and advocating on behalf of your client in every situation.
Coordinating or providing any necessary transportation so your client can attend appointments, shop, visit family and friends etc.
Outside of these, your duties as a caregiver will be dictated by the nature of your client's challenges. In this instance, caregivers must have knowledge and skills that are relevant to their needs.
Mental Health Caregiver
As well as taking care of the day-to-day needs of your client, you'll also need to monitor their mental state. Therefore, mental health caregivers must possess an understanding of the various mental health issues and illnesses individuals can experience. Which can be gained through courses dedicated to mental health education.
You'll need to be able to identify the early signs of a crisis, an episode or deterioration in their condition. That way you can get them the help they require as quickly as possible. This can help to prevent distress, a severe episode or a breakdown.
This is a role that requires you to deal with challenging behaviour and be capable of providing necessary emotional support. You'll need to be in tune with the moods and emotional triggers of your clients. This will help keep them calm and relaxed when their challenges get the better of them.
Physical Disability Caregiver
When working with individuals who have physical disabilities or mobility issues, a lot of your duties will be hands-on. You'll need to help your clients get around their home. Whether that's helping them get up in the morning, get into their wheelchair or walker or pushing the wheelchair for them – should they require it.
You will assist them outside of the home too, such as taking them to appointments or day trips. Where possible, you will work with them to therapeutically improve their physical motor skills. All this provides a heightened sense of freedom, helping them live more independently.
Depending on what caused their physical disabilities, you'll need to be knowledgeable about relevant medical conditions. Caregivers familiar with biophysics, human anatomy, physiology and health or other related areas will therefore be highly valued.
Special Educational Needs Caregiver
As a special educational needs caregiver, you often provide relief to families looking after loved ones with severe learning disabilities. This may be short term respite care or longer term depending on the needs of the client and family's capacity.
The spectrum of learning disabilities is broad and many individuals can experience challenges linked to multiple conditions. You'll be required to monitor their behaviour to ensure their safety and determine the cause of any distress.
Should behaviour change or issues arise, you'll need to record them and feedback to family members and health professionals. You can also work with individuals to support them with their development, social skills and communication.
To do so, you'll need to understand how to work to the different strengths and needs of various learning disabilities. Taking a course that focuses on working with individuals with learning difficulties would therefore be highly advantageous.
Senior Caregiver
Older people can require support for many reasons. They may have an injury, illness, mobility or memory issues, or chronic conditions that make their everyday routine more challenging.
As their caregiver, you would help them with their routines, but you'd also check their conditions and assess pain levels. Aside from managing appointments, you'll also need to monitor their medication intake.
They may have several prescriptions to treat their conditions. So, you'll need to keep track of their medication list, understand drug interactions and administer doses on schedule.
You'll need to be perceptive to changes in their condition. Spotting signs of sickness or deterioration quickly and having some understanding of their cause and effect.
You will also need to be an exceptional companion for your clients. Feelings of loneliness in older adults can lead to serious health consequences like depression. So you need to be there for them emotionally as well as physically.
If this area interests you, a Level 4 Certificate in Caring for Older People would give you highly targeted skills.
Skills & Personality Traits
As a person-centred role, you need to have the skills and personality traits that enable you to work well with people. So, in addition to your specialist knowledge, you need to be:
Attentive – In tune with the needs of your client and their physical or emotional state.
Empathetic – Understanding and sharing in the feelings of your clients.
Patient – Giving your client ample time to perform tasks at their pace.
Positive – Reassuring and encouraging at all times to build the confidence of your client.
Practical – Not afraid of performing practical, hands-on duties.
Reliable – Aware of the importance of your duties and ensuring they are performed on time.
Respectful – Protecting and maintaining your client's dignity at all times.
Get qualified to be a caregiver online
You can become a caregiver without qualifications, but to work with more severe cases, you'll need specific knowledge and skills.
A related degree would give you the best chance of success and opportunities to progress later in your career. If you don't have the necessary qualifications to apply to university, you can complete an Access to Higher Education Diploma.
Our Access to Higher Education Diploma (Health and Social Care) gives you the foundational skills and knowledge for care roles. As a level 3 equivalent qualification, it also allows you to progress to university.
Study interesting and highly relevant topics like Cell Biology, Human Rights and the Law. The course also teaches you how individuals are impacted by issues like Mental Health, Illness, Poverty and Dementia.
Stonebridge Associated Colleges is the leading UK distance learning provider. Offering hundreds of online courses that allow you to pursue your ideal career.
Find out more about starting a career in care with our Access to Higher Education Diploma (Health and Social Care) below.