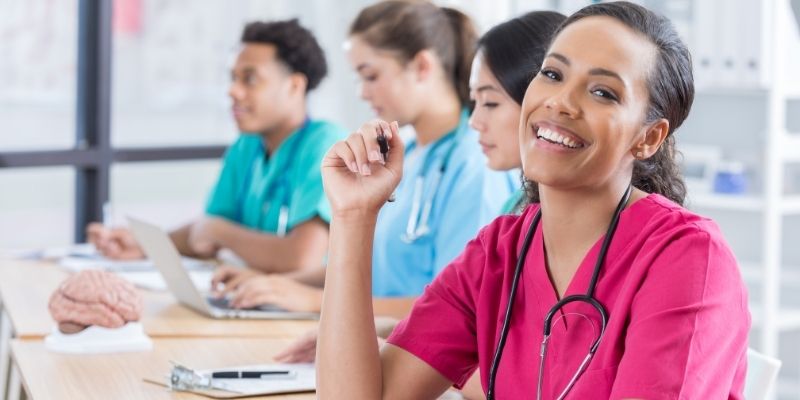 Nurses are more in demand than ever before. By making a career change now, you can access numerous job openings in the healthcare industry. Employment potential is high and after graduation from a nursing course, most graduates get into paid work.
Do you no longer enjoy what you do? Many people find that they're looking for challenges that their current job simply can't provide. The history of nursing reveals that men and women have always been drawn to roles where they can make a difference. It's not too late to train to become a Nurse and start a new career.
If you are keen to embark on this journey, then continue reading! We describe the steps that you can take to become a Nurse and how studying nursing online is beneficial. We delve into our Access courses for nursing, as well as future prospects.
What Steps Do You Need to Take to Become a Nurse?
To work as a Nurse in the UK, you need a degree, and you also need to be registered with the Nursing and Midwifery Council (NMC) and be DBS checked. Universities across the UK offer adult nursing BSc courses and you'll spend three years being professionally trained to work in a healthcare environment. Higher education offers the chance to find out where your strengths lie and develop your personal skills. 
Going to university as a mature student can be daunting, especially if you're juggling a young family, but countless people come to nursing in later life. You might be surprised to learn that a third of new students are older than 21.
At Stonebridge Associated Colleges, we believe that success can come at any age, which is why we offer all the support you need to reach university and continue your nursing education. Through Access to nursing courses, you can study nursing online and prepare for university life.
Studying with Stonebridge
Are you concerned that you don't have the skills or qualifications to start a nursing career? If you've always wanted to be a registered Nurse but don't have A Levels or a formal education, we can help. Through distance learning, you can study nursing online.
We provide the Access to Higher Education Diploma (Nursing) course, which is the equivalent of 3 A Levels. Most universities accept these qualifications as part of their entry requirements, but you should check with your chosen establishment before applying. Our Access courses for nursing cover a multitude of topics that will provide you with academic knowledge and university preparation. The course covers the following topics:
Health and wellbeing
Cell biology
The history of the National Health Service (NHS)
Human nutrition
The roles and responsibilities of a registered Nurse
Psychology
Nervous system
Social factors in health and social care
You will also explore the following when you study nursing online:
Dementia
Skeletal system
Social drugs and medicines
Mental health
Human immunity
Poverty
Human disease and prevention
Equality and diversity within healthcare
Once your Access to nursing course is complete, you'll meet the entry requirements of many nursing courses. Please note that you will also need a grade C/4 or above in both GCSE Maths and English to enrol on our Access to nursing course.
Access to Higher Education Diplomas offer flexible study options. You can keep your current job and fit in learning around family life by working online from home. Our students benefit from part-time study and have a full year to finish their Access to nursing course. Alternatively, if you prefer fast-track study methods, you can gain your qualification in as little as 9 months. 
With dedicated personal tutor support and access to our innovative Virtual Learning Environment (VLE), you'll have the tools to prepare for a nursing course at university. Our adaptable qualification will not only build your healthcare knowledge base, but also update your academic skills.
Gain Access to nursing courses across the country and take the next step in your career!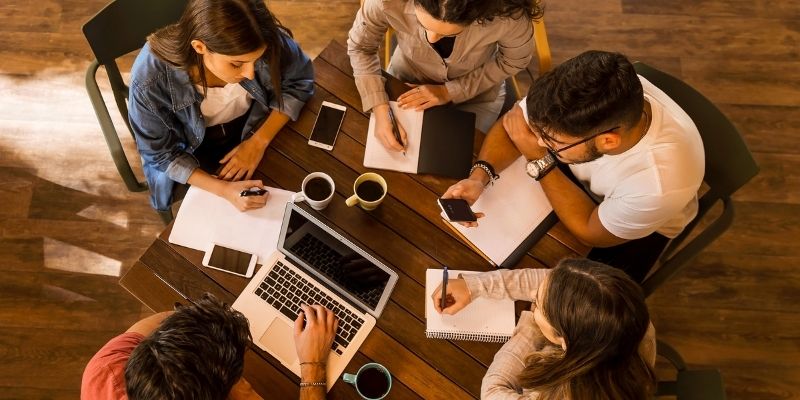 What Responsibilities do Nurses Have?
Supporting patients and reassuring friends and relatives is a key part of nursing, which you will become well aware of when you study nursing online. Hectic hospital environments often leave people feeling neglected, so regular conversation is crucial.
Nursing is also practical, and you'll need to carry out tasks including giving injections, taking blood pressure, cleaning wounds, and working closely with Doctors to track progression. When you study nursing online, you will learn that the role combines assessment, analysis and evaluation. You could be addressing medical problems at every level, from minor injuries to long-term illnesses. 
So, what makes nurses great at what they do? It's common to worry that you don't have what it takes to enter a fast-paced healthcare setting, but you may already have useful transferable skills.
To progress in nursing requires qualities including patience and the ability to work in a team. Any nursing job has the potential to be practical, interactive, and rewarding.
Where Can Nurses Find Employment?
You could work as a Nurse in the UK or overseas. Nurses are employed by NHS trusts and can be based anywhere, from A&E departments to intensive care units (ICUs). There are also job opportunities in private hospitals, at doctor's surgeries, in nursing homes and even in schools or prisons. Once you study nursing online you could build a career in a wide variety of settings.
Nursing is a broad sector, and many people choose to specialise in areas such as mental health or working in children's wards. You'll develop a unique set of employability skills as you learn how to monitor patients, communicate with a team, and assess injuries.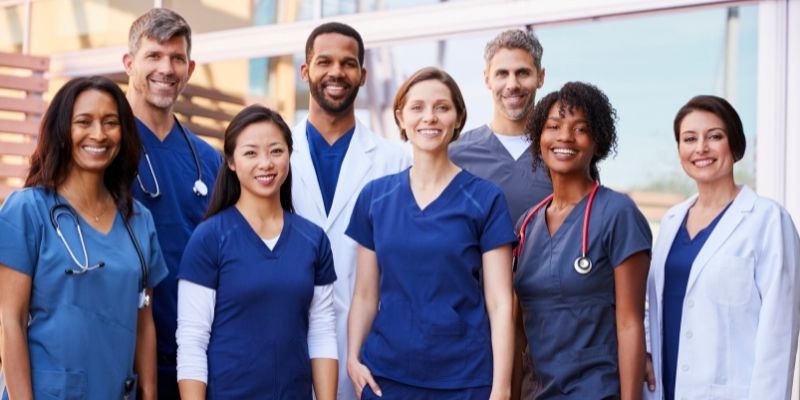 Planning Your Career Path
A degree in nursing will give you the academic credentials and practical experience to develop a successful career in a variety of nursing healthcare professions. Many people study nursing online late in life and nursing studies are often the next step for someone working in health and social care. Equally, higher education courses can be a fantastic choice for anyone who wants to completely overhaul their career.
Unlike many university degrees, an adult nursing course often leads directly to a job. Students frequently take on voluntary work to add to their experience during their studies. This can include work in a hospital or care home. It can also help to speak to nurses about their employment path and get a feel for common progression routes.
There are opportunities for nurses to take their career to the next level by becoming a Team Leader, Nursing Consultant or Nursing Sister. If you decide to return to study, a master's degree can give you the qualifications you need to work as an Advanced Nurse Practitioner.
You could also be promoted to a managerial role and eventually apply to become a Director of Nursing. You'll start on a salary of around £25,000 per year and with experience could take home up to £31,000. Nursing Consultants can expect to earn up to £48,000. Check average nurse salary here.
Many nurses move into other areas of medical care including health visiting and midwifery. A nursing degree can also be used to pursue roles in other professions, including fields such as the social sciences. You could become a Social Worker, Police Officer or Counsellor, or inspire the next generation of nurses in an educational job.
The Future of Nursing
As technology advances, nurses will need to keep up with developments, but they will also have many more tools at their disposal. Access to digital information will make it easier for nurses to offer patients the right care.
As health services in the UK adapt to change and the increasing demands of a growing and ageing population, nurses will play a vital role. Nursing is a diverse career path that brings with it numerous opportunities to progress and specialise. If you are looking to study nursing online, then you can contribute to the ongoing effort.
Take the first step towards your new career by beginning an Access to Higher Education Diploma (Nursing) and join our many employable graduates already finding success. Get in touch by calling 0121 392 8288 or contact us online to discover more about Access to nursing and enquire about our distance learning qualifications. Alternatively, click below to learn more.