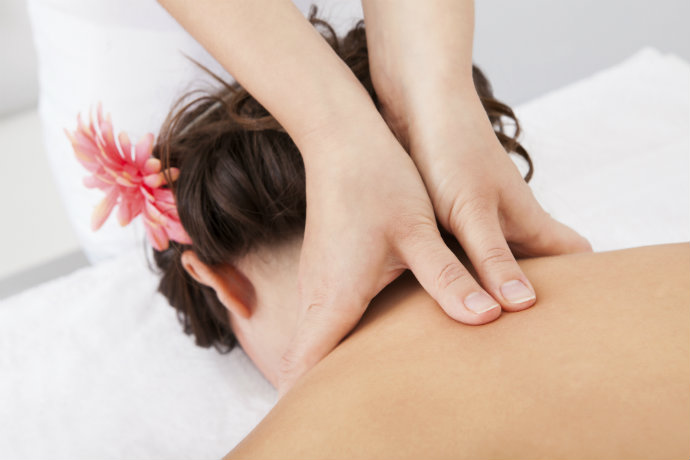 Sports Massage – Lynn Denvir
If you experience lots of aches and pains, then a massage on a regular basis can really help – you can go to a professional like our sports massage graduate, Lynn Denvir.
Lynn has been self employed and qualified in aromatherapy and massage (also a gym instructor doing circuits) for over 10 years. She's currently based at the Senhouse Centre in Whitehaven, Cumbria where she provides a pleasant; safe environment for clients.
Lynn has previously studied on our Clinical Nutrition Course when her son was still at school. Distance learning meant she could easily fit her studies around her daily life. When it came to achieving her goal of gaining a sports massage qualification, she looked to us. Lynn said:
"I read the prospectus, knew how it worked and trusted Stonebridge."
For instance, tense neck muscles are a very common issue.
Thankfully, with study, some lotion and practise, a neck massage can become simple to do – don't forget the shoulder muscles too.There are different types of massages to treat a variety of ailments
If you're an amateur athlete or active person then you should consider sports massages. You'll simply perform better if your muscles aren't tense. These sports massages are done with a greater force than the other types to help boost circulation.
A sports massage is not really used to help relaxation but rather to prevent any future injuries. However, quick gentle massage strokes and stretching exercises are generally included as well to help aid recovery.
Up until quite recently Lynn has offered a wide variety of services; however sports massage (deep tissue massage) wasn't on her treatment list. She was increasingly asked whether she could do sports massages. These enquiries came from rugby players, trail runners and sporting enthusiasts in her local area. With the demand obviously high – Lynn was keen to meet it head on and take action!
Sports massage – how is it different?
Just to emphasise, anyone that's into sports knows a little bit about a sports massage. It's also beneficial for anyone who likes to exercise or train hard.
Having a sport massage is a great way to get back on your feet as soon as possible, after a sporting injury.
We caught up with Lynn recently after her graduation and here's what she had to say:
What was the best part of the course for you?
"I like learning full stop. I enjoyed the whole course – the written work, the theory and the new techniques"
How has the course benefited you in your career?
"I now can offer another massage treatment to clients, one that has been requested several times."
How was your tutor support?
"I had great support from my tutor. The feedback from my assignments was useful and pointed me in the right direction."
Would you recommend Stonebridge to others?
"I easily managed to fit study around my work shifts and learnt a lot. I would definitely recommend Stonebridge to others."
Perhaps it's due to the increasingly hectic nature of today's modern lifestyle, that massage therapy is becoming more popular than ever before.
Learn to give the perfect massage to help injuries on our Sports Massage Course. If you're willing to study and work hard, you can definitely become a great masseuse.
Lynn operates her own business in Whitehaven, visit healingtouchtherapies to see what treatments and therapies she can provide.
Check out our other Sports And Fitness Related Courses