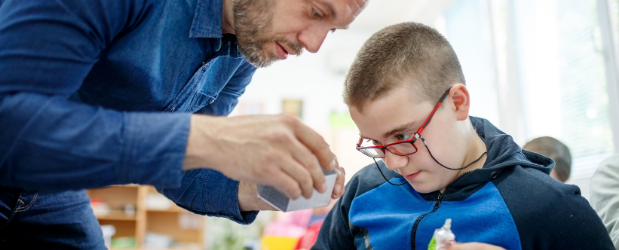 Teaching assistants work with teachers to support children with their learning. Those qualified to provide specialist support can help children and young people with learning disabilities or special educational needs. Often dedicated to assisting a handful of pupils.
Problems such as Dyslexia, Autism, Down Syndrome or learning disabilities can make learning more challenging. Specialist support teachers are on hand to guide them through their education experience. They work closely with pupils to recognise how they prefer to take on new information. They then adapt what is taught in lessons to meet the individual's preferred learning style.
It is a role that requires patience, intuition and a soothing nature. You'll be a source of support and reassurance for the children you work with. Your assistance will help them achieve their learning outcomes and build their confidence.
You'll work with the teacher to create a safe, stimulating and supportive learning environment. Reporting on the progress of the children and highlighting any concerns or achievements will be an important part of your role too.
While you will perform the general duties of a teaching assistant, your responsibilities will focus on your pupil's needs. This can mean providing physical assistance where required and recognising signs of distress and offering reassurance if it's needed.
You'll safeguard their physical, social and emotional welfare and make school a positive experience.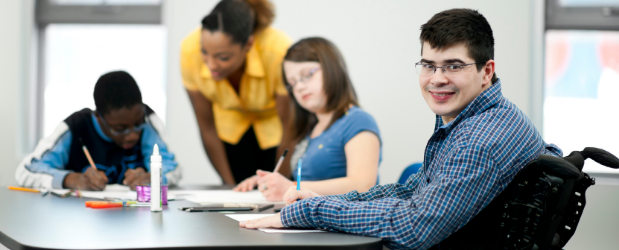 Get Qualified
You have to gain a relevant qualification to provide specialist teaching support. There is also the option to take additional courses once you become a teaching assistant. But for aspiring specialist support assistants, there are specific courses that provide the knowledge you need.
The Level 3 Diploma in Supporting Teaching and Learning qualifies you as a teaching assistant who can provide specialist support.
It teaches the principles of inclusive practice and the rights of disabled children and young people and those with special educational needs. You'll learn how to understand the requirements of those with emotional, behavioural, social development, sensory and/or physical needs.
The syllabus for this course has been reviewed and updated for 2020. So, you can be confident the strategies you're taught to support them reflect the latest best practices and educational methodologies.
You must complete a work placement as part of this course. This allows you to gain practical experience in a classroom and apply your learning. Once qualified, you can pursue support positions within nurseries, infant or junior schools, special, secondary or independent schools.
Should you already be a teaching assistant, it will allow you to take on more responsibilities. The course also opens the potential to study a foundation degree at university. Giving you the opportunity to become a teacher later on.
The course is awarded by the NCFE and recognised by Ofqual. Demonstrating a high standard of education to potential future employers.
Study this diploma online, from home, around your current commitments.
Enrol online today and make your goal of providing specialist support a reality.