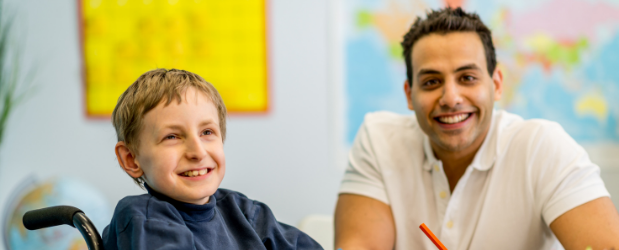 A special educational needs teaching assistant can be an integral part of a classroom setting. Benefiting their school and providing the extra support necessary for any special educational needs (SEN) pupils.
With around 1.28 million SEN pupils across the UK, the demand for special educational needs teaching assistants is high. Schools value SEN teaching assistants and understand the direct impact it has on the pupils' education. By helping them overcome learning difficulties they're able to succeed to the best of their abilities.
It's a rewarding career for those dedicated individuals who wish to aid children so they can thrive within their education. And if you're considering it then the good news is there aren't too many steps involved.
You won't need multiple A Levels for university or to study for any exams. Making it quite an easy leap from whatever your current job role is. Read on to learn what qualifications and qualities you need to become a special educational needs teaching assistant.
Qualifications for a Special Needs Teaching Assistant
The requirements for becoming a Special Educational Needs (SEN) teaching assistant vary depending on schools. Some may even accept candidates without any previous experience or qualifications whatsoever.
However, naturally, it's easier to seek employment and secure a position if you have relevant knowledge to back you up. You'll be entrusted with more responsibility earlier on and feel more satisfied overall. Whereas your day-to-day tasks would be limited if you lacked training and know-how.
Getting qualified arms you with the right skill set for the job. As well as proving to potential employers your commitment to the role and genuine interest in the work you do.
The right course for you will depend on the school and the specific needs of the children. But generally, courses that are helpful to any aspiring special educational need teaching assistants would include:
NCFE CACHE Level 3 Award in Supporting Teaching and Learning (RQF)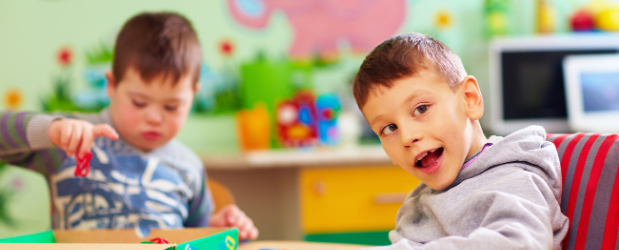 The Level 3 Award in Supporting Teaching and Learning covers the key principles of being a teaching assistant. Expanding your understanding of child development and behaviours, safeguarding and educational aims and values. This qualification covers more ground but is still useful to learn the core elements of being a teaching assistant.  
Special Educational Needs (SEN) – Advanced
This qualification is more focussed specifically on special educational needs. Having that in-depth understanding will give you the edge over the competition. You'll cover topics such as behavioural, social and emotional learning difficulties. As well as common needs such as autism, dyslexia, dyspraxia and dysgraphia.
Autism Awareness – Advanced
The Autism Awareness – Advanced qualification is the most niche of all three. It's designed to provide well-rounded understanding of the history of autism diagnosis and how modern science supports the condition. You'll also learn about education, communication, the theory of mind and intervention.
Qualities of a Special Needs Teaching Assistant
Most schools will also be seeking candidates with specific qualities as well as qualifications. The knowledge is important to have but the practical skillset needs to be there too. Outline these qualities in your resume and have examples ready should you need to discuss them further in interview settings.
Flexibility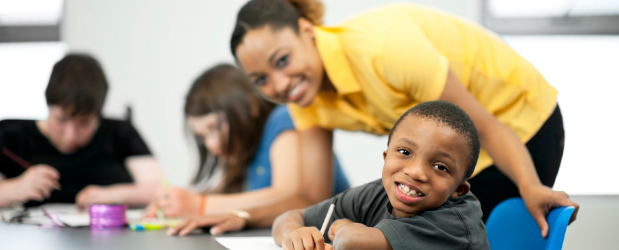 Things don't always go to plan despite the work you'll put in with the teacher beforehand to plan lessons.
Pupils behaviour might be particularly challenging, or they may just be struggling to grasp the concepts of the lesson. Or it may be that a group of children are being disruptive and that's hindering the attention you need to give to another pupil. Either way, you need to be prepared to handle all kinds of scenarios at a moment's notice.
The ability to adapt and think on your feet is essential for a classroom environment. A skill that becomes easier with the more knowledge you have on SEN teaching assistant best practises.
Patience, Sensitivity and Understanding
You'll be working with pupils who have a range of specific needs. From learning difficulties to behavioural problems. Sometimes it may be challenging or frustrating, but you need to be able to keep a level head. If you stay calm it can help diffuse the situation so you're able to find a solution together.
Having that sensitivity and understanding is important as it's not always easy for all pupils to articulate their needs. You'll need to be intuitive and able to understand them through other identifiers such as body language and expressions.
Excellent Communication
Communication is key as a special educational needs teaching assistant. Understanding literary, mathematical and scientific concepts are one thing, explaining them to pupils is another. You'll need to be able to discuss them clearly, coherently and in many ways to ensure they grasp these fundamentals.
If you find yourself working with non-verbal pupils, you'll need to be creative, communicating concepts with them in other ways.
Studying Online
Studying online gives you the flexibility to reach your goals without impacting on your current schedule.
No matter what your commitments are you're able to get back into education at any stage in your life. You won't have to worry about rearranging shifts or finding childcare to attend classes because there aren't any. Simply log in and begin learning whenever the time is right.
Also, you won't have to adhere to physical college term times. This allows you to start learning pretty much as soon as you enrol. So you're able to progress into your desired job in less time. Unless you have a busy schedule or just want to take it slow, it's completely up to you.
There won't be a teacher, but you'll have an expert tutor who will provide constructive feedback and assistance when needed. This allows you to stay focussed on the areas that need it most and get more out of your studies.
If you're ready to get qualified to become a special educational needs teaching assistant Stonebridge Associated Colleges can help.
Stonebridge Associated Colleges is one of the UK's leading online learning providers. We have flexible payment options and dedicated tutors to guide your learning.
Once you're enrolled you're able to work through the material at a pace that suits you. All from the comfort of your own home.
To learn more on how to prepare for your online learning journey visit our blog here.
Otherwise, get in touch with our sales team to discuss these courses further or browse them online below.