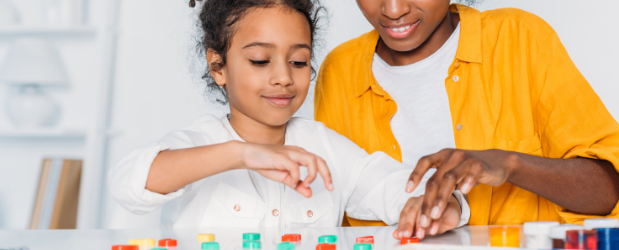 Being a teaching assistant means you get to inspire and encourage pupils to be the best they can be.
When the position originated it was often to keep an eye on difficult students and perform menial tasks for teachers. However, it has since evolved and now requires you to take a more active role in educating pupils.
Teaching assistants can find themselves working with a broad range of pupils. Through their work they can motivate them to overcome whatever challenges they face, learning or otherwise.
You're responsible for building a relationship and ensuring they get the support they need to reach their full potential.
You'll be right there with them for those lightbulb moments. Whether that's understanding a mathematical concept, grasping the rules of grammar or understanding a scientific formula.
The work you do as a teaching assistant is not be understated, it makes a huge impact on pupils' lives.
Who Should Become a Teaching Assistant?
Teaching assistants nowadays need a lot more skills and expertise than ever before. This is because we are more aware of the impact teaching assistants can have on a pupil's learning.
First and foremost you need to be good with kids.
But it's more than that, becoming a great teaching assistant requires you to understand how children learn and develop. This will ensure that you're better equipped to help them.
Your working day will revolve around helping children reach their full potential. You need to genuinely want to help them do well in school and overcome any challenges.
To do this effectively you'll need to have patience and the understanding to know that progress may not be linear. Some days may be easier than others and some pupils may have more complicated circumstances.
Whatever the case may be, it is your job to stay composed and positive in any scenario.
You'll also need to have solid literacy and numeracy skills to help aid children with their education. As well as be an excellent communicator too.
Communication is key when helping children overcome behavioural problems or anxieties. You need to be able to build a relationship with the pupil you're working with and really listen to their needs.
Following on from this, you'll have to be able to adapt to ensure those needs are being met. Being flexible in your role means you're really in tune to what the pupils require to succeed.
You'll need to be prepared for lessons beforehand so you can plan how to be of best use to the pupils. As well as helping teachers devise engaging activities to educate their class.
You may also be expected to lead the class if the teacher is occupied, so leadership qualities are desired too.
Being a Teaching Assistant
As a teaching assistant, you'll be able to work in a range of educational institutes. You can find work in pre-school nurseries, primary, secondary sixth form or special needs schools depending on what's available in your area.
Duties
Your main responsibility is to support pupils with their learning. This can be on a one-to-one basis or in small groups. Other duties may include:
Working with special educational needs (SEN) children
Help set up for learning activities and after-school clubs
Help maintain classroom etiquette by supporting the teacher with behavioural challenges
Supporting teachers with class outings
Looking after pupils who are upset or unwell
Inspiring children to want to learn and encouraging them to read
Lead the class with the teacher's help
Employment conditions
This can vary depending on the school and local authority with a variety of contracts available. This includes:
Permanent all year
Temporary all year
Permanent term time
Temporary term time
Term time contracts are the most popular.
Most teaching assistants work at their local school so it's worth getting into contact and building a relationship with them.
This way you'll have a better understanding of what the schools are looking for and a feel for what the school is like. They'll be able to keep you updated on vacancies and know whether you're suited for the role.
Making a good impression early on can help you stand out amongst the competition and secure you the job role.
Online Courses for Teaching Assistants
There is currently no qualification that is essential to becoming a teaching assistant. You could even find work as a teaching assistant without a qualification at all.
However, that means your role would be most likely be more basic as you wouldn't have the advanced skillset. Whereas qualifying will allow you to have a more active role.
There are several qualifications listed on Ofqual that most schools will recognise as suitable training. 
These courses can be completed online or through placements without prior experience or qualifications. Although, some schools may ask for GCSE maths and English for their teaching assistant vacancies.
Here are some courses to do online or in-person that could help you realise your ambition:
Studying from Home
Online learning providers offer the flexibility physical colleges lack.
This means you're able to complete your online course around your other commitments to get qualified. You won't have to rearrange shifts or find childcare as you can decide when is best to study.
You're also able to set the pace of your learning and work through the modules as fast, or slow as you like. You're completely in control.
Despite online learning being a more independent approach, it doesn't mean your completely alone. An experienced and qualified tutor will provide guidance where needed to help you progress.
Whatever pathway you decide to take will help you realise your ambition of becoming a teaching assistant.
At Stonebridge Associated Colleges we have a range of online courses to suit your needs. Stonebridge Associated Colleges are one of the UK's leading online learning providers.
All our courses have flexible payment options and expert tutors to help guide you. They'll provide constructive feedback and any extra assistance where needed.
To learn more on how to prepare for your online learning journey read our blog here.
If you're ready to take the first step towards an exciting new career get in touch or enrol below.