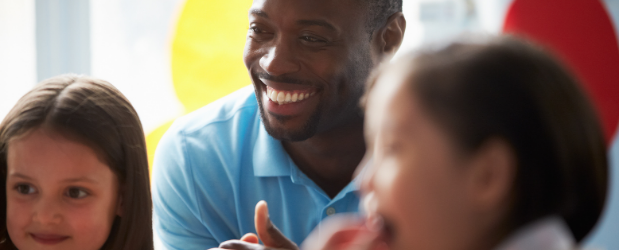 Whether you're an aspiring teacher or love working with young people, there are many benefits to being a teaching assistant. It is both a diverse and challenging career that'll certainly keep you on your toes.
Many move away from the typical 9-5 in search of a career that provides fulfilment. Others have a thirst for teaching from the get-go and want to positively influence the next generation. Either way, plenty of people find their way into assistant teaching for a number of reasons.
Imagine knowing that your influence has helped children and young people learn and develop life-long skills.
If you're toying with the idea of becoming a TA, read on to find out more of the great benefits this role provides.
It's Extremely Rewarding
It's your job to make sure children get the most out of their time at school. You'll take the lessons of the teacher and alter them to the learning styles of those you assist.
Helping young people thrive academically and personally is an extremely rewarding experience. You'll become their role model, guide and friend. Supporting them in their educational needs and helping them to progress.
Your hard work will become clear as each pupil overcomes their learning obstacles. You'll watch as they figure things out for themselves, using the tips and teachings you gave them.
You Make a Real Difference
Not only will you make a difference to the lives of pupils, your work benefits the school and surrounding community.
By helping teachers deliver more effective lessons you improve the potential to learn. If pupils are effectively challenged and achieving success, they will get more out of their education and enjoy the experience.
How well a school performs has a rippling effect throughout the community. Drawing more people to the area, increasing employment potential and generally creating a more pleasant environment.
Playing a part in the development of children isn't just a great privilege, it's an important role in society.
You'll Develop Useful Skills
Working as a teaching assistant could be the first time you provide instruction and assistance to a group of pupils. In this instance, it's really beneficial as you'll develop all manner of useful skills in this role.
You'll get to hone your communication skills since you need to express yourself clearly. You will also learn to demonstrate authority effectively, listen intently and foster positive interactions between pupils.
Your time management and organisation skills will be developed, and you'll grow more comfortable in a position of leadership. Refining your instructional skills and ability to take charge when things don't go to plan.
There are Opportunities to Progress
Working as a teaching assistant can be a career destination or a step towards other opportunities. You can use this position to help children reach their full potential as well as your own. Training as a teaching assistant can lead to many avenues of career progression within the education sector.
With experience, you can take on more responsibility or focus on specific areas of assisting. You could take further studies to work with children with special educational needs or disabilities. Or train to become a higher-level teaching assistant.
You can also achieve the necessary qualifications to become a fully qualified teacher.
You Can Build a Great Relationship with Your Teacher
Teaching assistants become the right-hand for teachers in the classroom. Your assistance helps make their lessons accessible and understood by each student. Plus, you can take some of the load off by helping with their day-to-day duties.
But it isn't a one-way street. Forming a close working relationship with your teacher can provide many benefits. You can look to them as a guide and mentor in your teaching journey. Taking heed from their example and picking their brains about various aspects of the job.
Their guidance and insight could help shape the way you view education. Potentially encouraging you to pursue other avenues of the profession. They could help you realise your ambitions and, if you do a good job, provide a glowing letter of recommendation.
It Isn't Boring
No two days are the same in this role. The duties of a teaching assistant vary day-to-day and often don't stick to a rigid plan.
One minute you're assisting with lesson preparation, the next you're getting creative and designing a display to showcase pupils' work.
You have plenty of chances to utilise your talents as you cover the many aspects of the curriculum. If you are naturally artistic, you might find more creative ways of communicating concepts to children. Should you be a history geek, well you'll shine in that topic and share your enthusiasm with the class.
Aside from the classroom element, you'll get to partake in school trips, assist with school-wide events and more. It's certainly far removed from the regular 9-5.
It Fits Around Family Life
An undeniable benefit of becoming a teaching assistant is how well it fits around family life. Fighting for time off in the school holidays become a thing of the past. Plus, you'll finish at the same time your kids do.
Most teaching assistants either work at the same school their own children go to or one close by. This makes the school run one less hassle to think about.
Outside of the family benefits, it's a great job for anyone needing an earlier finish. Whether that's because you have additional responsibilities, another job, a hobby or you just enjoy a nice long evening.
It's a job that allows for a great work-life balance and more time with the ones you love.
It's Fun
Not only is it a job full of variety and ingenuity, it's fun! You get to join in on the fun activities going on each day such as arts and crafts, cookery classes, drama and reading exercises. You'll learn about a range of fascinating subjects and help to create a safe and exciting learning environment.
And all of this without the pressure and responsibility of being the classroom teacher.
You can escape the typical 9-5 or get started on your teaching journey by becoming a teaching assistant.
Stonebridge Associated Colleges is a leading UK distance learning provider. With many courses to help you on the way to becoming a teaching assistant.
Make this career a reality for you by enrolling in a relevant course online today.
View our various teaching and education courses by clicking the link below. Or find out more by reading our blog on how to become a teaching assistant.