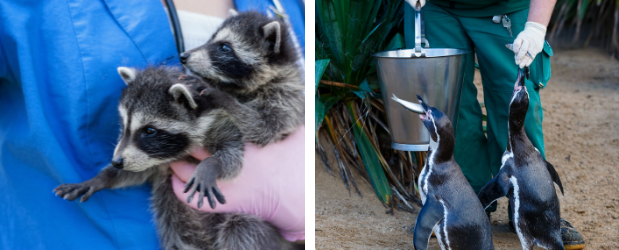 Working with animals in any capacity can bring considerable job satisfaction to people with an affinity for animals. But there is something incredibly enticing about working with some of the most majestic and exotic species on the planet. You can do this as a keeper or vet in a zoo.
Either position satisfies the needs of anyone wanting to work with exotic animals, but they do so in different ways. The skillset required for each is different. But that's not to say having skills in one role wouldn't also highly benefit the other.
Zookeepers are well versed in handling animals where needed and moving safely around their enclosures. With veterinary skills, they'd be able to assist animals on the ground and spot any signs of ill-health early. Preventing any health issues from escalating and enabling the animals to live longer, healthier lives would make a real difference. Not least because many of the animals you'd be working with are endangered so any loss of life would be acutely felt.
Zoological veterinarians examine the animal's physical anatomy and condition, administer medications and perform procedures that maintain their health. But with the practical skills of a zookeeper, they'd likely be better at handling the animals. And working with them to assess their health whilst they are conscious, as opposed to performing examinations mostly when sedated.
Despite the benefit of these crossover skills, there isn't currently a role that combines the two. Some zookeepers have qualifications in animal science, but they aren't essential for employment.
You would generally go into one role or the other. If you're considering either option, find out more about what is involved in each below.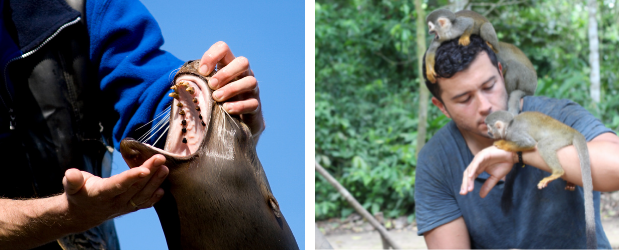 Working as a Zoological Veterinarian
As a zoological veterinarian, you will have invested time into advanced training and study to medically treat exotic wildlife species. Once qualified, you could treat anything from iguanas to elephants and everything in between.
You'll treat any illnesses or injuries that the animals in the zoo sustain and provide them with preventative medical care. This includes using an array of medicines and equipment like imaging devices and surgical tools.
The duties you'll perform
To perform your duties competently and confidently, you'll need certain skills and qualities. These include:
In order to become a zoological veterinarian, you'll need to complete the same training as a regular vet. This involves completing an undergraduate degree in veterinary science and medicine. Then obtaining registration with the Royal College of Veterinary Surgeons (RCVS).
After this, you will need to carry on your training and education to specialise in zoological medicine. But you'll gain your physical experience by first working with domestic animals in a general veterinary practice. This allows you to establish your core skills and gain hands-on experience with the similarities and differences of animal species.
Besides the experience you need treating domestic animals, a postgraduate degree in wildlife health and medicine is also essential.
To gain more experience with other, more unusual species, you can complete voluntary work with wildlife rescue centres.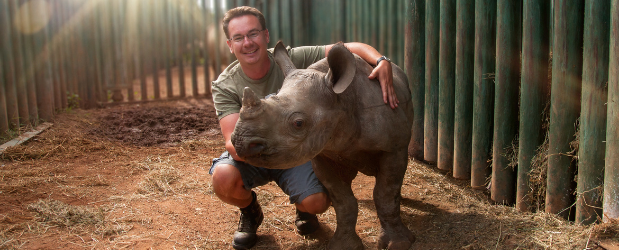 Working as a Zookeeper
As a zookeeper, you're the member of the zoo team that is most visible to the public. And as such, your work is split between working directly with animals to enhancing the visitor experience.
Zookeeper roles are highly competitive as they provide you with unique experiences and ample opportunities to become involved with animal conservation. You're also able to specialise and work with animals of particular interest to you. Handling the enclosure of reptiles, big cats, aquatic species, birds or any other section that you're drawn to.
Your role is dynamic, but at times it can be quite repetitive.
The duties you'll perform
Cleaning enclosures to keep animals in good health
Feeding animals
Monitor animal conditions by observing their appearance and behaviour to see if there are any signs of distress or ill-health
Keeping detailed records of their condition to document any patterns or changes which can be given to vets if required
Caring for animals all hours of the day. Which can require you to be on call, work early mornings or late into the evening
Administering medication if needed
Assisting with the design, build and repair of animal enclosures
Performing security procedures to keep animals, staff and visitors safe
Providing enrichment by designing games and activities that encourage animals to play, exercise and enjoy mental stimulation
Educating zoo visitors through demonstrations, guided tours, presentations and visitor experience packages
To perform these duties effectively, you will need to have:
A driving licence – in larger zoos and safari parks
Attention to detail – to ensure every enclosure is safely secured and to pick up on behaviour changes in animals
Communication and interpersonal skills – to work well with the wider zoo network, present to the public and report on animal conditions
Comfortable working in all environments – within enclosures that are designed to be dark, tropical, wet or muddy, and outdoors in all weather
Confidence – to comfortably work around animals of all sizes
Desire to learn – to keep up to date with the best way to provide animals with a happy, safe and enriched life
Patience – give animals the time, space and respect they deserve, answer public questions and manage their behaviour around animal enclosures
Physical ability – to walk around the zoo, complete the various physical tasks and physically handle animals where needed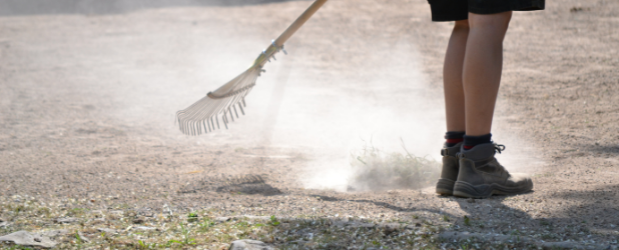 Get Started Online
You can begin developing the knowledge for either role with an online course. Which allows you to study in your own time, whenever suits.
Our online Zookeeping Level 3 Diploma expands your understanding of the role. Teaching you how to effectively care for large animals with complex needs in either a zoo or safari setting.
Whereas our online Zoology Diploma explores the different populations of animals, their behaviours, anatomy, physiology, distribution and classification. Making you familiar with what different species need to ensure their health and wellbeing. And our Veterinary Support courses allow you to further understand animal health and what working in a veterinary capacity entails.
These courses can be completed at your pace, so you can study them quicker than otherwise possible in on-site education. This allows you to potentially explore both lines of work and see which you would prefer to get into.
Stonebridge Associated Colleges is one of the UK's leading distance education providers. So you can be assured the education you receive will provide valuable knowledge for your chosen career.
Find out more about the courses you can take to help towards your zoological veterinarian or zookeeping career below.