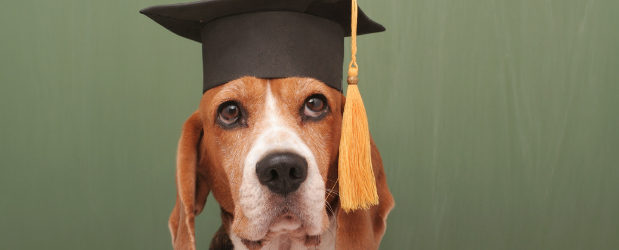 When considering a career working with animals, the extensive capacity in which you can work with them often makes it hard to narrow down your options. Whether it's welfare, healthcare, enriching exercising services or accommodation facilities, animals can benefit from human assistance in multiple ways. And the great thing is many of these roles can be accessed without a degree.
Not needing a degree means your career change is much more achievable. You'll invest less time and money ahead of working, but you'll still benefit from financially and emotionally rewarding work.
However, the breadth of sectors involved with animal care and welfare means there are ample opportunities to choose from. This may seem overwhelming at first. But investing time now into researching the roles available will help you find the right job for you.
It will help put you on the path to your ideal career quicker. But it can also save time and money that may be invested in gaining qualifications for something you decide against later.
To help, we've compiled a list of some of the animal related jobs that don't require university level education. But this is merely scratching the surface of the opportunities available.
Each career is different, as is the learning journey into them. But they all aim to enhance animal life in some way which is no doubt a fulfilling aspect of each job.
Working with Domestic Animals
There are many jobs you can pursue that enable you to work with domestic pets like cats, dogs and other small animals. While many don't require qualifications at all, a certain degree of education will help you stand out against the competition.
Just a few of the many roles you can go into without a degree are:
Boarding and Minding Services
With 90% of owners paying to board their pets, it's a great time to set up your own boarding or minding service. No matter if it's daycare services during work hours or overnight accommodation, providing either can be a lucrative business.
Aside from the physical premises, you need to consider set-up fees, licensing requirements and your service offering. As there are many add-ons you can include like walking, for instance, to boost client value and your revenue.
To operate in line with the Animal Activity Licensing standards, you'll need to demonstrate clear knowledge and experience. Or a Level 2 Ofqual regulated qualification. You can achieve a higher level with a Level 3 Diploma in Kennel and Cattery Management or Level 3 Award in Dog Walking and Pet Sitting for Professionals. These courses would be ideal for these specific careers.
Dog Grooming
Be positioned to support the health of dogs and potentially run your own business as a dog groomer. Through dedicated training, you'll understand canine anatomy, diseases, skin conditions and the various parasites dogs can contract.
As such, you'll be able to confidently assess ear, eye, teeth and foot health. As well as understand the varied care and grooming requirements for different breeds.
You can get into this role through apprenticeships and on the job training. However, investing time to learn the many aspects of safely caring for dogs separates you from the other applicants. It also gives you the confidence you'll need to manage and work with dogs of all sizes.
There are many online dog grooming courses you can take to quickly gain the skills and knowledge you need. Some of which incorporate the practical training that so many employers desire.
Training in Animal Assistance and Intervention
If you're interested in the way animals can help people overcome challenges, certain roles involved with training may appeal to you. With over 7,000 people requiring assistance dogs in the UK, there is a constant demand for trainers in this area. And animal assisted intervention trains animals to help support individuals with rehabilitation, disease and disabilities.
Both of these roles require you to work closely with animals that are identified as being suitable in these capacities. And both careers can be attained through online courses.
A Level 3 Diploma in Animal Assisted Intervention enables you to deliver such therapy safely. Which is essential when working with groups and individuals with varying degrees of physical and mental disabilities and impairments.
Whereas a Level 3 Diploma in Assistance Dog Training teaches how to select, develop and train assistance dogs.
Pet Care in Retail
As a pet shop assistant, you may look after a range of animals including fish and amphibians, reptiles and small mammals. You'd be responsible for educating the public on how to properly take care of their pets. Helping them to understand what they need to do to provide proper housing, appropriate forms of enrichment and correct nutrition.
It's a role combining animal legislation with pet care best practices. And you can get into it with a Level 3 Award for Pet Care in Retail. As you need a level 2 or 3 Ofqual regulated qualification to work with animals in a pet shop environment.
Therapeutic Treatments
Whether it's a result of injury, weight gain or ageing, animals can find themselves in need of human assisted therapy. And the low-impact exercises performed in hydrotherapy can reduce pain and encourage movement so function can return.
Canine massage also aids in the treatment of various conditions and can improve an animal's quality of life. With massages increasing circulation, decreasing blood pressure, improving lymphatic fluid movement, strengthening the immune system, aiding digestion, stimulating organs and encouraging deeper breathing.
You can gain the skills needed for both professions through online learning. Opting to work together with veterinary practices, in an established clinic offering these services or setting up your own business.
Study either a Level 3 Diploma in Small Animal Hydrotherapy to become a qualified Canine Hydrotherapist or a learn about the Principles of Canine Massage with a short online diploma.
Working with All Animals
If you're interested in working with a broader range of animal species, there are roles that allow you to work with both wild and exotic breeds. Depending on your capacity and interest in working abroad, this could be work in the UK or overseas.
Some of the many roles you can pursue relating to other animal species are:
Veterinary Practice
While domestic pets are common visitors to veterinary practices, you'll work with any animal that requires medical treatment. This could be anything from livestock to wildlife and sometimes exotic animals of all shapes and sizes.
You'll need a degree to become a veterinary surgeon or veterinary nurse. But there are supporting roles you can get into through online courses and relevant training. You can become an entry level veterinary support assistant and help nurses and surgeons as they treat animals in the practice.
To gain employment you'll need evidence of at least a Level 2 regulated veterinary qualification.
Animal welfare
If you're passionate about preventing animal cruelty and neglect, you could become an animal welfare officer. In this role, you'd enforce the animal licensing law and educate the public on ways to keep animals safe and healthy. This is in relation to all animals, not just domestic pets.
You'd inspect both commercial and residential properties, removing any animals at risk. Where necessary you'd work with legal representatives by providing them evidence for cases that go to court.
This Level 3 Animal Welfare Officer Diploma meets the higher level entry requirements of the profession.
Zookeeping
Work with a broad range of interesting and exotic species without travelling overseas by becoming a zookeeper. You'll play a hand in the conservation efforts that most modern-day zoos drive forward. Improving animal welfare by raising awareness, educating the general public and explaining how important these animals are to their ecosystem.
Jobs in this area are extremely competitive, so relevant education and training are advised. This Level 3 Diploma in Zookeeping provides a mixture of theory-based online learning and a practical element of training. Giving you the targeted knowledge and hands-on skills that employers desire.
Animal or Wildlife Conservation
If you want to work with animals out in their natural habitat, there are jobs you can pursue in this area too. Both wildlife rehabilitators and wildlife conservationists aim to sustain animal life and enable wild species to thrive.
As a wildlife rehabilitator, you'd work with rehabilitation centres and animal sanctuaries to rescue sick or injured wildlife. Rehabilitating them before returning them to their natural habitat.
As a wildlife conservationist, you could position yourself to work with marine, African and other wild species across the globe.
Study courses in conservation that most align with your interests or this Wildlife Rehabilitation Studies Diploma to get started.
All of these courses can be studied online at your own pace. And where practical elements are included, these can be completed at a time that suits you. Allowing you to have further control over the flexibility of your learning.
Find out more about studying for an animal related career with Stonebridge Associated Colleges. Simply click below to view our entire range of animal courses.