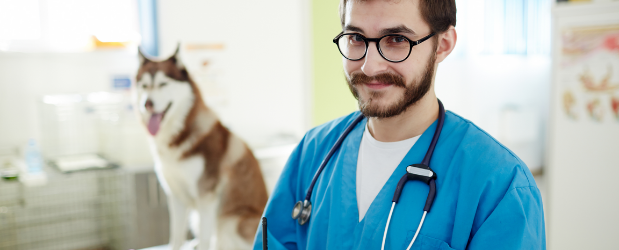 If you're considering a veterinary career, working as a veterinary support assistant is a quick way to get started. With fewer barriers to entry, you could begin working with animals sooner than if you trained as a veterinary nurse or surgeon. But there are still certain entry requirements you'll need to meet.
As a supporting role in practice, veterinary support assistants help support veterinary staff as they treat animal patients. In your role you will handle various tasks and duties that help with the running of the practice. In doing so you will free up the time and hands of the senior team to provide more urgent and technical care.
As such, veterinary support assistants are highly valued members of the modern veterinary team. But to work in this fast-paced, specialist environment, you need certain knowledge and the ability to think on your feet.
That's why evidence of at least a Level 2 regulated veterinary qualification is essential for the role. A course of this type helps get you practice ready so you can hit the ground running when you find employment.
If you're planning to become a veterinary support assistant, we've put together a list of exactly what you need below.
Is being a Veterinary Support Assistant right for me?
This is the ideal role for people who want to work with animals while enjoying diversity in their day to day tasks. No two days will be the same with the range of duties and responsibilities you'll be assigned.
You might be at the surgeon's aid during operations, or you will provide calming and reassuring presence for animals post-treatment and even a source of information and advice for pet guardians.
Aside from this, your duties can include:
Administering vaccinations and medication
Assisting with x-rays
Prepping animals for surgery
Answering calls and booking appointments
Sterilising medical equipment and surgical instruments
Record keeping
Teaching owners about animal care
Applying bandages to fractures and wounds
Giving animals food, water and fresh bedding
Assisting with euthanasia
Monitoring pets before, during and post-surgery
Restraining animals during treatment and examinations
Assisting veterinarians during surgery
Responding to emergencies
Keeping rooms and kennels in the practice clean and sanitised
Exercising and grooming inpatients
Preparing the surgery area with the required equipment
Working evenings or shifts can be common as animals will need monitoring overnight following surgery or being treated for illnesses. This is especially the case of veterinary hospitals or practices that offer emergency care. But generally veterinary clinics, laboratories, research or teaching institutions that employ veterinary staff work between 9am-5pm.
Whichever environment you work in, there will be long days and the work is often physically and emotionally demanding. However, helping animals recover from injury or illness provides a sense of fulfilment you won't find in many other careers.
The Skills you'll Need
Besides being prepared to work long hours, there are certain skills and character traits employers will be looking for. As these will reassure them that you're cut out for the work ahead.
They'll want to see that you're a hard worker. But more than that, they need to know you're dependable and confident performing duties unsupervised. And perhaps most importantly, that you can handle the emotional challenges the job can present.
The top traits you need to demonstrate are:
Confidence
While you'll be supervised a lot of the time, there will be occasions you'll be working alone. Most vet teams are small and cover an expansive workload. So veterinarians want employees who they can trust to get the work done when they aren't there. They'll also need to see that you can work equally well with animals and their owners.
Dedication
Long hours are common, especially in cases of emergencies. So flexibility and commitment to care are essential, even if that means staying late.
Empathy
You'll be working around animals who are injured, in pain, or sick. Which can be distressing for both the animal and the carer. You'll need to be equally empathetic for the animal receiving treatment and their emotional guardian. Being able to provide calm, reassuring support for them both in difficult times.
Patience
Such a fast-paced and at times, chaotic environment can leave emotions running high. The veterinarians will want to see that you can keep your cool with the public and your teammates. Remaining calm and patient, no matter how busy things get or how other people and animals are behaving.
Resilience
For the most part, your work will revolve around helping animals get back to good health. But there will be times where this outcome isn't possible and animal patients pass away or have to be euthanised. Though difficult, you have to separate your feelings from the situation and continue to perform your duties. So the veterinarian will want to see that you're resilient. Not only for your own emotional well being but because you'll need to support pet carers during these times.
The Education you need for the role
You can start getting educated for this role with a knowledge based-course. This Veterinary Support Assistant course focuses on teaching you the responsibilities you'll have in a supportive role at a veterinary practice.
During your studies you will learn:
Animal Diet and Nutrition
Animal Disease
Basic Small Animal Anatomy and Physiology
Care of Ill Animals
Diagnostic Tests used by Vets
Euthanasia
Handling Animals
Infection Control
Operation Care
Safety and Welfare
Small Animal Emergency Nursing
Veterinary Medical Terminology
It's an ideal starting point as you learn exactly how this type of role provides support to a qualified veterinary team. You'll cover topics that prepare you for your duties and responsibilities at work, plus part of the course helps you prepare for employment.
So once you've completed this course and obtained a Level 2 regulated qualification you'll have the best chance of success.
A Veterinary Nurse Assistant Level 2 Diploma (RQF) would be an excellent follow on from this course to get qualified.
Get Started Online
A great benefit of studying the Veterinary Support Assistant course is that your initial period of study is completely online.
This course has no practical element. And since the materials are completed at your pace, you can structure your education around your lifestyle.
Once you've successfully completed this qualification, the Veterinary Nurse Assistant Level 2 Diploma (RQF) provides you with the regulated qualification you need. As well as the opportunity to gain the practical learning experience that is valued by employers.
With both qualifications and hands-on experience, you'll be able to seek employment as a veterinary support assistant.
Find out more about starting this journey with Stonebridge Associated Colleges, by clicking the link to our course below.