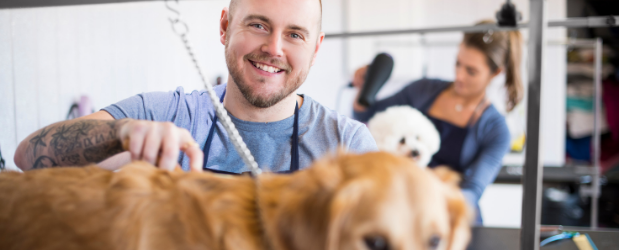 It's not uncommon for people who aren't in the know to think that being a dog groomer just involves brushing dogs. But there is so much more to this hygiene and health related canine career. Any professional dog groomer has taken the time to learn the various aspects of canine care. But if you're considering this career, you're likely wondering just how long it takes to learn how to groom dogs.
The answer to this depends on your chosen route into the profession. There aren't any specified requirements for becoming a dog groomer. So you can develop your knowledge and gain the essential skills in a number of ways.
This can be highly beneficial for you as a learner because there are options that cater to different learning styles. If you want to study dog grooming back to front prior to working, you can take specific courses. But if you learn better by getting hands-on right away, you can shadow professionals on the job.
Either way, you can gain the competence and confidence for a successful dog grooming career. Find out more about the different ways you can learn how to groom dogs and how long they take below. Plus, what you need to gain from the learning method you choose before assuming the role of a dog groomer.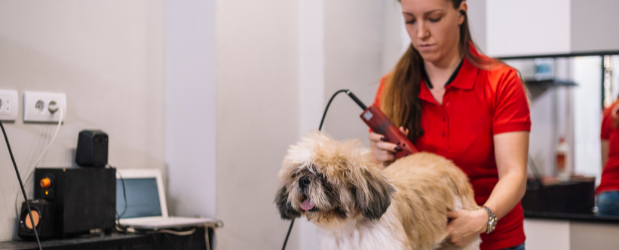 Complete an Apprenticeship
Time – 12-18 months
The route that offers practical learning is completing a dog grooming apprenticeship. These are offered by both large pet retail and grooming chains and also small independents. In your apprenticeship, you'll work alongside an experienced and professional groomer. They'll show you the ropes of the grooming salon and walk you through every step of the grooming process.
This can be a great way to learn as someone with years in the trade will have valuable insights. They can also provide you with useful information about building effective relationships with clients in the local area. And explain things to you in real time.
Apprenticeships aren't for everyone, however, because there isn't any flexibility in the programs. They take place over a fixed number of months, after which, you'll gain recognition as a qualified dog groomer. Plus, wages aren't high for apprentices. So you'll likely have to take a drop in income for the duration of your training.
Another issue can be a lack of dog grooming apprentice positions. If the salons in your area don't have capacity to take you on, you'll either have to wait for a spot to free up or travel further afield.
A huge plus for apprentice dog groomers though is that in many cases they are hired by the business that trains them. So you have a high chance of walking into a job right after completing your training if you do well.
In that instance, there's a lot to be said for building your knowledge in an environment where you can immediately put your learning into practice.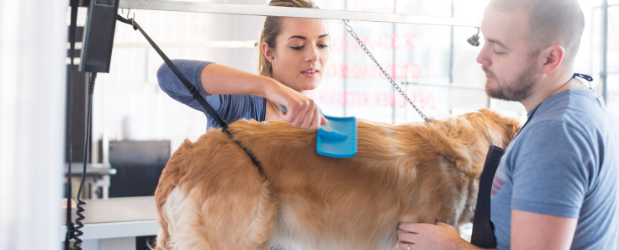 Study a Targeted Course
Time – Weeks or months depending on the course
More commonly, would-be dog groomers are taking targeted online courses to gain an education on their terms. These encompass dedicated theoretical study on each element of dog grooming, health and safety and health assessments. In combination with practical training and other directly related topics, depending on the course you choose.
You can study just dog grooming or opt for courses that incorporate additional styling and salon management modules. As they are studied online, you can pick and choose when and how quickly you complete your learning.
Depending on the course you choose, they cover:
Health and safety regulations and practices in a dog grooming environment
Prepare, style and finish a range of dog breeds
Promote the welfare of dogs conforming with relevant legislation
Customer care and managing complaints
Assess and plan dog grooming styles and maintenance of equipment
Health checking, handling and canine behaviour
Canine emergency first aid
Planning the operation of a small canine business
Most courses include practical training so you can practice what you've learnt in the online materials. This takes place in facilities where you'll shadow trained dog grooming professionals. So you too can benefit from the knowledge of an experienced person who is established in the industry.
These practical elements can be booked in at numerous times within the year. So you have further control over the flexibility of your learning. Gaining your education in this way means you can work through the course as fast as you please.
You get between 6months and 3.5 years to complete online animal courses with us, depending on which one you choose. But should you complete the online materials and any necessary practical element quickly, you could become a qualified dog groomer in a few short months.
Making online courses the quickest way to learn how to groom dogs.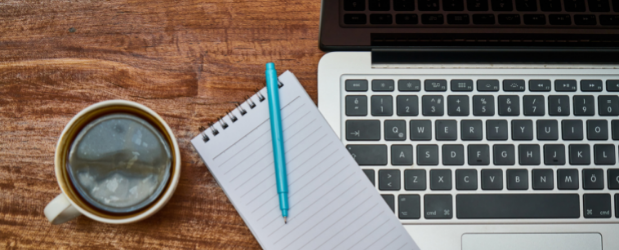 What Dog Groomers Need to Learn
No matter which route you choose, it must deliver on teaching you the essential knowledge and skills for the profession.
Dog groomers play an important part in safeguarding canine health. It's their role to recognise what's best for the dogs in their care. As well as ensure owners know what they need to do to keep them healthy at home.
To do this effectively, you'll need to understand canine anatomy as well as the diseases, skin conditions and parasites that can affect dogs. Which will help you assess the health of dogs skin, ears, eyes, teeth and feet. You'll also need to know how to implement first aid and safety measures. As well as the processes you need to complete pre-treatment, bathing and drying techniques, plus grooming styles.
Your learning method also needs to teach you the properties of, and appropriate use of grooming chemicals. The varied care and grooming requirements for different dog breeds. And when to refer them to pet health professionals should health issues be identified.
The need to learn all these elements makes it clear to see why dedicated study and apprenticeships are so advantageous.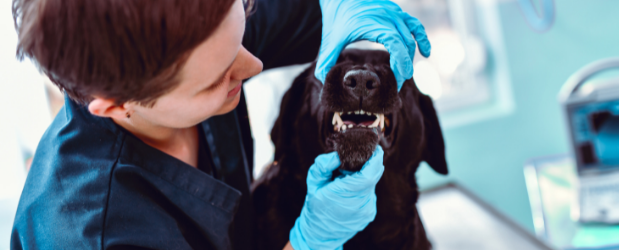 Get Started Online
If you're looking for the fastest way to learn how to groom dogs, we can help. Our online courses offer flexible learning and the ability to move through the materials at your pace.
You can be in charge of your progression and organise your studies in a way that suits you best. Each course is designed with the help of industry professionals. So you can be confident the learning materials focus on elements that will benefit you in your career.
Stonebridge Associated Colleges are a leading UK distance learning provider. With many online courses to help you achieve your career goals.
Becoming a student with us will allow you to take advantage of a number of benefits. From dedicated tutor support to flexible payments to spread the cost of your learning.
Find out more about the courses that will help you learn how to groom dogs quickly by clicking the link below.