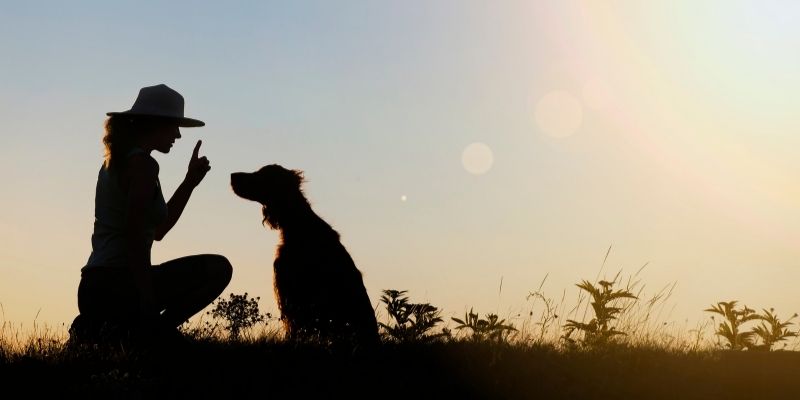 Assistance dogs are life changing and life saving for many people. Living with a disability can make everyday tasks that much harder to complete, but with the help of an assistance dog, UK residents can live independently. The importance of an assistance dog cannot be underestimated as these well-trained animals are helping an individual live the life they choose.
More than 7,000 people in the UK rely on assistance dogs for physical and emotional support. There will always be a demand for assistance dogs such is the crucial role they play in helping disabled individuals live with greater independence.
If you would like to be part of this essential service, then you can undertake assistance dog training. By studying assistance dog training courses online, you can become a qualified assistance dog trainer and make a real difference in this sector. Below, we have explained the details of assistance dog training and how you can embark on this rewarding career.
What do Assistance Dogs do?
An assistance dog, UK residents, is trained to provide various types of support to people living with disabilities or medical conditions. Day-to-day limitations are greatly reduced with the help of these highly trained dogs. Under the umbrella of assistance dogs are:
Guide dogs
Medical alert dogs
Autism dogs
Hearing dogs
When you learn about assistance dog training, you will swiftly discover that dogs can be trained to help people with specific conditions. Most are aware of guide dogs, but as the list identifies, assistance dogs can be trained to help people with hearing difficulties, diabetes, epilepsy, and mobility issues.
As part of their assistance dog training, the dogs will learn how to carry out a number of practical tasks. This is to ensure that the person they are with can live their daily lives with as minimal restrictions as possible. During assistance dog training courses, learners will be informed that the dogs will not wander freely, and they will sit and lie down quietly next to their owner.
In some instances, owners will carry an ID book that contains information about their assistance dog. UK-based residents should know that it is not a legal requirement to have an ID book, but many owners choose to possess one.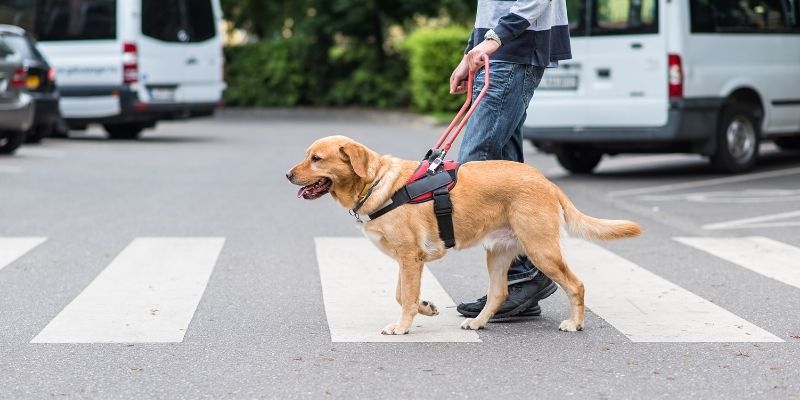 How to Train an Assistance Dog
An assistance dog, UK learners, can be trained as a puppy by professionals. At this age, they will be trained basic obedience, as well as core tasks like touching and retrieving items, and social skills. Generally, when a puppy reaches 14 to 16 months in age, they will progress to advanced training.
This stage of assistance dog training will consist of building on their core skills and undergoing further obedience training. By the end of this training period, an assistance dog, UK residents, will be able to open doors, get the phone, unload a washing machine, and press buttons in a lift.
It is essential that assistance dogs are carefully matched with their owner, and once they are, they are likely to undergo further training to tailor their support to the needs of the person.
How Can I Learn to be an Assistance Dog Trainer?
To apply for assistance dog training jobs, you can gain essential knowledge, skills, and techniques through assistance dog training courses. With Stonebridge Associated Colleges you can study for an Assistance Dog Training Level 3 Diploma (RQF), which is a nationally recognised and regulated qualification. 
If you want to make a real difference in someone's life and you have a love for dogs, then becoming an assistance dog trainer could be the perfect fit. Throughout our online assistance dog training course, you will learn how to create a lifelong companion for people living with disabilities or medical conditions.
Your assistance dog training course is made up of the following 10 units:
Communication and Canine Body Language 
Care of Canines 
First Aid 
Behaviour and Influences 
Dogs and the Law 
Disabilities 
Dog Training 
Managing Volunteers 
Puppy Development and Behaviour 
Assessment of the Needs of the Dog 
While there are no prerequisites for undertaking our assistance dog training courses, it is beneficial if you already have experience in handling dogs. To achieve the Assistance Dog Training Level 3 Diploma (RQF), your knowledge from the course will be tested through computer-based portfolio evidence. You will have to complete takes based on each unit throughout your learning journey.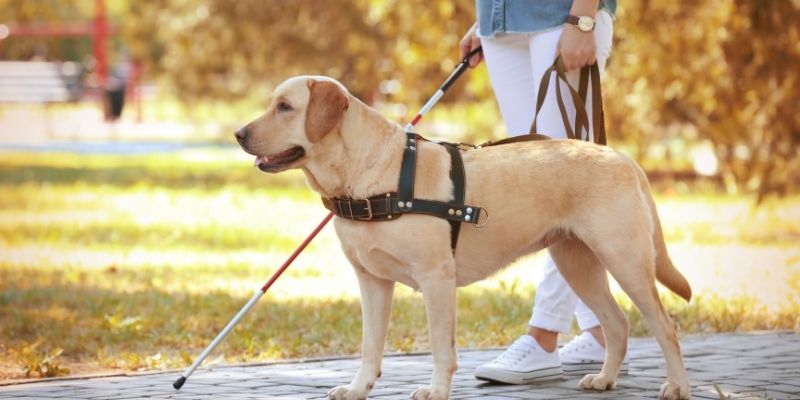 Can I Train my Dog to be an Assistance Dog?
Assistance Dogs International and Assistance Dogs UK are credible organisations that register and conduct assistance dog training. Many people opt to train their own dogs, and with ADUK, people with disabilities and mobility issues can train their own dogs with support from Dog A.I.D and Support Dogs.
How Long are Assistance Dogs Trained?
Usually, it takes one to two years for a dog to be fully trained, with the assistance dog older than one year by the time they are fully qualified. It is worth noting that age, breed, training methods, and tasks will affect the length of the training process.
What Jobs Can I Get with an Assistance Dog Training Qualification?
Once you have achieved a Level 3 Diploma in Assistance Dog Training, you will be eligible to apply for assistance dog training jobs. There is no doubt that becoming an assistance dog trainer will be incredibly rewarding on a personal level, but you will also be doing a job that is crucial to thousands of lives.
Perhaps you want to work for a specific organisation, charity, or do volunteer work. Having a recognised qualification in assistance dog training will certainly help you secure these jobs. Once you have gathered some experience in this role, you could eventually work towards the following jobs:
Assistance Dog Training Supervisor 
Assistance Dog Training Manager 
If you want to channel your passion of dogs into another career, then there is a wealth of opportunities open to you. Whether you want to set up your own grooming business, or learn the intricacies of animal care, Stonebridge Associated Colleges can help.
We provide a range of accredited online courses in addition to assistance dog training courses. These include:
Get Started Today!
One of the many benefits of studying assistance dog training courses with Stonebridge Associated Colleges is that you will receive 24/7 access to all of your online course materials as soon as you enrol. This means that you don't have to wait to get started, you can begin learning the intricacies of assistance dog training as soon as possible.
Stonebridge Associated Colleges is one of the UK's leading distance learning providers with more than 650 courses and over 50,000 students enrolled at any one time. By opting for our online solutions, you can benefit from the following:
Flexible learning – You can study at a time that suits you without all the restrictions of classroom learning 
Study anywhere – All you need is a computer/laptop and a stable internet connection, and you're good to go! 
Unlimited access – You will be able to access all of your course materials 24/7 for the duration of your study 
Tutor support – To help you through assistance dog training courses, you will get tutor support and guidance 
Innovative platform – Everything you need to pass your course is all in one place 
If you are keen to apply for assistance dog training jobs, get qualified by studying one of our nationally recognised courses. Call one of our Course Executives on 0121 392 8288 or contact us online to find out more information. Alternatively, click on the link below to access our course.