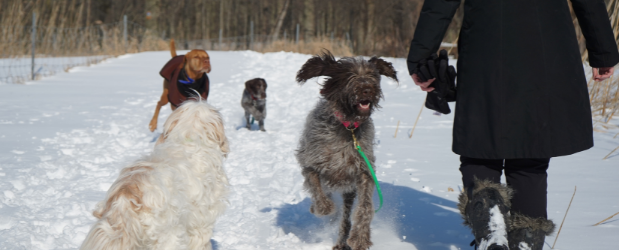 A Professional Dog Walker is fast becoming the go-to for owners who need help providing the required level of exercise and stimulation for their dogs. Not only is it the perfect way to keep dogs fit and entertained, but it also puts less strain on their guardian's schedule.
Dog walkers need to understand that a dog's safety and happiness is the most important factor to a pet carer. And that's why the role is typically performed by dog enthusiasts who go out of their way to deliver this.
It's also a job that is an excellent fit for those who want flexible workdays and who are self-starters.
Regular exercise also contributes to keeping the animal's stress to a minimum. As dogs need to be regularly exercised, usually a couple of times a day to remain healthy. So as a dog walker, you're playing an important role in maintaining the animal's wellbeing. This combined with the outdoors and the freedom to work your own hours makes dog walking a great career choice for dog lovers.
Many pet guardians have admitted to simply not having the time to walk their dogs. Leading to a rising number of dogs with weight and other health issues. This presents you with both an opportunity to set up a dog walking business. Not to mention an all too eager customer base. Find out more about what it's like to be a professional dog walker and how you can get qualified below.
Duties and Responsibilities on a Professional Dog Walker
On average, a successful dog walker, dependent on experience and location, can walk anywhere between 8 and 12 dogs a day. They can usually walk up to six dogs at any one time, however, this is just a manageable amount of dogs rather than a legal limit. This is very much dependent on experience and your confidence in handling canines.
As a dog walker, you are responsible for the safety of the dogs in your care during walks. This is why you would tend to visit the dog's home on their first meeting. To give you the chance to get a feel for the animal, as well as take down some details. This can include their age, breed, regular walking habits, immunisation records for conditions like kennel cough, and pet insurance. You would also take note of the veterinary surgeon's details in case of emergencies and the pet carer's contact details.
At this point, you would discuss what sort of service the carer is looking for. You will provide them with pricing and terms and conditions. It is at this point you'll also agreeing when the walks will take place and how often. You would usually take the dog out for an assessment walk on their own. This will give you an idea of how they act on a lead, behave around other dogs and how well they respond to your commands.
Responsibilities of a Dog Walker
A large amount of the duties and responsibilities of a dog walker actually fall outside of the dog walking itself. A lot of the actions you perform surround the safety and provision of the correct care for the animal.
Your duties will generally consist of:
Providing exercise for customer's animals (usually in half-hour to one-hour increments, dependent on the size of the dog and the breed)
Picking up and disposing of dog droppings during walks
Checking the dog's food and water supply to make sure basic needs are met after their walks
Notifying pet carers of any issues with their dog's health (if the animal has become sick or injured under your supervision), alerting the dog's vet if necessary
Some dog walkers work alone, while others may hire additional walkers to work as part of their business. This allows the business to serve a greater number of customers, and therefore expand their service area. Some dog walkers also offer additional services such as pet sitting or dog grooming.
If you choose to offer these additional services, it would be your responsibility to ensure you are correctly qualified to do so. Not only this, but your responsibilities would extend further than the above. You may also require different insurances or indemnities against liability.
Especially if you choose to hire someone to work within your business. It would be your responsibility to ensure that they are complying with the values of your business and the law. It is your responsibility to make sure they have the correct information, and dogs are treated with care and respect.
Skills and Competencies required to be a Professional Dog Walker
As with the majority of animal-related jobs, the most important character trait to possess is a love for animals. However, there are a few other skills that make up a good dog walker, these include:
Compassion – you must always treat the dogs you walk with care, kindness, and respect
Patience – this is key to working with any type of animal; especially when you are first becoming familiar with each other
Customer service skills – you must keep your customers satisfied if you want repeat custom
Reliability – Clients must be able to count on you to show up for walks and be punctual
Physical strength and stamina – you must be able to handle larger dogs if needed and keep control of a lead if a dog pulls. You must be able to be on your feet and walk for at least 30 minutes at a time
Work Environment and Schedule
As a dog walker, you will complete most of your work outside. So, you will need to be prepared to face any weather condition. You will also spend most of your time working on your feet. And you must be willing to pick up and dispose of dog droppings during walks.
If you decide to be self-employed, you have the freedom to choose your own hours. You can work on either a full time or part-time basis. However, you need to expect to work during evenings, weekends, last minute and even across bank holidays.
As a dog walker, you will be expected to change your working hours to reflect the time of year. In the summer, you would need to work later in the evenings due to the heat. You would need to wait until it is cooler, especially on the pavements for the dog's paws.
In the winter, you would need to work in cold and wet weather. This may also mean moving some of your customer's walks so that they take place in daylight.#
Qualifications and Training
Most dog walkers are long time dog carers themselves and have lots of experience with dogs. If you can reference prior work in the animal health field, it is a big plus for some potential clients. However, if you don't have any previous employment with animals, experience caring for them is usually enough for most customers.
Study a Dog Walking Course
There is no formal education or certification required to be a professional dog walker. However, being a dog walker without any training could prove difficult. This is why dog walking courses are becoming increasingly popular.
They teach you a lot more than how to handle dogs on a lead. Instead, providing you with a step by step guide on how to become a professional dog walker. This includes legislation information, business requirements and the essentials to start up a regulated business surrounding animals.
The Level 3 Award covers not only dog walking but also pet sitting. It is an Ofqual and CCEA regulated qualification and it is developed by iPET Network. As such, you can be confident it teaches you the necessary skills for a career as a professional dog walker.
It equips you with the legal understanding of providing a professional dog service. As well as the best practice of a small business and the basic principles of canine behaviour.
Besides giving you the knowledge of business operations and building your confidence with dogs, getting qualified also proves your capabilities to potential clients.
Start your Learning today
Stonebridge Associated Colleges can help you with your ambition to set up a dog walking business. As one of the UK's leading distance learning providers, there is a huge selection of animal-related courses to choose from.
Every course is designed by industry experts. Giving you the knowledge and skill set you require to have a successful career with animals.
As an online qualification, the Dog Walking and Pet Sitting for Professionals Level 3 Award allows you the freedom to study at your own pace. Wherever and whenever you want to, without having to sacrifice any pre-existing commitments.
Find out more about how you can get started by clicking below.