Dog Grooming is a Dog's Best Friend
So you're planning to sign up for Stonebridge College's dog grooming course? Or maybe you already have and are ready to start your own dog grooming business or become a professional groomer? Or maybe you are just barking mad about dogs?
Whatever the answer, the fact is that all dog groomers and animal care professionals need their tools. Just like doctors need their stethoscopes and firefighters need their trucks.
Dog grooming is a delicate art and groomers must be ready to tend to pooches of all shapes and sizes. To get you started, we've made a list of the essential dog grooming equipment you will need to get your paws on before you get going. Here's what you need to turn your doggie customers into doggie divas…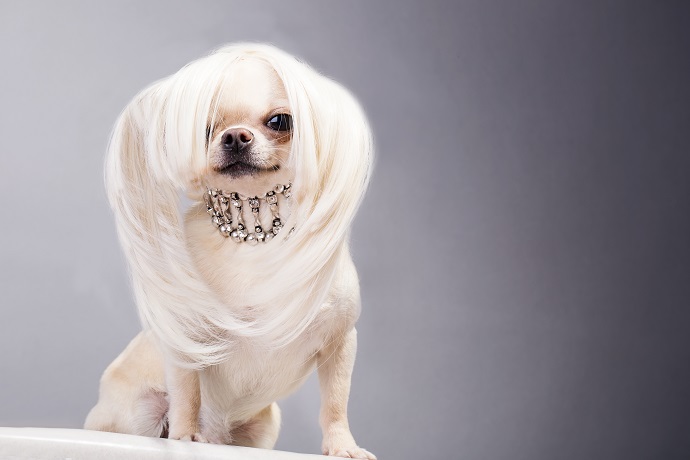 Nail Clippers
All dogs need to have their nails trimmed regularly. If not, over time, their nails can do serious damage to their paws and indeed the rest of their body. If the nails grow as far as the ground, they can end up pushing backwards into the nail bed and causing extreme discomfort. This is why a good quality, heavy duty clippers set is essential for wannabe dog groomers. If you are catering for many different sizes of dog, you may need a few different pairs in different sizes.
Shears
Not all dogs need haircuts. Short-haired and double-coated dogs do not need to be shaved. However, if a dog has a thick and heavy coat, they may be at risk of overheating in the summer months. Also, long-haired dogs need regular trimming to prevent matting. Most professional dog groomers will use electric shears. These clippers are easy to use and give a neat and level finish. Depending on the dog, you may need to adjust the size of your shearing tools to achieve the right cut.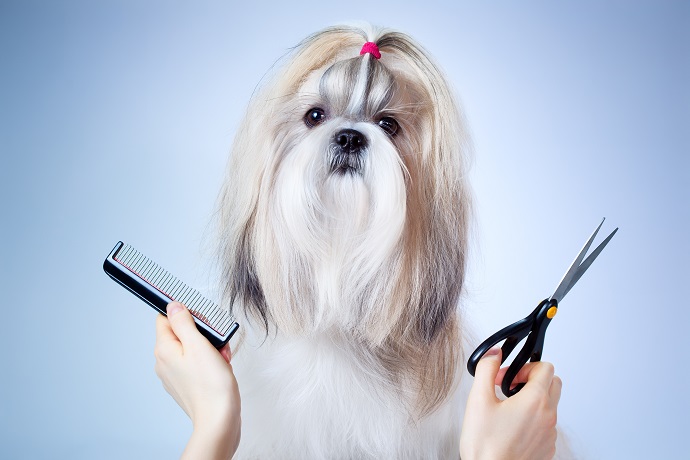 Brushes and Combs
Many pet dogs require regular brushing and combing to keep their fur clean and prevent their hair matting. Different breeds will require different types of brushes. If the dog you are treating has thick hair, you will need a grooming comb or cleaning brush with widely spread teeth. If the dog has thin hair, you may need a thin-toothed comb. Generally speaking, however, a medium-toothed comb is a good place to start as it will cater to a wide range of dogs. Eventually, most dog groomers will own a number of pet grooming brushes.
Grooming Table
This is one of the first pieces of equipment aspiring professional pet groomers should consider. A grooming table will be at the centre of your dog grooming salon and will help you successfully complete your day to day tasks. A good table will put each dog at a convenient height, making it easy for you to work. It will also work to secure the dogs and keep them safe during the process. Foldable, trolley style and electric tables are all on offer to suit different spaces and businesses.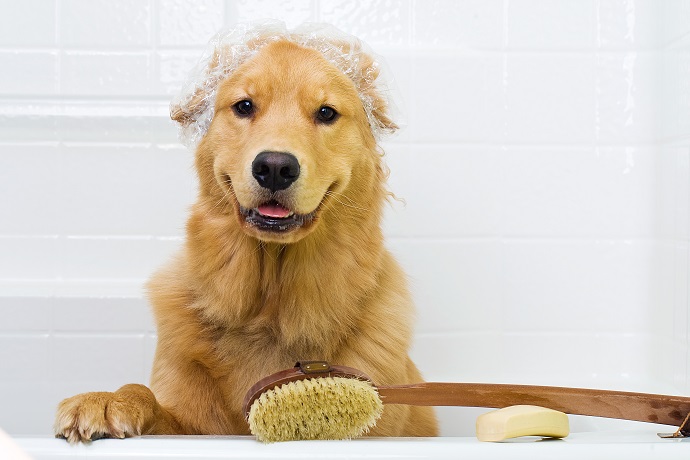 Dog Bathtub
It's a well-known fact that many dogs don't like being bathed. Many dogs will cry, jump and splash around when they are put into a bath. Professional dog groomers should all keep this in mind when they are looking to buy a bathtub for dogs. Baths with a waterproof, splash-proof side will help to keep your area dry and puddle-free. You may want to opt for a larger size to accommodate all sizes and breeds. It is important that whichever you choose is easy to clean.
Fur Dryer
The last thing a professional dog groomer needs is a pack of wet dogs running around the studio while they are trying to work. This is why it is important to dry off the dogs first. The best way to do this is with a dryer. Most pet fur dryers come equipped with a stand or are easily attached to a wall. This means that the dryer can operate without your assistance, leaving you free to focus on other aspects of the grooming process.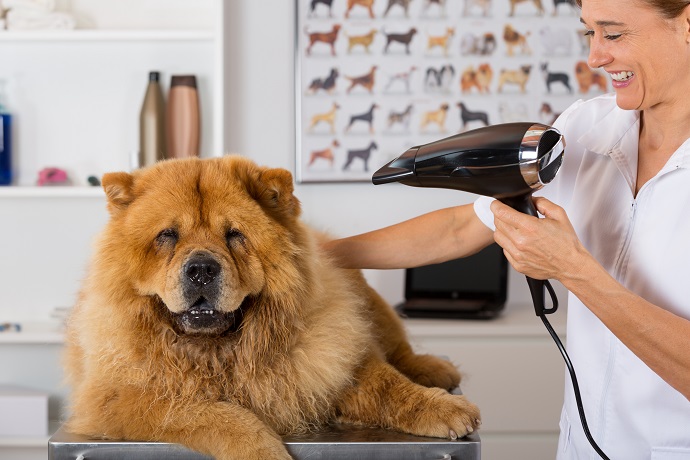 Shampoo and Conditioner
It is important for dog grooming professionals to understand that human and canine products are not interchangeable. A dog's skin is much more sensitive than ours and has a higher pH level. If a dog was to use human shampoo, they may end up experiencing skin peeling, flaking, dryness and discomfort. Fortunately, there are plenty of dog products on offer. We recommend that aspiring dog groomers try to find a brand that is hypoallergenic and uses all-natural materials.
Dog Dental Kit
A dog's oral hygiene is just as important as a human's. When dog owners bring their poochies in for pampering, they expect them to leave smelling minty (or fishy in this case) fresh. This means that dog groomers will have to have the correct tools in their possession. First things first you will need a doggie toothbrush. These are similar to human ones but are coarser and more angled. On top of that you will need suitable canine toothpaste. This must be safe to swallow as dogs won't spit it out.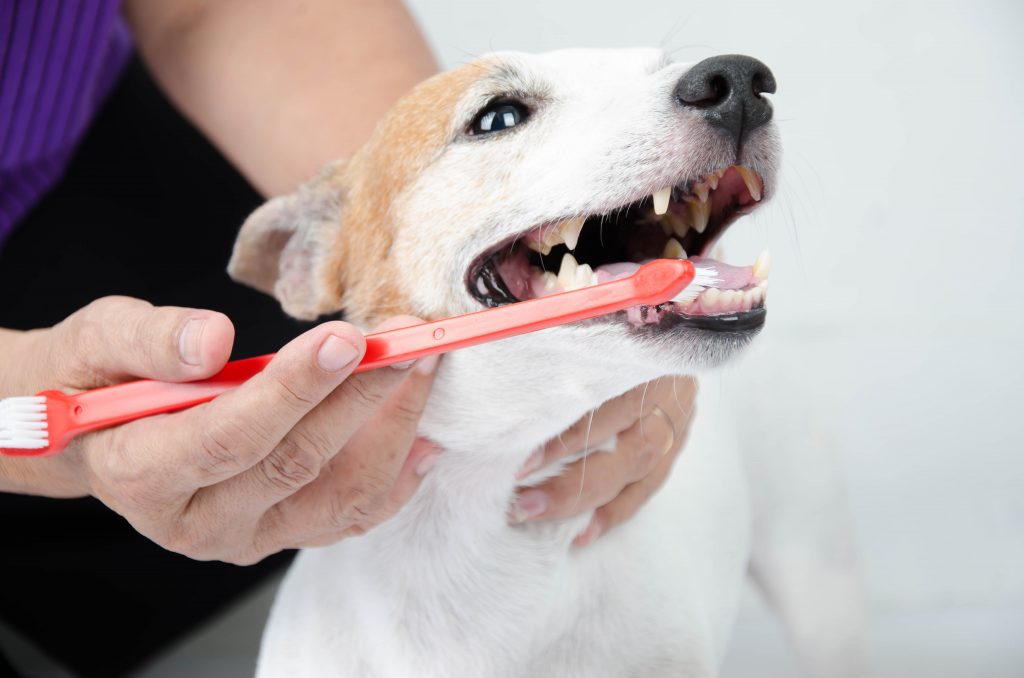 With these grooming products in your toolkit, you're sure to succeed in the world of professional dog grooming and become the best puppy pamperer in town! Already in the pet care trade? Why not top up your skills with our Dog Grooming Professional Advanced course and gain experienced groomer status.