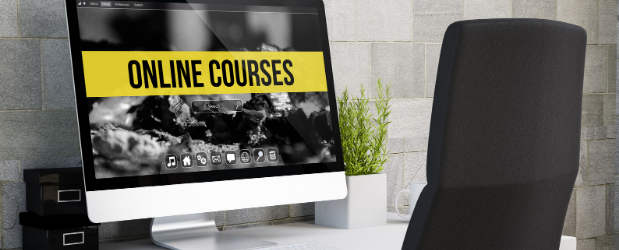 If you're going back into education to study psychology, you've probably come across the online versions of psychology courses. For many people, this is still an unfamiliar style of learning. As such, it can have would-be students wondering if distance education in psychology is worthwhile.
Choosing to study for a career in psychology takes considerable time and commitment and each professional role has its own entry requirements. But generally, they all require at least a bachelors if not postgraduate degree level qualifications.
Without online courses, many would not have the ability to commit the time required to this amount of learning. Class timetables aren't always feasible if you have children, work commitments or other responsibilities to take care of.
That's why online courses have become such a popular avenue of education. So much so that online psychology courses are now available for GCSEs, A Levels, Access to HE Diplomas, degrees and professional skills.
The absence of classes and timetables gives you complete freedom to decide when you learn. Allowing you to fit your education comfortably around your lifestyle.
If you're still unsure if distance education in psychology is worthwhile, we've listed other reasons why it's an excellent choice.
Courses are the same as those studied in college
Distance education is just one of many approaches to learning. So while it may seem a world away from the traditional classroom setting, it's no less valuable. Any course that delivers a recognised qualification at the end has to be regulated in the exact same way. No matter if it's on or offline.
So, an online A Level in psychology is worth the same as one gained from your local 6th form school or college.
Ofqual (the Office of Qualifications and Examinations Regulation) is the government agency that regulates all awarding organisations. They do so to make sure that each student gets the same treatment. And their qualifications are scored, graded, and recognised in the same way.
It also prevents learning providers from offering easier, cheaper courses, that promise qualifications that are essentially useless.
Alongside this security, distance education courses in psychology are developed by subject experts. So the material will not only be engaging but highly relevant. Which is what you want from A Levels and Access to HE Diplomas that set you up for undergraduate study.
This guarantees that passing an online psychology course from an accredited provider will give you a nationally recognised qualification.
You can work through the materials at your pace
The flexibility of online learning allows you to move through your psychology course as quickly or slowly as you like. Which is great considering the weight of the topics explored.
You can take your time with the modules you're less confident in and blitz through the ones you're comfortable with. You're also free to perform wider research at any point through the internet. Whereas in school you'd only be able to follow along with the lecture slides.
Another benefit reaped from flexible online courses is having the power to set your own end date. Campus education runs to a strict schedule. Your lessons are spaced out and course materials are drip-fed to you as you move through the syllabus. Meaning other people dictate your rate of progression and the completion time of the course.
By choosing to study psychology online, all of these restrictions are removed. You can progress at your pace and complete the course as soon as you're able to.
That way, you can gain the qualifications needed for university quicker and get started with higher level learning. Allowing you to start your psychology career sooner than you could if you'd gone back to school.
There's always help on hand
You might be concerned that studying psychology online means you're left alone to figure out a very complex subject. But distance learning doesn't mean solo learning, so you needn't worry about being left to fend for yourself.
In a regular on-campus course, receiving one-to-one assistance can sometimes be a challenge. The teacher has their work cut out answering the questions of multiple learners. And trying to explain the topics in a way everyone in class will understand.
With a distance education course, you're allocated your own personal tutor who is an expert in psychology. They will offer support to fulfil your learning needs and be able to answer any of your questions. They'll come to know you and how you learn best as you progress throughout the course. So their feedback and advice will be catered completely to you.
This personal approach gives you a better chance of understanding complex psychology subjects. And the ability to ask questions in a comfortable environment.
You're more likely to find your niche online
With distance education, there are far fewer overhead expenses required to run courses. Courses are provided based on the likely uptake versus the cost of running them. For campus education, this includes the administration costs, heat and lighting expenses and the maintenance of the room in use. Not to mention the salaries of the psychology teachers delivering the course.
For this reason, offline providers don't offer a varied range and they can withdraw courses that aren't worthwhile. To run, they must have enough students enrolled to make it profitable.
However, online learning doesn't have classrooms that need heating, lighting and maintenance. And with the readily available course content, they don't have to pay teacher or lecturer salaries.
This allows distance education providers to invest in a far greater range of courses and run them indefinitely. So, you have ample choice in what you study as well as when you do it.
When it comes to psychology, this means there are many diverse avenues you can explore ahead of your career.
There are online courses in:
These and many other psychology-related courses can help you find your niche and pursue the career that's right for you.
Get started with an online course
These and many other reasons, make distance education in psychology worthwhile. If you'd like to pursue a professional psychology career, you'll need to complete a psychology degree.
Should you not have the qualifications to apply to university, Stonebridge Associated Colleges can help. As the leading UK distance learning provider, we have many online courses to equip you for a psychology career.
Our Access to HE Diploma (Psychology) gives you highly relevant knowledge in preparation for degree level study. It covers topics like the brain & nervous system, crime and deviance, cognitive psychology and others you'll study further at university.
It's completely online, so there's no need to worry about readjusting your work schedule or family care commitments. Just log on and learn when it suits you.
Complete the course over one year or in much less time, it's completely up to you. It also allows you to study the many areas of psychology ahead of choosing a degree. So you can find the area that suits your interests.
Make the move towards a career in psychology today by viewing the course in more detail below.