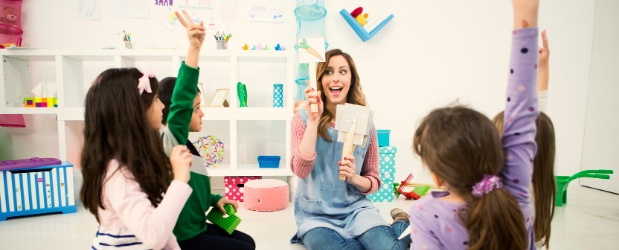 Reviewed and renewed with the latest methodology, these online courses in teaching support have everything you need to qualify as a teaching assistant.
Teaching assistants are becoming more valuable as each year passes. The need for individual support and the benefit of small group work makes teaching assistants essential members of the team.
They work alongside teachers to help deliver lessons so every child has the opportunity to learn and develop.
Get Qualified as a Teaching Assistant
The Level 3 Certificate and Level 3 Diploma in Supporting Teaching and Learning both have a fully updated syllabus, launched in 2020.
Both courses offer the latest educational methodologies and best practices for supporting children and young people in education. This will equip you to confidently assist in both primary and secondary education settings.
If you've considered becoming a teaching assistant, now would be the perfect time. TA's are in high demand, plus there is plenty of opportunity to progress your career. Potentially earning a higher wage and having the option to work in specialist areas.
The Level 3 Certificate in Supporting Teaching and Learning teaches you what you need to know to become a qualified TA. While this helps you get you into the role, it a great platform for further learning. You could secure a senior position by building up your skills through further learning. Becoming a higher level teaching assistant, teaching English as a second language or working with special needs pupils. All of which require a variety of skills and ability that you would acquire through further education.
Alternatively, you could study the Level 3 Diploma in Supporting Teaching and Learning. This fully prepares you to work with children and young people with learning disabilities or special educational needs. So, on completing the course you can provide specialist support to those learning in primary, secondary or special schools, as well as colleges. It also provides the potential to study a foundation degree.
Hands-on Experience
Walking into a classroom without any practical experience would be intimidating for anyone.
That's why a work placement is a compulsory part of your learning. This lets you experience the classroom environment first hand, giving you a taste for the role and allowing you to apply your learning once you qualify.
You'll be a step ahead of the rest as most teaching assistant positions ask for previous experience. You will be in a position to offer a qualification, demonstrating your commitment and knowledge. Plus, you will be able to provide real world examples of how you've put that learning in to practice and the outcomes.
For head teachers, looking for the best support they can find, this will make you a very attractive candidate. As both courses are awarded by the NCFE and recognised by Ofqual, they are looked upon favourably by employers.
By devoting your time to helping pupils excel, you can enhance what they get out of their education.
School should be fun and inspiring. Enrol online today and make a difference.