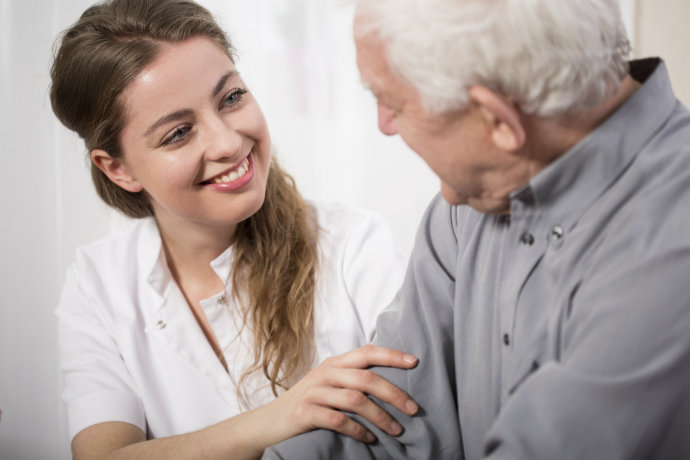 It's a sad fact of life that within all communities there are vulnerable groups of people. Some need full-time care, while others need help as they can't manage alone but are still capable of leading an independent life.
As a consequence, there are numerous jobs and career paths for people wanting to work in the health and social care sector. These are people who want to make a difference and have a rewarding career supporting others.
Why do people work in health and social care?
As well as for the obvious reasons like wanting to help less fortunate people and being a caring person, some people feel it's in their nature to work in a health and social care role. It's a kind of vocation.
Others fall into working into health and social care because of personal experience. Caring for a friend or relative can be an eye-opening path into a career in this area. Sometimes people are so affected by giving support to someone close to them they feel the need to become a health worker or social carer.
Whatever the reasons, there are a number of highly valued jobs that with the right education and training can lead to highly satisfying careers in health and social care.
Jobs in health and social care
There are jobs in health and social care at all levels, both full and part-time, from assistant to management level.
Care worker – a core support role for people who need help with various personal and daily needs to help them live independently.
Social worker – providing support and guidance for people who need social care, such as those with mental illnesses, aged related problems or disabilities.
Community support worker – giving support with indirect needs such as teaching people to cook and clean, organising their trips, and generally helping them with daily living.
Occupational therapist – working with people who need physical rehabilitation, have mental health issues, learning disabilities or need special equipment to assist their standard of living.
End of life carer – assisting with decisions, both practical and emotional, when someone is nearing the end of their life.
The skills needed to get a job in health and social care
Some of us are more suited to working in health and social care than others. The desire to want to give people the best life possible when they have health or social issues is one of the main criteria in this field.
Qualifications are also important and show commitment and dedication to a popular career. Stonebridge offers a wide range of online health and social care courses. See here for more information. For example, these are just some of the courses we have on offer:
By studying this course, you'll gain a better understanding of Mental Health Policy and Legislation and the basic values and principles underlying anti-mentalist practice.
This course will help you to be able to help people with learning disabilities live functional lives. It's become increasingly necessary for people to be educated in caring for the learning disabled and managing challenging behaviour.
This course will give to the preparation that you need to work in a health and social care sector. For example, you'll learn about how duty of care contributes to safe practice and how to recognise signs of abuse.
There's also the 19+ Advanced Learning Loan which is funded by the government. The good news is that there's no credit check and household income isn't taken into account. You don't have to pay anything back till you're earning £21,000+ per year. If you earn less you don't pay it back.
Other skills needed include being:
Caring – having empathy for someone's problems
Patient – it can be challenging dealing with someone with health and social problems
Observant – noticing if a person's condition is changing
Logical – offering practical solutions
There are so many different kinds of jobs in health and social care and many are inter-linked. If you're thinking of finding a job in this field we advise you to read all you can on the different jobs available and keep up to date with our blog where we'll share with you many different aspects of this highly rewarding career.