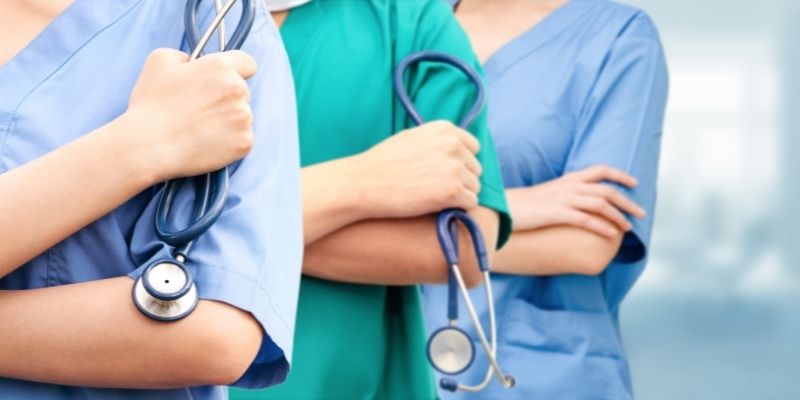 Wanting to become a Doctor is a noble ambition as it's a commitment to helping others and saving lives. Achieving that goal is a genuine accomplishment, and the result of years of hard work and study. If you're considering a career as a Doctor, then you'll need to prove you have what it takes to complete your Doctor education, training, and the role at the end of it all.
While being a Doctor takes more than just academic accomplishments, getting qualified is essential as the role is complex and the competition is fierce.
There are hundreds of easier ways to use your knowledge and make money if that's what you're after. Becoming a Doctor will challenge you in more ways than you realise, but the end result is worth it if you're compassionate and driven by a desire to help and to heal.
The work you'll do as a Doctor will on occasion literally save a person's life. That drive to help others is what will keep you motivated throughout your training to become fully qualified.  
There are many different areas of expertise and specialisms within the medical profession. Throughout your training, you'll explore them all before choosing the area that's right for you.
Though, before that, you'll need to gain qualifications to get into university and begin your journey to becoming a Doctor, with GCSEs being the first step on that journey.
How to Become a Doctor
Many people wonder how to become a Doctor. UK learners need to know that getting Doctor jobs requires extensive training and study. There are numerous steps in the academic journey to becoming a Doctor to ensure that the nation's leading healthcare professionals really are the cream of the crop.
If you're looking to start a Doctor career, you'll need a degree in medicine that has been approved by the General Medical Council (GMC).
These medical Doctor courses usually last 5 years and will teach you the fundamental knowledge required in medical science and clinical training. You'll need a Disclosure and Barring Service (DBS) check too.
Once your medical degree is completed, you then move on to further pre-Doctor study with a 2-year foundation programme.
The foundation programme will require you to work in a few different specialisms such as A&E, a GP surgery and maternity ward. Through this, you'll be able to practice the theory learnt in the first part of your Doctor training.
Following on from your foundation programme is a further two years of pre-Doctor core medical training. By this point, you'll decide whether you want to specialise in primary care (GP) or secondary care (hospital), and then you'll take the Royal Colleges of Physicians exam.
Depending on what area you choose to specialise in could add on a further four to six years to your training to become a Doctor. Though, you'll be practising by this point under the supervision of senior doctors who will assess you continually.
Once your Doctor speciality training is complete, you'll gain entry to either the GMC specialist register or GP register.
After all this is complete, you're able to apply for more senior Doctor positions, such as Consultant and GP Principal roles.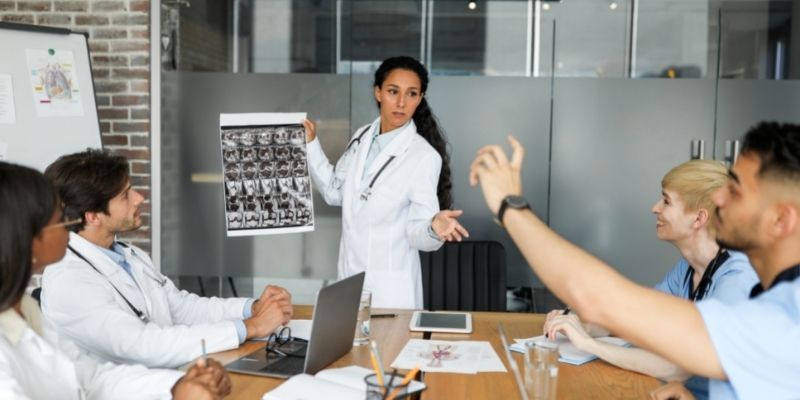 Minimum Requirements to Become a Doctor
There are around 6,000 available places every year on medical degree courses with roughly 24,000 hopeful applicants applying for them. With such high competition for entry to these courses, universities can afford to set the bar high.
If you're wondering what subjects to study to become a Doctor, universities will ask for a minimum of 5 GCSEs to support an application to study a degree that leads to employment as a Doctor. Most commonly that would mean GCSE Maths, English and the three Sciences.
You'll then need to achieve 3 A/A*'s at A Level to be in with a good shot of being accepted on a Doctor degree, UK learners.
This is where GCSEs come into play as they can set you up for success. Achieving high grades in your GCSEs will not only prepare you for A Level study but can also make the difference as to whether you're accepted onto a medical degree or not.
Obviously, your A Level results will hold more weight but because the competition is so fierce, universities will review your entire academic record. 
If a university has to make the decision between two students – both with 3 A* A Levels but one has 5 As at GCSE and the other has 5 A*s at GCSE, the decision has been all but made. Barring an outstanding personal statement and some form of relevant experience, the candidate with the lower grades will likely lose out.
That's why it's important to aim for high grades across the board in all your studies if you aspire to become a Doctor, starting with your GCSEs. Remember there's only a 25% chance of getting accepted onto a medicine degree. By getting high grades it gives the university no reason to not make you one of the lucky ones.
Additional GCSEs to Become a Doctor
As stated, the minimum Doctor GCSE requirements would be English, Maths and the three Sciences. However, that doesn't mean you can't go above and beyond.
The more academic qualifications you're able to accumulate, the better chance you will have of getting accepted onto a medicine degree and becoming a Doctor. Broadening your knowledge through extra GCSEs will help bulk up your application and will also prove useful in future.
For example, taking a GCSE in Psychology can help you understand human emotions and behaviours. This will help when navigating challenging situations with patients as you'll have a better understanding of the human mind.
Or GCSE English Language can improve your communication skills as well as your analytical and critical thinking skills. As a Doctor, you'll be working alongside a vast range of health and social care professionals, as well as dealing with patients and families from all walks of life. So, you must be able to communicate with everyone effectively and considerately.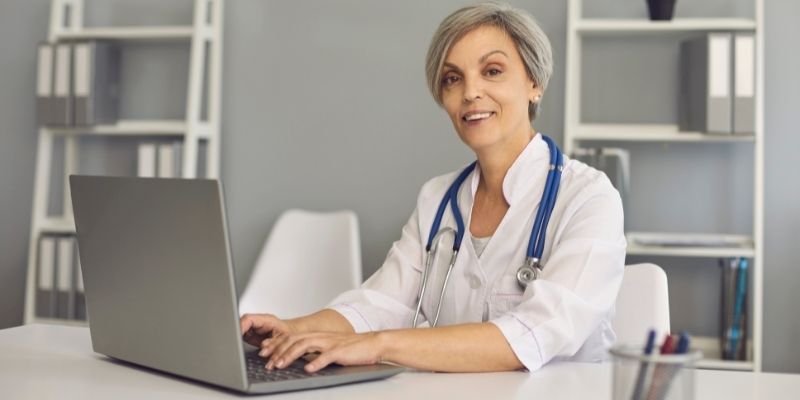 Studying GCSEs from Home
For learners exploring how to study the GCSEs required to become a Doctor, completing GCSEs through an online learning provider gives you the flexibility to work around your current schedule.
You won't have to rearrange shifts or find a babysitter so you can attend class because there aren't any. You are in complete control of when and where you complete your pre-Doctor studies. So, you're able to relax and learn whenever suits you best.
Keep in mind that you'll still need to take exams to complete your GCSE qualifications to be a Doctor. These are usually in May/June, so make sure to give yourself enough time to get through everything. A dedicated tutor will support you through your learning and will offer constructive feedback and any extra assistance where needed.
Meeting your Doctor GCSE requirements from home enables you to engage with your studies in a way that works for you. Which means you're more likely to do better as you're in control.
Online GCSEs aren't just copied from a textbook and uploaded online. Thought and planning go into making sure the content is relatable to an adult audience. So, you should find the course speaks to you, not down to you.
Stonebridge Associated Colleges can help you fill the gaps in your knowledge and help you move closer to getting on the Doctor career ladder.
Get Started Today!
Stonebridge Associated Colleges is one of the UK's leading distance learning providers, offering a broad range of GCSEs to suit your needs.
Completing your GCSEs with us can help you get one step closer to realising your ambitions, and for anyone wondering 'how long does it take to become a Doctor?', getting these qualifications online can shave time off the overall Doctor training process. Our courses also have flexible payment options to help spread the cost.
If you're ready to get back into education and finally get the qualifications you need to become a Doctor, talk to our Course Executives today. They can assess any existing qualifications you have and point you in the right direction of what you need to meet the rest of your Doctor degree entry requirements.
Call them now on 0121 392 8288 or contact us online. Alternatively, visit our blog for more information on your journey to start your Doctor career.