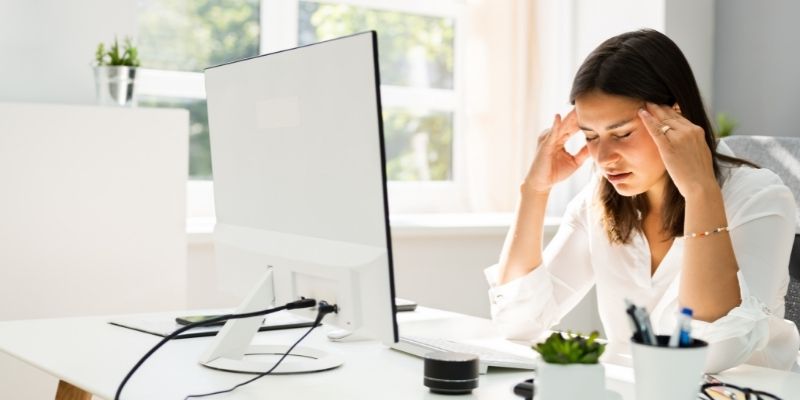 We spend a significant portion of our adult lives at work, so when that environment becomes stressful, it can take a toll. There are many aspects about modern day life that can induce stress, and work is one of them, but it doesn't have to be this way. There are various techniques that will help you deal with stress at work. UK staff across all sectors should prioritise their wellbeing in all parts of life, including in the workplace.
Stress comes in many different forms and for many reasons, and if you don't learn how to deal with stress at work, you could end up spiralling. Thankfully, there are many tips and tricks that help with managing stress at work, you just need to discover what works for you.
Below, we have provided you with excellent techniques and online courses that will teach you how to deal with stress at work. We also explore the causes of stress at workplace environments and the signs to look out for.
Signs of Stress at Work
When it comes to stress at work, UK workers should know that it can be viewed from various viewpoints. Either you are the employee who is dealing with stress at work, or you are looking for signs of stress in your employees.
For example, if you are a manager within your company it is important to be aware of the common signs of stress at work. UK professionals will then be able to identify the signs and work out if the stress is being caused by work pressure.
Like many other issues, acting early can help mitigate the effects and outcomes. To act early, you need to know what to look out for. With regards to individual employees dealing with stress at work, you may notice a few changes, such as:
Mood swings 
Withdrawn 
Loss of motivation and dedication 
Loss of confidence 
Take more days off work 
Appear nervous or twitchy 
Enhanced emotional reactions 
If you manage a team, you will be able to tell if the stress is caused by work pressure if the whole group are exhibiting the following signs:
Arguments 
Sickness absences 
Below par performances 
Complaints 
Increased staff turnover 
By spotting these signs early, as a manager, you can help implement measures that focus on managing stress at work. It may also encourage you to take a different management approach with your team. Alternatively, if you are an employee experiencing any of the above, it is important to either reach out to your manager, a colleague, or seek advice from your GP.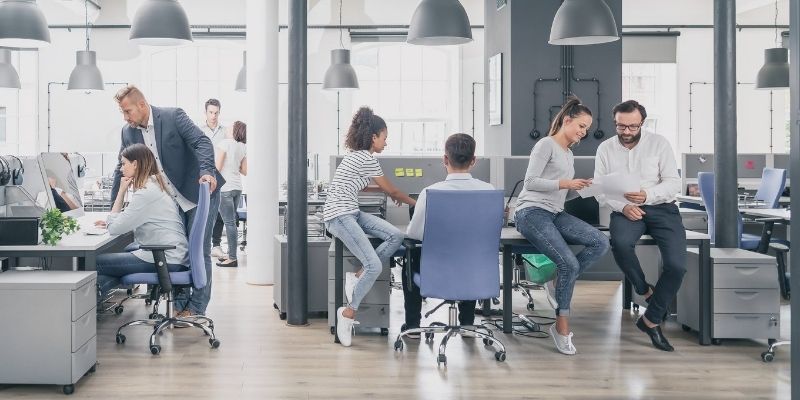 Top 10 Causes of Stress at Work
Generally, stress at work, UK professionals, is related to the pressure and demands put on you from your employer. However, some are dealing with stress at work due to personality clashes with colleagues. Your workplace environment can become a tense place if you do not get along professionally with a manager or a group of colleagues.
Those are just two of the reasons why people may be dealing with stress at work, but there are many more to consider. In fact, we have outlined 10 of the biggest causes of stress at work below:
Workload and unrealistic expectations – Having an excessive workload is a major cause of stress at work. UK professionals who feel as though they have too much work to manage are likely to experience stress. The same can be said for workers who are hit with unrealistic deadlines – there is a sense that you will never be able to achieve your goal
No control – Many people experience stress at workplace environments when there are aspects of their job that they cannot control, such as performance targets and work processes
No support – One of the most effective ways of alleviating and managing stress at work is providing support to all employees. Knowing that you have support to reach out to in times of stress is comforting, but if the support is non-existent, the stress levels are likely to rise
Work relationships – As mentioned, if you don't have a good working relationship with a colleague or manager, you are likely to feel more stressed in your day-to-day working life
Working conditions – Noise and lack of personal space can affect a worker's mental wellbeing. If the working conditions are poor, then individuals are at greater risk of feeling stressed
Poor work/life balance – Managing stress at work is much easier if you have a positive balance between work life and home life. Focusing on creating a good quality of life outside of work is crucial, but you may be unable to do that if you are working long hours, or have to work in your free time on occasion
Lack of job security – If you have a zero-hours contract or your position is based on hitting performance targets, then you may end up dealing with stress at work. Having a lack of job security can cause plenty of anxiety
Organisational change – When changes within the hierarchy of a company are made, workers will naturally question their own position. For example, if a new manager is hired, there are always fears that employees will not be on the same page as their new superior
Management styles – People respond differently to different management styles, depending on their own personality and how they work. For some, working under a particular management style can be stressful
Company culture – The overall culture of a company can have a huge effect on how employees function within the structure. For example, a dog-eat-dog style could induce stress, while a blame culture could make some employees feel under strain
How to Reduce Stress at Work
When it comes to reducing stress at work, UK professionals should know that it is primarily dependent on the personalities and the approaches of each individual employee. No two people are exactly the same; we all handle situations and tasks differently, and the same can be said for dealing with stress at work.
There are, however, a few common techniques and advice that will help you learn how to deal with stress at work. These include:
Prioritise and organise your workload to prevent feeling overwhelmed 
Form positive relationships with colleagues 
Exercise – For office-based workers, go for a walk at lunch, cycle to and from work, or simply get up from your desk every now and again to stretch your legs 
Eat healthy lunches 
Get enough sleep so you're not feeling tired at work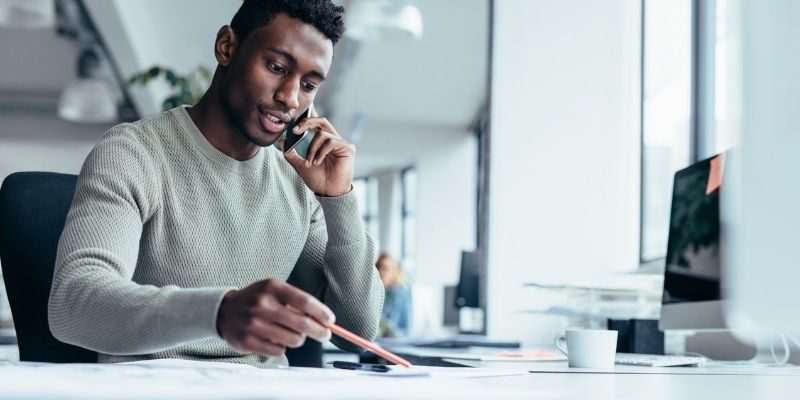 How to Manage Stress at Work
All of the advice and tips mentioned above can help individuals dealing with stress at work, and so can enrolling on stress management courses. With Stonebridge Associated Colleges, you can learn how to deal with stress at work through the teachings provided by regulated online courses.
You have the benefit of distance learning, so you can complete one of our stress management courses from the comfort of your own home and at a time that suits you. For example, if you have young children or you work full-time, you can tailor the course around your schedule.
Our Stress at Work course is ideal for individuals who want to know how to deal with stress at work and create a better professional environment for themselves. You will learn how to break the stress cycle, identify the symptoms of stress, and how to be better at managing stress at work.
For those of you who work in counselling or are hoping to train to become a counsellor and want to specialise in work environments, then our Stress Counselling in the Workplace course is ideal. It will give you a taster of what to expect should you decide to pursue this element of counselling. Once you have completed the course, you will be eligible to apply for membership to registered charity 'Counselling'.
Existing therapists hoping to teach individuals how to deal with stress at work may want to consider enrolling on our Stress Consultant – Corporate and Professional course. It focuses on the methods and strategies that a therapist can implement to help clients cope and reduce stress at work. UK workers require support at many levels, and if you already work in the counselling sector, studying to become a stress consultant can open up avenues for you.
What is the Law on Stress at Work?
In the legal sphere, there is guidance related to workplace stress and as an employee, you have the right to make a legal claim for stress against your employer.
According to the Health and Safety Executive (HSE) agency, employers have a legal duty to protect their workers from workplace stress by doing a risk assessment and acting accordingly.
Under the Health and Safety at Work Act, employers have a legal responsibility to ensure the health, safety and welfare of their staff, and stress at work can fall under this umbrella.
Start Learning How to Manage Stress at Work Today!
The stress management techniques and advice provided above will go a long way to help you learn how to deal with stress at work. However, if you want a more in-depth perspective, or want to learn how to teach others how to be better at managing stress at work, then enrol on one of our stress management courses!
You can reach one of our Course Executives by calling 0121 392 8288 or by contacting them online. Alternatively, click below to learn more information about the options available to you.