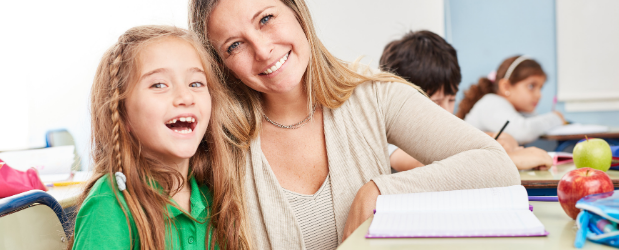 Becoming a teaching assistant provides you the opportunity of working in a diverse and incredibly rewarding role. With numerous opportunities for career development and the capacity to fit it all around your family life.
Teaching assistants contribute to the incredible work teachers do in educating and inspiring future generations. Through effective collaboration, teaching assistants can help Teachers deliver their lessons. Communicating key concepts to children and supporting individuals who need additional assistance along the way.
Typically, teaching assistants thrive in situations where they can interact, persuade and help others. They are often creative and original in their approaches and flourish where the opportunity for self-expression is encouraged.
They are immensely valuable to schools and are common in classrooms in both primary and secondary settings. While each school dictates its own job specification for the role of teaching assistant, there are many desirable skills and traits that would help you in this career.
Skills and Character Traits
Good with children
It sounds obvious but this really is essential. Working with children isn't for everyone. Though this is more than simply being comfortable around them. Great teaching assistants understand the ways children learn and develop, appreciating that no two are the same. They can offer a child-centred approach, adapting their ways to suit the pupil.
Patient
The ability to keep calm and composed in stressful or difficult situations is a must in this career. You may be dealing with children who have special needs or those who can be prone to challenging behaviour. You'll need to approach these situations calmly and positively.
Flexible and adaptable
Taking a different approach to each child isn't the only way you'll need to be flexible. You'll also need to adapt to the ebb and flow of each lesson. Teachers spend hours thoroughly planning each lesson, yet the way this is delivered on the day can change. You need to keep pace with the teacher and support them as the circumstances dictate.
Interpersonal and a team player
It is vital you can form positive relationships with co-workers, pupils and parents/carers. Your job is to support the teacher to achieve the goals they have set for the class. This means you need to work together to help your class develop, succeed and achieve each one.
Literacy and numeracy skills
Knowing and explaining to children how to read, write and use arithmetic are two different things. You'll need to understand these topics enough so you can explain them effectively. You will also need to familiarise yourself with your school's methodology so you can explain things the way they have been taught for consistency.
Effective communicator
Leading on from the last point, you'll need to be able to communicate well with others to provide appropriate feedback. If you've noticed a child who is falling behind or has become disengaged, you'll need to inform the teacher so the issue can be quickly addressed. Other times you may talk to parents and guardians to discuss a pupil's progress. All instances require you to communicate well.
Prepared
Working alongside the teacher to understand the lesson plan can allow you to consider how you will best communicate the ideas, concepts and learning objectives to the children.
Leadership
While your role is to assist, there are times you will be expected to lead and instruct pupils in the class. Whether it is overseeing a small group project or reinforcing the teacher's authority in the classroom.
Creative
A regular task is helping the teacher to devise fun and engaging activities that help pupils to improve their skills. As some subjects can be drier than others for children to learn, your creative approach will be highly valued.
First aid and CPR certified
You may work with students who are asthmatic, epileptic, diabetic or have allergies. Having first aid and CPR certifications will show you are prepared to react should anyone in your class become ill or sustain an injury.
Qualifications to be a Teaching Assistant
Though there are many routes you can take to go into assistant teaching, you will have to undergo an enhanced criminal records check through the Disclosure and Barring Service or Disclosure Scotland.
Outside of this, each school will set their own entry requirements. So, the qualifications and experience needed will vary. It is best to look at the positions advertised in the area you would like to work to gain a better idea of what qualifications you will need.
While specific qualifications aren't essential, you must bear in mind how competitive teaching assistant jobs are. The more relevant qualifications you have, the more favourably your application will be viewed. Not to mention improving your abilities as a teaching assistant.
Previous qualifications in nursery work, childcare, playwork or youth work, for example, can give you a great advantage.
Most entry-level positions will want to see GCSEs in English and maths as a minimum, ideally coupled with experience of working with children. Should you need to prove your numeracy and literary skills, you have the option of taking the specific GCSEs or doing a combined Functional Skills course. This will give you the equivalent of a grade C/4 GCSE.
There are a number of Teaching Assistant qualifications you could also take to develop and demonstrate your understanding of child development, supporting teaching and learning in schools, special education needs, and classroom behaviour. These can be studied online around your current job.
By obtaining these qualifications, you can show your chosen school how capable you are to support the teachers and children within the classroom. With more specified courses giving you the option to focus your efforts in niche areas such as working in SEN or teaching English as a second language.
You could also train to become a teaching assistant by completing an apprenticeship. This will allow you to learn while you earn, however you will also need to complete assignments in your spare time too.
Getting Qualified Online
Studying online gives you the flexibility to learn around prior commitments like your current job or while looking after your children at home. This opens the door to further education to all, since many people aren't in the position to study full-time.
With distance learning, you can complete the work when it suits you. You don't have to wait for the start of term to begin and there are no physical classes or timetables to stick to. You can work through the courses as fast as you like. Obtaining these helpful qualifications quickly and perhaps opting to start another right after completing the last.
The more relevant qualifications you have on your CV, the more likely you are to stand out against the competition.
Stonebridge Associated Colleges is a leading UK distance learning provider. Kick-start your career as a Teaching Assistant and further your knowledge with one of our many related courses. Click the button below to see which ones will be most suited to you.