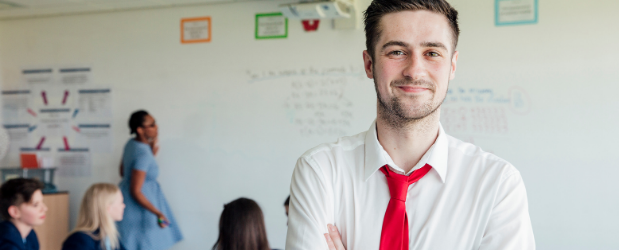 Becoming a great teaching assistant is a lot more than keeping an eye on naughty school kids. Of course, keeping a lid on any disruptions is part of it but you're so much more than crowd control.
As a teaching assistant, you'll work with pupils from all walks of life either one-on-one or in small groups. This allows you to build a good relationship with them. So you can figure out the best way to help them with their learning.
Working alongside pupils in proximity allows you to really see first hand how what you do makes a difference.
You'll see how pupils progress with their education and overcome any challenges they may face. A lot of their development will be directly linked to the help you provide.
If you're considering becoming a teaching assistant than these are some of the qualities you should possess.
Highly Organised
Being prepared as a teaching assistant will ensure you're able to deliver the best possible support to your pupils. This involves liaising with teachers ahead of schedule to know what the lesson plan is for that week.
Being aware of what is being taught allows you to make your own plans on how you're going to assist the pupils. Whether that's having activities ready or finding alternate ways to deliver the message to help pupils understand the concepts.
If you're prepared for the week then you'll be more likely to make an impact on your pupils' education. Regardless of your natural ability as a teaching assistant, the more organised you are, the better.
A Teaching Assistant should be Flexible and Adaptable
As a teaching assistant, no two days are the same and not everything always goes to plan. Therefore, you need to be able to think on your feet and adapt to any scenario.
For example, if you're working with children with special educational needs then you need to be perceptive to their needs. If you find pupils are struggling then you should be flexible with your approach to their learning.
That's why building a relationship with your pupils is so important. Understanding them will help you structure the way you support them. Which in turn, makes sure they're getting the most out of the lesson.
It will also make your job easier as you'll know what works and what doesn't. So, when pupils throw a curveball at you, you're able to quickly adjust and continue teaching.
Literacy & Numeracy Skills
It's important as a teaching assistant to have a solid understanding of literacy and numeracy skills. It's an essential skill that pupils will use throughout their life.
So, it's important they come to terms the fundamentals as early on as possible. Therefore, you not only need a solid understanding, but you need the ability to explain things effectively.
It's more than just understanding the concepts yourself; you need to be able to transfer that knowledge to your pupils.
Some pupils may find either one or even both challenging. You'll need to have the patience to keep encouraging them to progress with their learning.
Excellent Communicator
Excellent communication skills are key to becoming a great teaching assistant.
You'll need to be able to break down teachings so that pupils can overcome their challenges. This comes from building a good relationship with the pupils and being able to identify what they're struggling with.
Moreover, you'll need to communicate with teachers and, in some instances, parents/guardians too.
You'll have to report back to teachers on the pupils' progress and potentially keep the parents/guardians informed as well.
Be Able to Provide Constructive Feedback
As a teaching assistant, you'll spend most of your day working with a smaller number of pupils. Working closely with fewer individuals means you'll have valuable insight into how they're performing.
You'll be able to quickly resolve issues as they arise and keep pupils engaged in their learning. If you notice a pupil has fallen behind in their studies you can encourage them to progress further.
Furthermore, you'll be able to report back to teachers and give detailed feedback on each one. Working out how best to cater to their needs going forward to ensure they're getting the most out of their education.
Getting Qualified as a Teaching Assistant
A qualification will set you apart from other teaching assistants. Once you're qualified you'll have in-depth knowledge on how to provide better support in the classroom.
Whether that's understanding child development or expertise in working with specific learning difficulties. You'll have the skillset required to excel in your job role.
There are a broad range of teaching assistant qualifications available through physical colleges and online.
So, even if you have a busy schedule you're able to enrol onto an online course and work towards your goals. Without rearranging any of your current commitments.
Qualifications to become a great teaching assistant include:
Once you've completed your qualification you'll be ready to work in schools and make a difference in children's lives.
If you're looking to become a great teaching assistant Stonebridge Associated Colleges can help.
Stonebridge Associated Colleges is one of the UK's leading online learning providers. Offering a broad range of teaching assistant courses so you can get qualified from the comfort of your own home.
All our courses have flexible payment options and experienced tutors to guide you. They'll provide constructive feedback and any extra assistance where needed.
To learn more about how to prepare for your online learning journey visit our blog here.
If you're ready to get qualified get in touch with one of our advisors or browse or courses below.