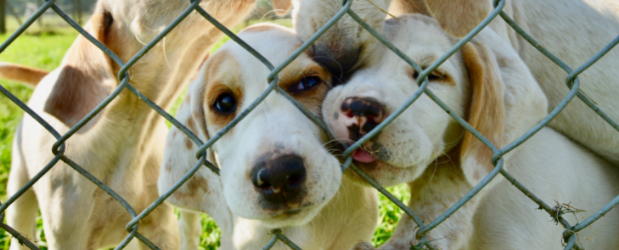 Twenty-six per cent of the UK adult population care for a dog, estimating the population of homed dogs at 10.1 million. Pet carers view the animals in their lives as very much a part of their family, so they want them to have the best possible care. This includes whilst they are away. This care is provided in a boarding facility, so find out how to open a kennel below.
Regardless of how much carers love their dogs, there will always come a time that they will have to leave them behind, be it for travel, emergencies, or illness.
90% of dog carers pay to board their pets when they go away. Providing accommodation for dogs is an interesting business to go into. A lot of people who want to provide accommodation for pets say that they wish to open a kennel. In reality, a kennel is a small enclosure that is used for very short stays. The purpose of a kennel is to hold the dog when visiting the vet or recovering from treatment. Many people also refer to a kennel as a crate.
The business that people mean when they say they wish to open a kennel is actually to open a boarding business. This is where dog carers would house their pet for longer periods. Pet boarding is a larger premise designed to provide a comfortable stay and enjoyable experience for dogs.
Why should I Open a Kennel?
With the rise of caregivers spending on their pets, opening a small animal boarding facility would be well worth the time and potentially provide a lucrative income. Clients and animal caregivers usually choose to value reputation over price when it comes to their pet's accommodation and care. This allows you, as an animal boarding business owner, to charge prices that cover your expenses, provide excellent service, and also generate a reasonable amount of profit.
However, setting a small animal boarding facility up can be difficult. Besides the fact you need an actual physical premise, you need to take into consideration set up costs, licensing requirements and training for the service you offer.
One of the biggest decisions of opening a boarding facility is whether it is right for you.
Is Opening a Kennel for me?
An animal boarding facility is a 24-hour business, 7 days a week, 365 days a year. You will have animals in your care continually, although some times of the year will be quieter than others. Boarding facility owners usually live on-site or have someone employed who lives on site.
Being an around the clock profession, a love for the business and the animals is an essential requirement. A dedication to the job and a genuine passion for animals is an absolute must.
Hiring staff, as with any business, is a large expense to consider. This is the sole reason that most owners cover the majority of the work themselves. With this in mind, the busiest time of the year would be during the holiday periods, predominately summer. So you may need to consider hiring additional trained and qualified staff to cover the busiest times of the year.
Owning and running an animal boarding facility can be strenuous on your social life. Your work pattern would be primarily anti-social. Committing yourself to every day, and being prepared to work during school holidays, weekends and public holidays is so important.
If you are prepared for this, then opening a boarding facility may be the right career path for you!
What skills do I need to Open a Kennel?
Whilst it may be one of the most obvious factors, you need to be able to work effectively with animals and understand their behaviour. Dogs, especially larger breeds, can be quite excitable, which sometimes can come across as boisterous. You must be mindful that it might be a challenge to care for certain animals as there is no guarantee that they would be properly trained. Therefore, you need to have the patience and experience to help them settle in the facility.
You need to be very prepared for the noise, smell and mess that comes with animals. Your boarding facility needs to be kept to an acceptable level of hygiene, including cleaning up after the animals.
Not only this, but you need to be experienced enough to be able to spot behavioural changes within animals. You need to spot whether they could be ill or are displaying symptoms of separation anxiety from their carer. You need to be comfortable with administering medication in the event of an animal in your care falls ill or is already receiving treatment.
As well as the skills with the animals, a lot of the work you do will be person-centred. This includes interacting with the carer during the handover of the dog. You need to remember that the dog's carer is trusting you to care for their pet, so you need to be able to demonstrate your trustworthiness.
Requirements to Open a Kennel
On 1st October 2018, the Animal Activity Licensing standards changed their legislation in the UK for all staff working in kennels, catteries, pet shops, dog day-cares and dog home boarding facilities.
Any member of staff who works in these settings must be able to demonstrate clear knowledge and experience. Or they must possess at least a Level 2 Ofqual regulated qualification such as the Level 2 Award in Canine Care and Welfare.
This is the absolute minimum. To meet higher standards, at least one member of staff should hold a Level 3 Ofqual regulated qualification, and always be present during working hours. A higher level 3 qualification demonstrates a detailed knowledge of animal welfare, and a commitment to learning.
It also shows they are serious about operating a successful animal-focused business. Therefore, a level 3 qualification will fully equip a person with the skills and training to demonstrate the above.
Level 3 Ofqual regulated qualifications include:
Other Factors to Consider
Another factor to take into consideration is getting the business off the ground. If you lack a premises big enough to accommodate several dogs, you'll need to rent or buy one.
This can be a considerable capital investment as you need large spaces both indoors and out. You would also need to purchase equipment, supplies and robust and pet-friendly furniture. As well as regular outgoings such as insurance, security, wages and food.
Many aspiring animal boarding facility owners start by converting space in their home and expand at a later date. There is always the opportunity to make extra revenue by offering other services, like grooming, dog walking or training. If this is of interest, studying a course in these areas would be highly beneficial.
Start your Learning
If the idea of owning and operating a dog boarding service appeals, we can help you.
Stonebridge Associated Colleges is one of the UK's leading distance learning provider, offering many animal care related courses. These courses teach you everything you would need to take the next step towards pursuing your career.
A Combined Canine Behaviour Management Diploma (RQF) can equip you with absolutely everything you need to be able to demonstrate a comprehensive understanding of canine behaviour, welfare and management. As well as teaching you the key skills including handling, body language and disease prevention.
As an online course, it gives you the freedom to study around your already established schedule. You are on your own timeline, allowing you to complete the course as quickly as you wish.
Find out more about our Canine care courses by clicking below.