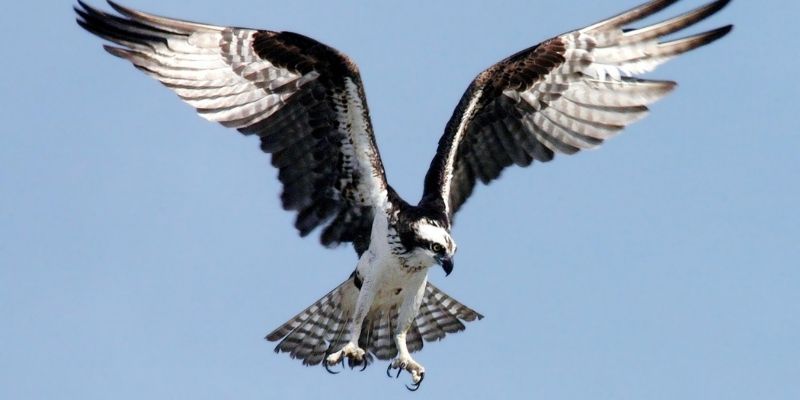 The animal kingdom is full of exotic creatures that are not only admired around the world but also serve a crucial purpose to our planet and how it functions. There is an array of different species across land, air, and sea, and one of the most interesting of those dominates the skies. Birds of prey are commonly known for their unrelenting pursuit of other animals for food.
However, these birds have many other characteristics and features that make them stand out in the animal kingdom. For those of you who have an interest in British birds of prey or would love to know what the largest bird of prey is, continue reading!
We have gathered an array of interesting facts that are sure to capture your attention and encourage you to learn more about birds of prey. UK learners can take their interest to the next level by studying a course dedicated to these wonderful creatures! Keep reading to find out how.
How to Define Birds of Prey
The word 'prey' instantly evokes a sense of authority. It is a word used to describe an animal that hunts down other living things to eat, which is the primary function of birds of prey, meaning that these winged creatures hunt down other animals for food. Most of us know them as birds of prey, but they are also called raptors.
Birds of prey, UK learners, are unsurprisingly predatory in their nature, as well as in their physical makeup. For example, British birds of prey and most of their overseas counterparts all have similar physical attributes, including:
Hooked bills 
Sharp talons 
Strong feet 
Expert eyesight 
Fine-tuned hearing 
All of the above enable birds of prey to detect their target quickly and catch them with ease, and this is often done during flight. By doing this, they are able to snatch their food and soar into the air to escape.
Many birds of prey share similar physical characteristics, but they are not all the same in size. Some are much larger than others, but even the smallest bird of prey poses a significant threat. Birds of prey are located all over the world and they live in various habitats depending on the species of bird.
In fact, you are likely to find a bird of prey in almost every type of habitat, from the desert to snowy mountainous ranges. British birds of prey are more commonly found in woodland and farmland, while some can reside in cities.
Being apex predators, birds of prey are not only snatching up animals for food, but their function also helps to maintain environmental health, whether it is the largest bird of prey or the smallest. By grabbing animals that are old and weak and removing them from prey populations, they are helping to keep their natural habitat intact.
Birds of prey, UK learners, are also indicator species, meaning that any changes within their population gives us an insight into various threats to the environment. This could be anything from climate change to wildlife trade.
What is the Largest Bird of Prey in the World?
The largest bird of prey on our planet is the Andean Condor, which has an impressive wingspan of 3 metres (9.8ft) and weighs up to 15kgs. It is an endangered species that is generally found in the mountainous regions of Chile.
Watching an Andean Condor in full flight is a spectacular sight, but unlike many other birds of prey, they are not built for hunting. Their claws are not as long and sharp, but more rounded, and when it comes to feeding, this largest bird of prey will find a rotting animal to eat as opposed to catching something fresh.
If they are unable to find food, they can bring down medium sized sheep and small alpacas. Generally, though, they will locate a deceased animal and circle the area to make sure they're alone before descending. We have some more interesting facts about the largest bird of prey below:
The Andean Condor features on Chile's coat of arms as their national bird 
Female condors have red eyes, while male condors have brown eyes 
They can fly as far as 180 miles in a single day searching for food 
When laying eggs, they choose the edge of a cliff rather than make a nest 
This largest bird of prey reproduces once every two or three years 
Andean Condors can live up to 50 years, with one of the oldest known to live up to 80 years old 
These fascinating creatures have sadly become endangered as a result of deforestation, animal trafficking, poisoning and poaching, with hunters targeting them for their feathers or bones. There are many organisations around the world that focus on the conservation of birds of prey, as well as many other animals. Even zoos play an important role in conservation.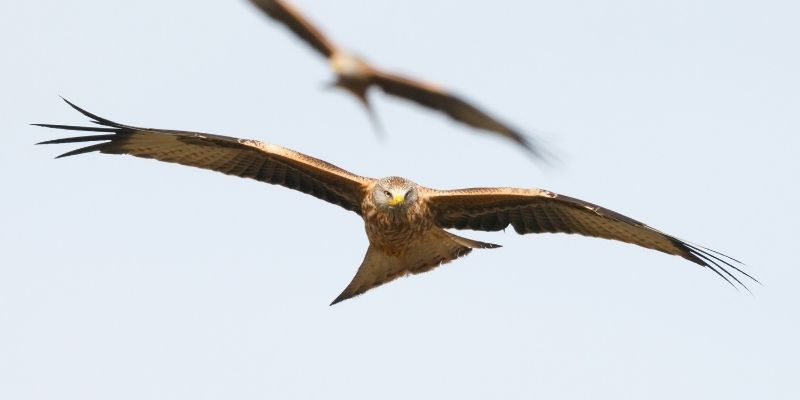 Which Bird of Prey has the Largest Wingspan?
We have identified the Andean Condor as the largest bird of prey, and this is partly due to its wingspan. As mentioned, it reaches over 3 metres, but it is not the only bird of prey that boasts such an impressive wingspan. Below, we have highlighted other birds of prey that have a wingspan of over 3 metres (9.8ft).
Lappet Faced Vultures
These birds of prey, UK learners, share the same wingspan as Andean Condors but they are slightly less heavy, weighing in at around 14kgs. They are known for preying on gazelles, antelopes and flamingos, and they are commonly found in African savannahs and Arabia.
California Condor
While the Andean Condor is the largest bird of prey in the world, the California Condor is thought to be the largest bird in North America. As well as a wingspan of more than 3 metres, this bird of prey weighs up to 12 kgs. They typically source deer, sheep, rabbits, rodents, and cattle as food.
Bearded Vulture
Found in Asia, Africa, and Europe, the Bearded Vulture, also known as Lammergeyer, scavenge for their food. Generally, they pick up deceased animals and drop them from a significant height to break their bones before feeding on the marrow.
Weird and Wonderful Facts About Birds of Prey, UK Learners
Much like a bird's prey, you must already be hooked by these fascinating creatures after learning more about them! Well, we have more interesting facts about birds of prey that you can explore below:
Almost all birds of prey, UK learners, are anti-social as they want to avoid competition for their prey 
Their styles of flight differ; they can glide and soar while searching for prey and then dive powerfully and quickly when trying to capture 
The Peregrine Falcon is the fastest animal on the planet, with National Geographic claiming that the highest speed recorded is 242 miles per hour (mph) 
Most birds of prey are silent to prevent scaring off their prey. The only time they are likely to make a sound is when in distress 
Birds of prey tend to mate for life 
Many cultures believe birds of prey represent strength, power, and freedom 
They eat the entire body of their prey, including fur or feathers, bones, teeth, muscles, and organs. Any indigestible parts, such as bones and fur, are regurgitated by the bird every 1-2 days 
Some hunt from the air, while others hunt on the ground 
The eyesight of birds of prey, UK learners, is one of the best around! They can see 8 times as far in the distance as humans can. This means that they can spot their prey from about 2 miles away 
Birds of prey can maintain focus in three different fields of view at one time 
How to Study British Birds of Prey
There is no doubt that birds of prey are among the most fascinating creatures in the animal kingdom. If you have a keen interest in this range of species and would like to learn more or pursue a career in this field, then consider enrolling on a course. With Stonebridge Associated Colleges, you can study these wonderful creatures, whether you want to focus on British birds of prey or the world's largest bird of prey, our courses cover the essentials.
Among our extensive portfolio of courses is the Birds of Prey Studies Level 3 Award (RQF), an Ofqual regulated online course that covers the biology and welfare of birds of prey. As part of your course, you will benefit from a 1-day practical session at the Wye Valley Falconry in Herefordshire. During this day, you will learn the following:
Birds of prey diet 
Birds of prey housing 
Bird health 
Exercise and enrichment 
Usage of various equipment  
Bird law 
Bird care and welfare  
Transporting and safe handling  
Bird tracking using technology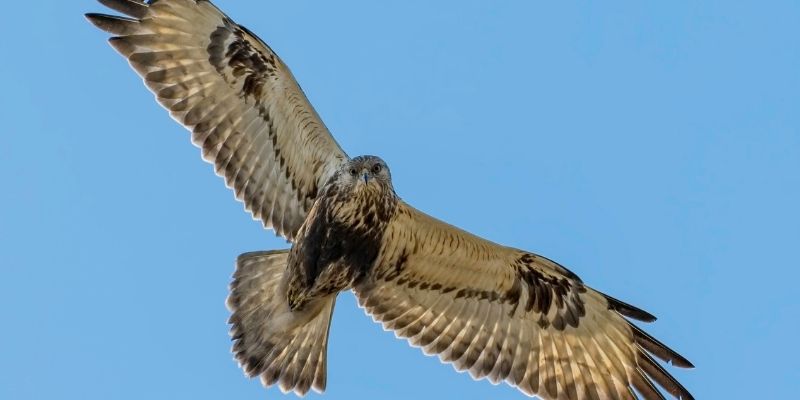 The course is broken down into the two following units:
Unit 1: Birds of Prey 
During this unit, you will explore the different types of birds of prey that are found in the wild as well as in captivity. You will also learn about the various habitats and the threats that British birds of prey face on a daily basis. Once you have completed this unit, you will also have a solid understanding of the basic biological makeup of birds of prey.
Unit 2: Care and Welfare of Birds of Prey 
The second part of the unit will cover welfare, healthcare, and common diseases felt by birds of prey. UK learners will also learn about the creatures' nutritional requirements, and what to do when emergency care is needed. You will also learn how best to rehabilitate birds of prey and release them back into the wild.
To pass the course, you will need to complete a series of theory assessments based on the units covered.
Why Study Birds of Prey?
If you currently work with birds of prey and want to enhance your knowledge, or you are keen to embark on a career related to the welfare of birds of prey, then our Level 3 course is hugely beneficial. Not only that, but the knowledge you gain will allow you to push on to higher education study, occupational training, or a volunteering position.
Like so many animals on our planet, birds of prey need protecting due to threats of endangerment. By studying these wonderful creatures, you have an opportunity to contribute to conservation efforts.
If your interest in protecting animals extends beyond birds of prey to lions and tigers, then we have advice on how you can pursue a career in the conservation of Big Cats. Moreover, if you're seeking a career change and would love to protect endangered species, there are steps you can take to switch your career to wildlife conservation.
Enrol Today!
If you would like to learn more about our range of animal courses or enrol on our birds of prey course, then speak to one of our Course Executives today! Give us a call on 0121 392 8288 or contact us online. Alternatively, click below to discover how to get your new career off the ground!