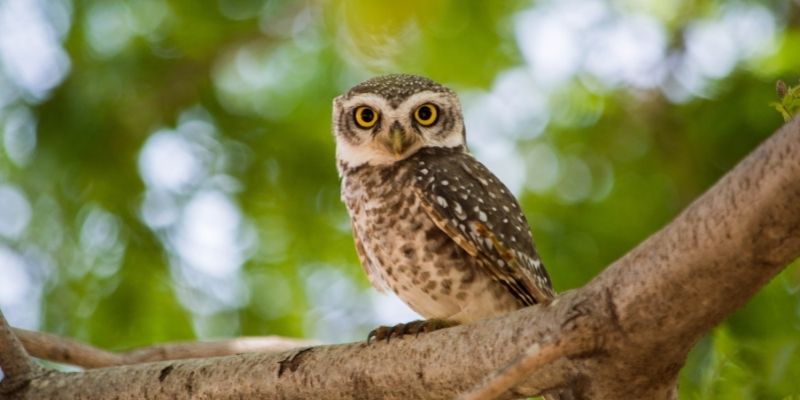 When we think of fierce predators of the animal kingdom, it's typically lions, sharks and crocodiles that first spring to mind. There are a host of powerful wild animals that exist at the top of the food chain, each as fascinating to watch at work as the last. Though, there aren't many that locate, chase and capture their prey with such grace and finesse as birds of prey.  
If you really want to watch a master at work, use your bird watching binoculars to focus on these majestic creatures. With typically impressive wingspans, hooked bills, razor-sharp claws and the ability to swoop down at lightning-fast speeds, they truly are a sight to see in the flesh.
If you are considering picking up a bird watching hobby, you might think seeing birds of prey would be a rarity in your local area. However, there are numerous species of birds of prey UK bird watchers can see on home soil.
Read on for more on why bird watching is such a popular hobby, where you can find English birds of prey, and those that migrate our way throughout the year.
Why Do People Partake in Bird Watching?
There are a host of reasons why millions of people partake in bird watching every year. It's an incredibly popular pastime that anyone of any ability can enjoy. If you're not sure of the allure, the most common reasons why people pick this hobby over others are:
You don't have to travel far – Birds are literally all around you, so there's no need to travel to start spotting different species. Travelling may be required to see more exotic, remote or rarer species, but there are plenty you will find in your garden 
You can connect with nature – It's easy to get caught up in the hustle and bustle of everyday life. Bird watching is the perfect way to escape this and focus on the natural world that exists around us. It's also a great way to exercise and get some fresh air!  
You can easily fit it in – Bird watching is flexible and convenient, there is no set time you need to spend doing it so anyone can fit it around their schedule 
You don't need to spend any money – Granted, there are fancy bird watching binoculars, cameras and other kit you can buy if you really want to, but many people partake in bird watching by simply observing what lives around them 
You can make new friends – With so many others partaking in this popular pastime, there's no end of forums, group excursions or bird watching holidays you can get involved with  
You can bird watch all year round – Bird watching is restricted by seasons, in fact, there are new birds that enter the UK for migration purposes. So, you can actually see different birds and birds of prey throughout the year 
You can contribute to conservation efforts – Bird watching events like the big bird watch, and the general input from bird enthusiasts help keep a track of species numbers and habitat decline. By becoming a bird watcher, you can report your sightings and help conservationists identify at-risk bird species and those of concern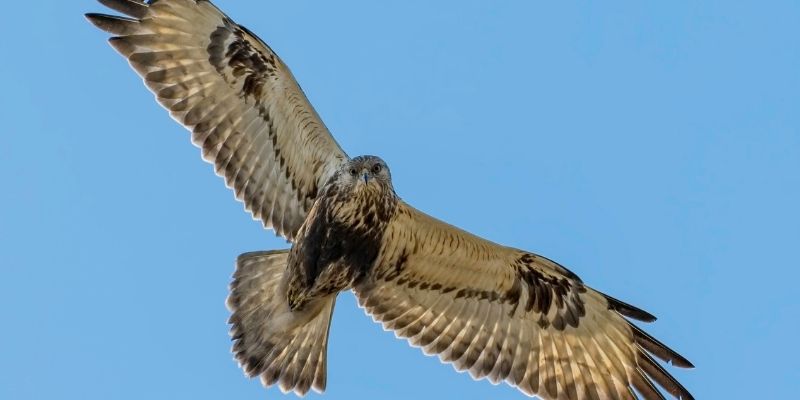 Where to Watch Birds of Prey?
If you want to start a bird watching hobby that concentrates on birds of prey, there are numerous places around the UK you can find these incredible apex predators.
Barn Owl
It's best to look out for these cute birds of prey in the winter months, they typically fly low over fields and hedgerows at dawn and dusk. They are common in most places except the Highlands of Scotland and in Northern Ireland.
Buzzard
As fairly common birds of prey, UK Buzzards are found in every county in the UK in most habitats. Though, they are most commonly sighted in Scotland, Wales, the Lake District and Southwest England.
Golden Eagle
The second largest bird of prey, you can expect to find Golden Eagles all year round in their traditional nesting territories in the wild, open moorlands and mountains of Scotland.
Goshawk
This large and distinctive bird of prey is often spotted throughout the UK near large areas of woodland, in open countryside or forests that feature glades and paths for hunting.
Hen Harrier
This British bird of prey is known to move up and down the country throughout the year. In the warmer months, it will be found on the upland heather moorlands of Wales, Northern England, Northern Ireland, Scotland and the Isle of Man. In winter, the Hen Harrier bird of prey goes south to lowland farmland, heathland, coastal marshes, fenland and river valleys.
Hobby
A smaller bird of prey that migrates to the UK in summer. It's best to look for the Hobby bird of prey in the south and east of England and South Wales as they hunt over heathlands, flooded gravel pits and woodland edges.
Honey Buzzard
Another large bird of prey you can find on home soil in the summer months is the Honey Buzzard. They typically nest in South and East England, Wales, the North of England and Northern Scotland.
Kestrel
This hovering bird of prey is seen all year round in the UK in a range of environments from open countryside to more built-up towns. They are often spotted hovering by the side of the road.
Marsh Harrier
If you are looking for large birds of prey, UK birdwatchers can find the largest of the harriers near reedbeds, marshes, farmland and wetlands across the country, but more so in eastern and south-east England. More specifically, hot spots for marriers are known to be Elmley in Kent, Minsmere in Suffolk, and Wicken Fen in Cambridgeshire among others.
Merlin
The Merlin bord of prey is known to nest on moorlands in North and South West England, Wales and Scotland. It then spends the winter months on coastal marshes and farmland in the lowlands.
Montagu's Harrier
One of the medium-sized birds of prey is the Montagu's Harrier, which unfortunately needs protection when breeding in the UK. For this reason, nest sites are kept secret, but it's possible to see them during migration in summer on the South and Eastern coasts of England.
Osprey
The Osprey British birds of prey visit the UK in summer and are often spotted at large bodies of water in the UK when making their migratory journey. When nesting, it resides in certain parts of Scotland, Cumbria, the East Midlands and Wales.
Peregrine Falcon
This rather confident bird of prey has been known to reside in some more unusual locations as its numbers have increased in recent years. The Derby Cathedral and BT Tower in Birmingham are two such locations, but otherwise, you can see these super-fast flyers on coastal cliffs, farms, heathland and moorland and other environments in the North and South West England, Wales and Scotland.
Red Kite
This bird of prey has been brought back from near national extinction and can now be seen in many areas all year round. Particular hotspots are the Chiltern Hills in the South of England, Argaty and the Galloway Kite Trail in Scotland.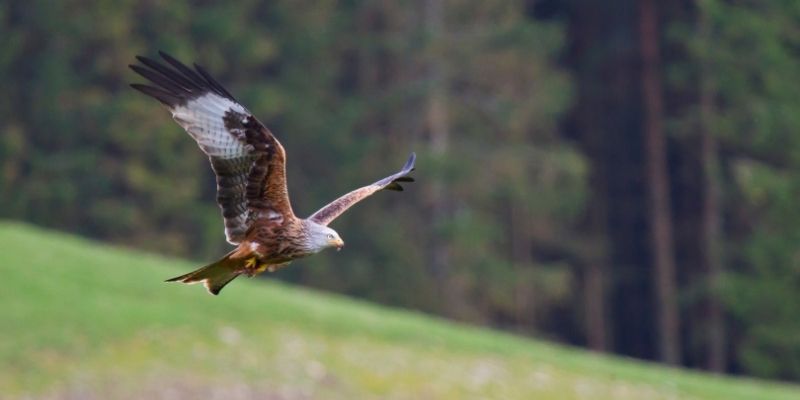 Sparrowhawk
Probably the most likely bird of prey you will find in your back garden is the Sparrowhawk as they are most suited to hunting in those environments. They are found almost everywhere in the UK apart from certain parts of the Scottish Highlands, the Western Isles and Shetland.
Short-Eared Owl
This owl can be found more commonly in the daytime, especially during winter in moorlands and saltmarshes in the lowlands of central and southern England and Wales.
Tawny Owl
You have a good chance of seeing this owl and hearing their familiar call during the night as they commonly reside in UK woodlands, parks and gardens. The only areas they aren't found in is Northern Ireland and the Isle of Man.  
White-Tailed Eagle
The UK's largest bird of prey is the White-Tailed Eagle, which unfortunately went extinct in the UK in the early 20th century. Now, you can see descendants of reintroduced birds almost anywhere in the British Isles.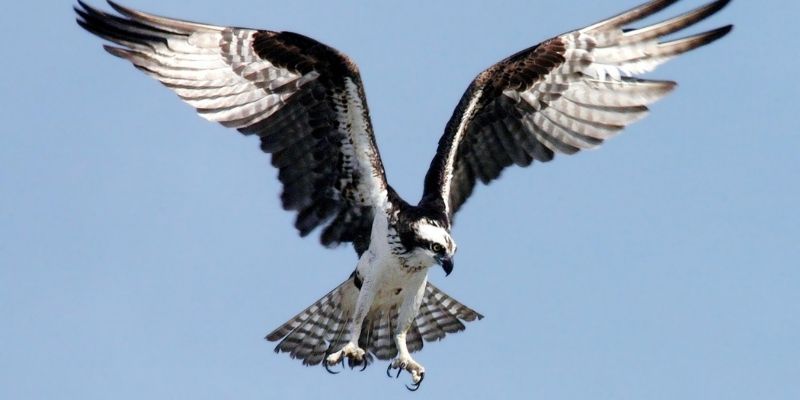 How To Start Bird Watching?
If you're interested in seeing the above birds of prey in the flesh and are wondering how to get into bird watching, there are a number of ways you can get into this hobby.
You can pick up tips in various bird watching magazines, like what are the best binoculars for bird watching and ways you can attract different birds to your garden.
Novice bird watchers can also take part in events like the Big Garden Birdwatch. This is a free event that runs over a few days that encourages both beginners and birding experts to count how many birds of each species they see around them for one hour.
In doing so, you not only get to grips with your bird watching hobby, but you will also help bird conservationists keep track of bird numbers and monitor species health.
Though, if you have a real drive to learn more about birds, especially birds of prey, UK learners would be best off taking a course dedicated to understanding these fascinating predators in their entirety. 
Study Birds of Prey Online
You can gain a nationally recognised, Ofqual regulated qualification that evidences your detailed knowledge of birds of prey online with Stonebridge Associated Colleges.
Our Birds of Prey Studies Level 3 Award (RQF) provides you with bird of prey related theory that is studied online, and 1-days practical training where you will get up close with these magnificent creatures. This training takes place at the Wye Valley Falconry in Herefordshire and will give you first-hand experience in handling these animals and an insight into the care and welfare they require.
In the online units you will cover:
Unit 1: Birds of Prey 
During this unit, you will learn: 
Types of birds of prey that are found in the wild and those in captivity  
Habitats of birds and prey and the threats facing them in the UK  
Biology of birds of prey  
Unit 2: Care and Welfare of Birds of Prey 
In the second unit, you will learn: 
Health, welfare, and common diseases in birds of prey  
Nutritional requirements  
How to care for British birds of prey during an emergency  
How to rehabilitate birds of prey  
Enrol Today!
This knowledge coupled with the hands-on training you will receive will position you perfectly to start a bird of prey watching hobby, and even move into a bird of prey related career.
Find out more by speaking to our Course Executives on 0121 392 8288, contacting us online or viewing our bird of prey course in more detail below!