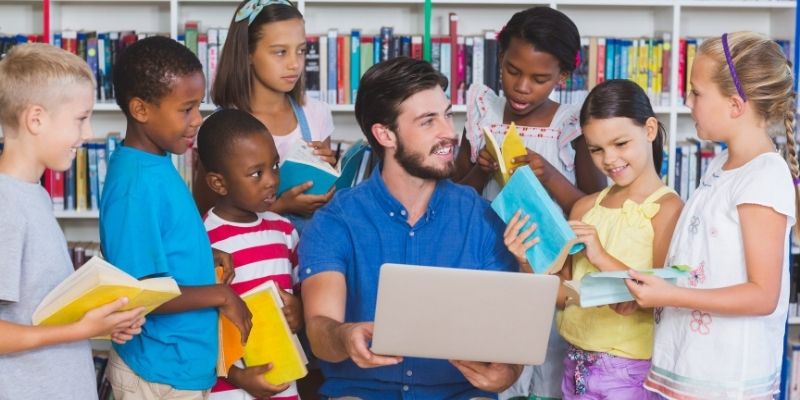 The role of a Teaching Assistant (TA) is a popular and sought-after position by individuals keen to help shape the lives of children and young people through their academic journeys.
There are many things you can do to increase your chances of securing a role as a Teaching Assistant, from getting your job search right to gaining new qualifications. To help you, this article contains tips and hints to prepare you for the job application process and a career in education.
Before we look at how best to obtain and make a success of a TA career through studying a Teaching Assistant course, we're going to explore a typical Teaching Assistant role and discover why the job is so desirable.
If you are wondering how to become a Teacher Assistant, then look no further! In this blog you will find:
Teaching Assistant – Job Description
How to Get a Job as a Teaching Assistant
What are the Career Prospects for Teaching Assistants?
Teaching Assistants do Make a Difference
Teaching Assistant – Job Description
Primarily, a Teaching Assistant is responsible for providing support to both Teachers and students. TAs work in many different educational institutions, from pre-school nurseries and primary schools to secondary schools, sixth form colleges and special educational needs schools.
The overriding responsibility of a TA is to support pupils with their learning, either on a one-to-one basis or in small groups. Other duties may include:
Working with Special Educational Needs (SEN) children 
Preparing the classroom for certain learning activities and school clubs and clearing up afterwards 
Supporting the Teacher with class behavioural challenges 
Helping out with the preparation of materials to match development needs 
Being present and supporting Teachers on class outings 
Looking after pupils who are unwell or upset 
Encouraging children to enjoy reading via guided reading 
Leading a class with the help of a Teacher 
Teaching Assistant Pay
Pay and conditions are set by the individual school and there are no national pay scales. Therefore, the average annual salary is difficult to calculate, especially due to the varying hours that TAs work. However, according to the National Careers Service, the average starting salary for a Teaching Assistant is £12,621 pa, with the salary increasing to £23,000 pa for experienced TAs.
Teaching Assistant Holiday Allowances
This depends on the hours each TA works and years in service. Generally, permanent, full-time contract Teaching Assistants will get school holidays as paid leave, while term-time only TAs can expect 4 weeks holiday a year, without paid leave for the school holidays.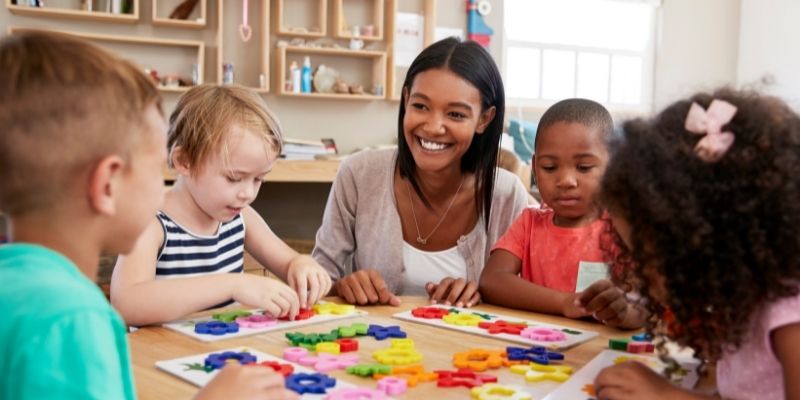 A Teaching Assistant Role – Why So Popular?
There are many reasons why people explore how to become a TA and undertake a Teaching Assistant course. This role has experienced plenty of interest over the years, with 2021 National Statistics stating that in England, the amount of full-time Teaching Assistants has increased by 6,000 since 2019. In fact, 3 in 10 professionals in the education sector are Teaching Assistants.
Here are just 7 of the many reasons why many professionals are choosing to study qualifications for Teaching Assistant roles:
The job is fulfilling as you can make a genuine difference to a pupil's life
The work is varied with no two days being the same
Working with children and watching them thrive is extremely rewarding
Playing a part in the development of a child is a great privilege
Work hours are ideal for those with children of their own
School holidays can be a problem for a working parent but not for teaching assistants
Part-time work is often available, leaving time for other responsibilities and activities
In short, there are many advantages to studying for a Teaching Assistant Level 3 qualification and becoming a TA, but don't just take it from us. Read an extract from 'Why I Became a Teaching Assistant', an article by Emily Drabble for The Guardian, where one TA explains why they love their job:
"The thing about my job – and it's the reason so many mums do it – is it completely fits in with family life. I have been able to drop off and pick up my children and be there for them in the evening and cook them dinner and so on. I've been able to spend every holiday with them.
[At] school it's like being a superstar – especially if you can do cool stuff such as a few magic tricks. Children tell you they love you every day and it's very sweet. But you have to be prepared for how fleeting this fame is, two years later the same kids won't even look at you in the street!
What I love about being a TA is the variety. No two days are the same. I have the opportunity to use my music skills – I get to play and also teach guitar – I can be arty, creating props and backdrops for school plays as well as class artwork, I get to use my brain, solve puzzles, help children reach their full potential and generally be useful. Other jobs I've had are not so satisfying."
How to Get a Job as a Teaching Assistant
If you are wondering how to become a Teacher Assistant, then you need to be aware of the academic studying and training you need to undertake.
Currently, there is no single qualification that is accepted as the qualification for Teaching Assistants. However, there are several qualifications for Teaching Assistant roles listed on the Ofqual site that most schools recognise as evidence of suitable training and that the holder has attained a high level of understanding and application of the material.
These Teaching Assistant Level 3 courses can be completed online and work placements, if needed, obtained voluntarily at local schools to gain experience working with children. Plus, there are no entry requirements to enrol, which means that you can embark on a Teaching Assistant career without prior qualifications (although some schools do require GCSE English and Maths at grade C/4 or above for TA positions).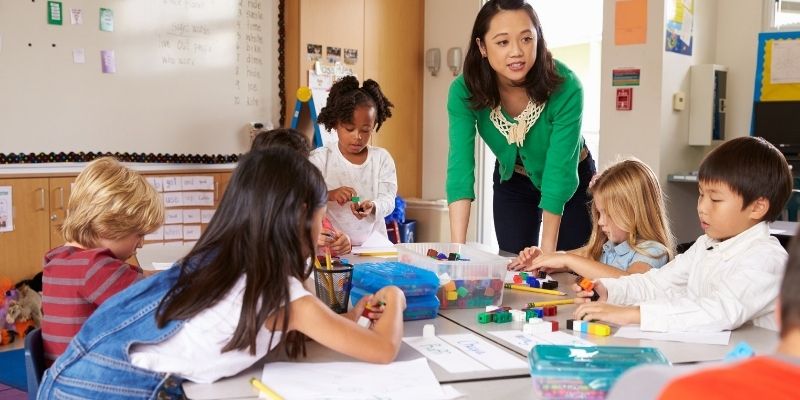 Below, we have listed three accredited Teaching Assistant courses that will help you secure work as a Teaching Assistant and unlock some exciting opportunities within the education sector:
Teaching Assistant: Supporting Teaching and Learning in Schools Certificate (RQF) Level 3:
Accredited by the NCFE CACHE (Council for Awards in Care, Health and Education)
50-hour work placement
11 units
210 guided learning hours
Worth 35 credits
Teaching Assistant: Specialist Support for Teaching and Learning in Schools (RQF) Level 3:
Accredited by the NCFE CACHE 
50-hour work placement 
16 units 
310 guided learning hours 
Worth 53 credits 
Teaching Assistant: Level 2 Certificate in Supporting Teaching and Learning in Schools (RQF): 
Accredited by the NCFE CACHE 
11 UNITS 
187 guided learning hours 
100% online learning 
There is no doubt that achieving qualifications for Teaching Assistant roles is important, but there are certain personality traits and behaviours that you will need. You should think about why you want to become a Teaching Assistant and how your personality may help you to excel in the role. To help you, we have collated 9 qualities that are common in Teaching Assistants:
Love – a genuine love of working with children
Patience – helping children to blossom as individuals takes time
Calmness – expect the unexpected because it will be a regular occurrence
Active listener – listening not only has to be done, but has to be seen to be done
Empathy – walk a mile in their shoes, then maybe you will understand the issue
People person – you will be working closely with teachers and need to get on with parents too
Creative – generating good learning environments with limited resources demands creativity
Motivator – Teaching Assistants often have difficult pupils to encourage
Skills – reading, writing and numeracy skills are often required to provide pupils with specific support
Start Looking for a Suitable Job
Once you have gained your qualifications for Teaching Assistant roles, you will need to start looking for vacancies. Most TAs want to work at one of their local schools so it's good to make personal contact with them and build a good relationship.
This is so that you can be updated on any vacancies and given advice on how to apply, plus the school will already have a feel for what you're like as a person and your suitability for the role! So, making a good impression early on could be just the thing to give you an edge over others who are wondering how to become a Teacher Assistant.
A wider school search can be achieved by using Google which will reveal a list of advertisers that are used by schools to recruit Teaching Assistants, such as Reed, Totaljobs and Indeed.
When you have found a vacancy, make sure you download the job description and application form, along with any other documents provided by the advertiser. Check out the school that is advertising; an entry on Google will quickly find the school's website, which will reveal information about its history, status and future aims. Carefully think about these and prepare relevant remarks and questions regarding them, keeping a positive slant on them if you're asked to an interview.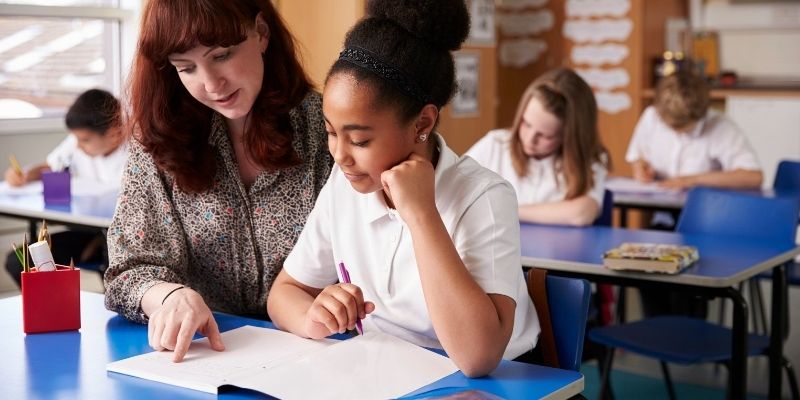 The Job Description
This gives a feel for the job itself and enables you to decide whether the job is suitable or not. It may also raise questions that can be answered in an interview. These should be neatly noted and saved along with the application itself.
When reading through the description, make notes on how your skills match the job's requirements so that you know what to include on your CV and what to highlight in an interview.
The Job Application
It's important to take time and care filling this out as it could either trigger an interview or refusal. Think carefully about any 'free-form' questions, keeping answers brief and positive.
Personal Statements
These have become a popular inclusion on application forms and should include a short overview of yourself, your strengths, work experience, education, and skills.
The All-Important CV
As well as securing qualifications for Teaching Assistant jobs, to land a role, your CV needs to be up to scratch. To put yourself above other candidates wondering how to become a Teacher Assistant, you should keep in mind the following when perfecting your CV:
Ensure all contact information is accurate and that your email address is appropriate ('katyisthebest751992@hotmail.com' will not make a good impression!) 
List academic qualifications before vocational ones, stating full details of any ongoing courses you're taking 
Give full details of 5 of your most recent jobs. Your employment section shouldn't drag on. Always explain any gaps in the dates too 
List interests that are relevant to the job before others, explaining the benefits and what they can bring to the role 
Keep your CV to 2 pages long; it needs to be a concise and snappy overview of your strengths 
Cover Letters/Introductory Information
This is a key part of the application as it tells employers why you're interested in becoming a Teaching Assistant, what you can bring to the role and why you're suitable for it. When writing a covering letter:
Research the position and school and match your findings against your skills and aims
Make a positive statement as to your suitability for the job
State that, given the opportunity (interview), more details can be given
Finally…
Carefully check through the application making sure it is accurate, appealing, easy to read and free from any errors.
The Interview 
The invitation to an interview should be carefully read to understand the selection process and any preparation that may be needed.
Everyone being interviewed will be judged on the same selection criteria, so scoring highly on each one is important for standing out from the crowd. Try and anticipate what the criteria will be by reading all the material supplied by the school and rehearse answers to potential questions.
If you know of any negative aspects that might be raised be prepared to answer them positively, overcoming any objections. It's also good to remember that social media will be visible to the interview panel depending on your security settings, so make sure that nothing is visible that may harm your chances of getting the job (e.g., inappropriate images, or offensive language).
When the interview date rolls around, make sure of the address and appointment time, allowing sufficient journey time to get there. Dress professionally, relax, be natural and above all, be positive – people love a smile!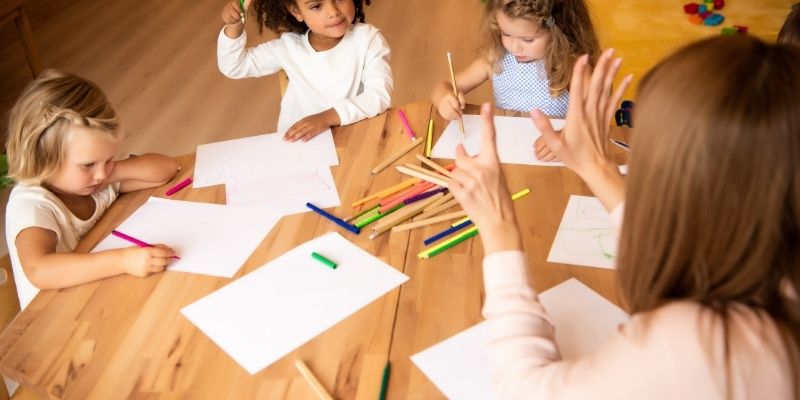 Your First Day (Congrats!) 
Once you've been through the application process and (hopefully) got the job as a Teaching Assistant, you may think that the hard work is all over, but it is important to make a good impression, especially in the first few days of your new role. Here are 7 tips for making sure your first day goes as smoothly as possible:
Stay positive even if things don't go too well
Take a notebook and log all of the Teachers and pupils' names. You can always flip a pupil's book to recover a forgotten name
Find your way around the photocopier and the stationery cupboard so any requests can be quickly fulfilled
Ask if there is a TA mentor. If not talk to other TAs in the school to understand what is expected. Proper jobs will soon be allocated once you have found your feet and got to know the pupils a little better
The staff room can be a challenge at first. Link up with other TAs who will be only too pleased to help
Remember being new does not mean being useless; it will take a little time to settle in and begin to contribute
Persevere: it won't take long for you to find your feet and turn your dream of becoming a fulfilled Teaching Assistant into a reality
What are the Career Prospects for a Teaching Assistant?
Many TAs are happy in their role and the benefits it brings, but others have a desire to progress or specialise in certain areas.
Special Educational Needs (SEN) Teaching Assistant
Whilst becoming an SEN Teaching Assistant may not qualify for a salary increase, many Teaching Assistants do specialise in supporting SEN pupils or those who require specialist attention. These include pupils on the autistic spectrum, those with hearing difficulties, speech, and language needs and/or other disabilities.
This should be viewed as a career progression and extra training (even privately funded) would be useful in fulfilling this role. Therefore, good training leading to a recognised qualification is recommended for TAs to become effective special needs Teaching Assistants. There are a variety of SEN courses out there to choose from, including:
The Higher Level Teaching Assistant (HLTA)
HLTAs share the same duties as Teaching Assistants but have added responsibility. Here are just five typical duties that an HLTA may have. Notice the added responsibility that this job involves:
Teaching classes on their own with the supervision of a Teacher 
Managing other classroom-based staff 
Developing a specialist curriculum area within the school 
Assessing pupils' progress, completing a record of it and preparing reports 
Liaising with parents or carers on sensitive issues 
To be considered for an HLTA post, a Teaching Assistant would need to have English and Maths skills at Level 2, be computer literate, trained in learning strategies and have specialist skills in a curriculum area.
The candidate would also have to demonstrate that they meet the HLTA standards. This is done through a 3-day HLTA course that tests the candidate's understanding of professional standards and how they relate to the work involved, along with the assessment process and prepared assessment tasks. A half-day visit to the candidate at the school they work in by an approved assessor concludes the process.
An example of a good preparatory course for this career path is Higher Level Teaching Assistant (Level 4)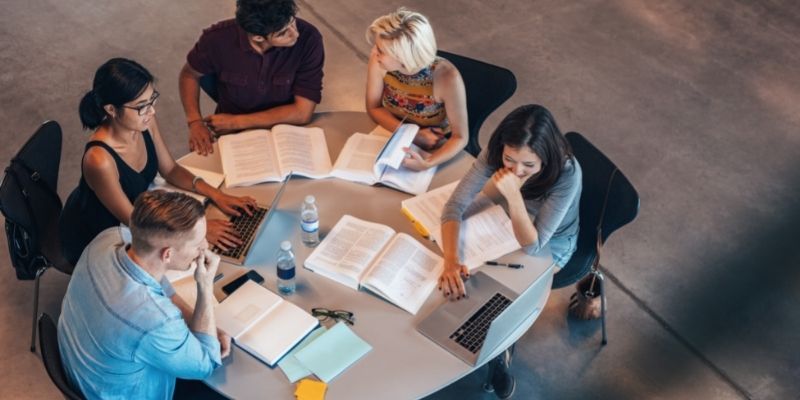 A Fully Qualified Teacher 
A Teaching Assistant will have the experience and skills to develop a teaching role, giving them a tremendous advantage if they wish to pursue a teaching career. They will fully understand the school environment and have a good idea of what's involved.
If a TA already has a degree . . . 
Graduate Teaching Assistants can either follow a university-led route via a PGCE (Postgraduate Certificate in Education) or a school-led route using the Straight to Teaching (online and in-school training) preparation for QTS assessment.
But if a TA does not have a degree . . . 
A degree is a must and by studying a general bachelor's degree in education this qualification would qualify you for QTS status. If a particular subject is relevant to the future teaching career, a student could gain a degree in that subject and then add a post-grad teaching certificate to it afterwards.
The story of Tracey Stonell, a Teaching Assistant-turned Teacher
Tracey had always wanted to work in schools but never had the chance to early on in her working life. Then the Headteacher of one of her children told her there was a job as a TA coming up. She applied and got the job. Studying as she went along; Tracey obtained a TA Level 2 qualification. 
Later, moving to a primary school from an infant school, she continued her studies and gained a Level 3 Teaching Assistant qualification. This led to an open degree at the Open University. After this, she finally obtained a PGCE with merit.
She is now a Teacher at a secondary school in Northamptonshire where the ethos fits hers; developing rounded pupils with a motto to match – Care, Commit, Contribute.
Does she regret it?
"Never. Nothing beats a lesson that goes how you want it to and a pupil saying, 'Miss – I get it!'"
If you want to become a Teacher like Tracey, here are 5 things to bear in mind:
If you really want to teach, then go for it
Tell your Headteacher of your ambition
Get expert help to aid your progress and be adaptable
Be prepared to put the work and time in to gain the required qualifications
Seek a position in a school whose ethos matches yours
Teaching Assistants Make a Difference
As a trained and qualified TA, you will soon realise what a difference you can, and do make in the lives of the pupils you support.
This is particularly true concerning children who, for whatever reason, struggle with English and Maths. Literacy and numeracy skills are the cornerstones of a successful education, career, and life in general. Therefore, TAs who support pupils with these subjects are the superheroes of the education world. This is supported by a report by The Sutton Trust which uncovered some encouraging facts about the impact Teaching Assistants have on pupils:
Children struggling with reading and Maths make significant progress when given as little as 30 minutes of individual attention a week by a Teaching Assistant, research has revealed. Children who were helped with their reading for 20 minutes a day for just 10 weeks made similar progress. One school reported that the reading ages of its students leapt by as much as four years in 10 weeks.
Once you have gained qualifications for Teaching Assistant roles, you may be involved in a pastoral position, developing beneficial relationships with vulnerable students, or supporting both Teachers and parents with the transition of pupils into secondary education.
No matter what you do on a daily basis, you can be sure that every day will be different, and you will be helping young people blossom into well-rounded adults, some of whom will never forget the caring TA who had the time to support them.
Take Steps Towards a Fulfilling Career
For information on how you can kick-start your Teaching Assistant career with Stonebridge Associated Colleges, take a look at our Teaching, Coaching and Education courses today. You can enrol on a Teaching Assistant course that will guide you towards your desired role, and you will also benefit from online learning.
Whether you are studying for the Teaching Assistant Supporting Teaching and Learning in Schools Certificate (RQF) Level 3 or are looking to enrol on SEN courses, you will have access to online course materials. While some courses contain a blend of online and practical learning, others are delivered 100% online.
Through our courses, we are helping you achieve your career goals, providing you with the right qualifications for Teaching Assistant roles. To find out more information about the right Teaching Assistant course for you, call 0121 392 8288. Alternatively, contact us online or click below to discover our course options.