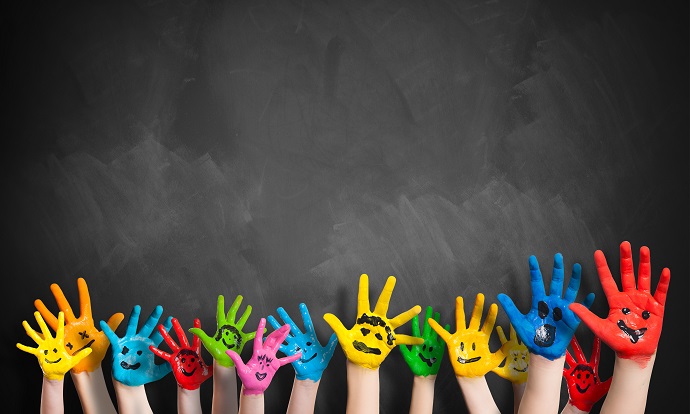 The early years age group describes children aged up to five, which is a wonderful time of firsts, exploration and newfound understanding.
As such, the first few years of a child's life are crucial. Children need to be ready to start school, and that means they must have developed mentally, socially and emotionally in these early years. This is something that you can facilitate in your career, should early years education be of particular interest to you.
Working as an Early Years Practitioner opens up an industry full of opportunities. Starting work in a childcare role gives you the chance to support children as they learn, develop and prepare for school. It's a career path that could see you becoming self-employed, working in education, or securing a role that makes a difference in your local community.
If you enjoy working with children or want to combine a new career with caring for your family, an early years role could be for you.
What Is an Early Years Practitioner's Role?
An Early Years Practitioner is someone who works with young children in any school, nursery, or childcare environment. As an Early Years Practitioner, your roles and responsibilities include:
Encouraging early years learning and development, through play and teaching
Creating a secure environment, using imagination to help children to learn
Working with parents to support their children
Enabling children to build their literacy, language and numeracy skills
Monitoring progress and planning educational games
Putting together activities that will keep the children engaged throughout the day
Helping children get ready for the transition into a classroom environment
Helping children to become more independent when carrying out daily tasks
Creating the right balance between activities and downtime
What Are the Different Types of Early Years Practitioner?
Many different roles fit under the umbrella of 'early years', and as more and more parents are going back to work rather than staying at home, there's never been more demand for childcare. Early years practitioners can work in the following areas:
Early Years Teacher: An Early Years Teacher works with children aged 3-5. Tasks include planning lessons and activities and creating learning resources. You could be working in an infant or primary school, a children's centre, or a nursery. If you do want to work in a school, you will first need to gain Qualified Teacher Status (QTS).
Nanny: A Nanny looks after other people's children in their home. You could work as a Nanny only during the day or live in the home of a family whilst caring for their children. As a Nanny, you'll be responsible for providing meals, planning activities and tasks like keeping toys tidy.
Childminder: Childminders look after children at home. Childminding is a varied job, with flexible hours, which could involve looking after under-fives in the day and caring for older children when they aren't at school.
Pre-School Assistant: Pre-schools are often attached to schools, whereas nurseries are likely to be privately run. They usually cater for older children and have a more educational focus which helps to prepare the children for school.
Working in a nursery: Nurseries can be run by councils, privately, or in schools, colleges or businesses. Qualifications are essential to building a career in a nursery environment. In a group, a manager must hold at least a Level 3 qualification and at least half of all other early years childcare staff must hold a Level 2 qualification.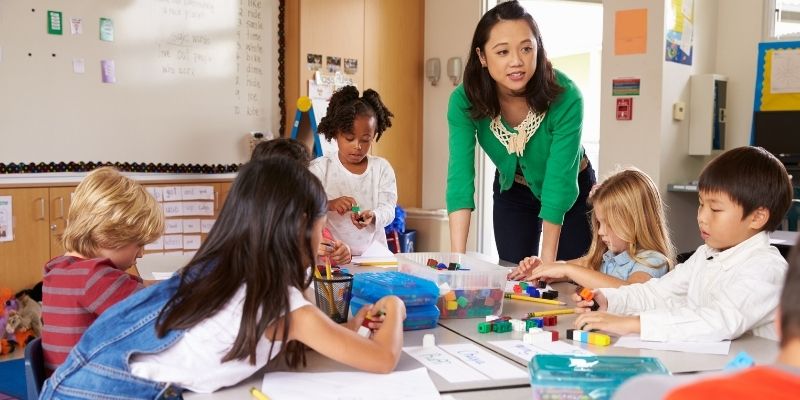 What Skills Do You Need to Work in Early Years Education?
If you plan to secure a career in early years education, you will need to have certain skills and personal traits:
Committed to working with children: Working with children is not for everyone, so if you plan to work in early years education, you must enjoy the company of children and be dedicated to child development.
Patient: Working in early years settings, you must be equipped to deal with children misbehaving and having tantrums. Early years practitioners must also have the patience to handle these situations calmly and effectively, without getting angry or wound up. 
In touch with your inner child: Those who work with young children in early years jobs have to be able to see the world through a child's eyes. Willingness to get involved with messy activities like sticking and painting is essential. Imagination and silliness will also come in handy.  
Creative: Early years practitioners must have lots of ideas and strategies to make learning fun. Creatively thought-out lessons and activity plans will help you to communicate your thoughts in a simple way that children can understand.
Personable: Building positive relationships with parents is something that you'll need to be good at too for early years jobs. By communicating and working together, you can make sure a child is happy, healthy and gets all the support they need, both from you and at home.
Which Course Will You Need to Study with Stonebridge?
Competition can be high for early years jobs, so getting a qualification will make you stand out against other applicants, and it will look great on your CV.
As parents want their children to learn as well as play, nurseries and schools are now looking for better-qualified early years practitioners to give children a more educational experience. The Diploma for the Early Years Workforce (Early Years Educator) NCFE CACHE Level 3 (RQF) course will provide you with the skills you need to deliver education in a fun and child-friendly way.
About the Course
This qualification will teach you all about the early years framework, so you learn how to help children learn and develop effectively. You can study this early years education course online, because Stonebridge Associated College is a distance learning course provider, so you don't need to physically attend a college.
This means you can fit your early years education studies around your life; it's completely flexible, and there's no pressure to rush assignments. You can even pay for your remote early years course in stages as our payment plans help make course fees more manageable.
A tutor will visit you in a work setting several times during the early years course. Once the course is finished, you'll have 350 hours of experience working with babies, toddlers, and pre-school children. You will also have the theoretical knowledge to complement your practical abilities.
What Other Related Courses Do We Offer?
Depending on your ambitions, you may choose to study different early years courses. For example, if you want to be a Nursery Nurse, you would probably be more likely to study towards an RQF qualification. However, if you wanted to be an Early Years Teacher in a primary school, an Access to HE Diploma would help you get into university where you could begin working towards your degree.
Here is a list of the other early years education-related courses we offer: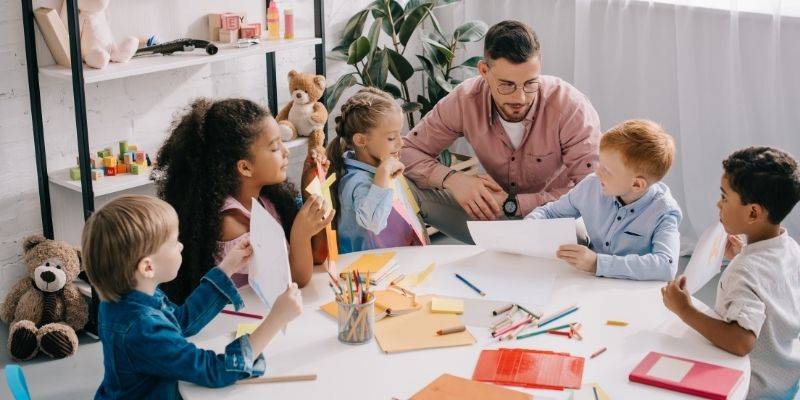 What Will You Need to Do After the Course?
Once you have completed your Diploma for the Early Years Workforce (Early Years Educator) NCFE CACHE Level 3 (RQF), there are certain steps you need to take to secure Early Years Teacher jobs.
Apply For an Appropriate Role as an Early Years Practitioner
You need to make a good impression when you apply for a job as an Early Years Practitioner. Make sure you use an email address that looks professional and check that all of your contact details are up to date. Get a friend or family member to check your spelling and grammar. If it's been a long time since you wrote a CV, you should also look online for templates to help you out.
Remember to include all the experience you have, even if you don't think it counts towards early years employment opportunities. Helping out on a school trip, or babysitting is relevant experience, also include any voluntary experience you have and remember to sell yourself and make the most of your skills.
You may not have as much experience as someone else, but you might be more creative, or better at organisation. Make sure each cover letter you use for early years jobs explains why you want the job and don't send out the same letter to every early years job opening. You can look for jobs on sites including:
Attend A Job Interview
Once you have an interview secured for an Early Years Practitioner role, you need to prepare. It can help talking to a friend or family member who already works as an Early Years Practitioner and finding out what kind of questions you should expect.
You can also have a look online and on internet forums, to see if there are any common experiences or things you can learn from. Don't forget to do your research. Think about why you want the job and what makes the organisation a great place to work.
On the day, always arrive early, in case you are delayed, or get lost on your way. Dress smartly and simply. Don't wear too much make-up or jewellery and make sure your interviewer could picture you working with young children. Ask questions and don't forget that the Early Years Practitioner position needs to be the right fit for you, so you're also interviewing them.
What Kind of Salary Can I Earn?
A qualified Early Years Practitioner can earn between £15,000 and £22,000 a year. However, salaries can vary depending on responsibilities. If for example, you go on to become a Teacher, your earning capabilities are a lot higher, with some staff earning up to £28,000. Furthermore, if you decided to follow the self-employed route and open your own nursery school or childminding business, you could earn a lot more as an Early Years Professional.
Where Can You Take Your Career?
Once you have your early years qualification, you could go on to further training at Level 5 or take a childcare related degree. After working your way up the career ladder in management, you could get a job as an Area Supervisor, Community Nursery Worker, or manage childcare for an organisation like the NHS. You could also set up your own nursery or crèche.
Getting qualified will open up a range of different career options and with hard work, you'll find many opportunities for success.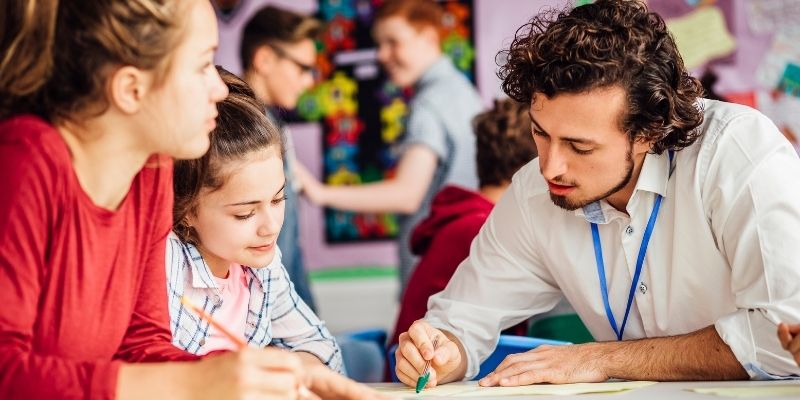 What Are the Benefits of Becoming an Early Years Practitioner?
There are many advantages of being an Early Years Practitioner. You may decide to do this job because:  
Every day will be different: When you work with children in early years settings, your workdays will be packed with surprises and bursting with new challenges. Unlike a standard office job, you will never be able to complain about being bored!
It's rewarding: Working as an Early Years Practitioner is rewarding because you'll get to see children learn, develop and grow in your care. These developments will be a direct effect of your hard work, what's more rewarding than that?
It's flexible: When you work in early years education, hours are often flexible. This is because the hours need to fit around the parents' schedules. This means that you'll have a great work-life balance, and you can make sure you put your own family life first.
Distance Learning Vs. Going to College
Although it's been around for a while, distance learning may still seem like a relatively novel concept. Here are the reasons why we think it's better than traditional classroom-based learning:
There are no classes: When you choose to embark on a distance learning course, you do not have any classes to attend. You are simply provided with all the materials you need, and you can choose how, when and where you want to study them. This saves time rushing to and from college.
Students set their own pace: Every student is different; some work quickly and some work slowly. In a classroom environment, everyone is pressured to move at the same pace. However, those who choose distance learning are free to make their own rules.
Your home is your office: Studying automatically doesn't feel as taxing if you're doing it from your bed, with a cup of tea, snuggled up in your pyjamas. Or maybe you're in the garden, enjoying the sun. Whatever the case, being at home rules!
You become an independent worker: When students study from home, without the strict guidance of a Teacher, they become much more independent learners. This independence will be useful in future careers and will also be invaluable if students decide to go to university.
Get Started Today!
If you're interested in a fantastic new career that makes a difference every day in the lives of the next generation, consider becoming an Early Years Practitioner.
You can help children come to understand the world around them and build the emotional resilience needed for life day to day. What's more, becoming an Early Years Practitioner will give you flexibility in your career and varied job opportunities to pursue.
Stonebridge Associated Colleges is a leading UK distance learning provider, with a host of education-related courses that will put the wheels in motion on your new career.
Find out more about how you can get qualified for these roles by speaking to one of our Course Executives today! Call them now on 0121 392 8288, reach us online, or learn more by clicking below!