Most of us want to pursue a career that is meaningful and provides an essential service to people who need it. A role that falls under this category is midwifery, a position within the healthcare sector that is essential and rewarding. Essentially, the role of a Midwife is to prepare expectant mothers for the delivery of their babies.
They provide a high level of support and care during every stage of pregnancy, labour, and the early stages of the postnatal period. If you are considering Midwife training but are unsure of where to start and what midwifery entails, then continue reading!
We have gathered the most frequently asked questions about becoming a Midwife, so with our help, you can learn everything you need to know about embarking on an exciting and meaningful career.
What is a Midwife?
Before you investigate how to become a Midwife, you need to understand the role of a Midwife. UK learners who successfully achieve this position will be responsible for supporting mothers during their pregnancy and birthing journey.
Midwife jobs involve being the first point of contact for pregnant mothers, acting as their lead health professional and providing information that will help mothers make informed decisions during the process.
There are a range of roles and responsibilities you will need to undertake when working as an NHS Midwife. The core of those responsibilities consists of:
Full antenatal care, such as parenting classes, screening, and clinical examinations
Identifying pregnancies that are high risk
Monitoring expectant mothers and supporting them through labour and birth
Teaching mothers how to feed and provide care for their babies during the early postnatal period
What Qualifications Do You Need to Be a Midwife?
Like most vocational careers, you will need to gain a series of qualifications to work as an NHS Midwife. You will be required to study midwifery and train in the discipline via an accredited programme, but before you reach that stage, you must ensure that you have a base of qualifications.
To become a Midwife, you will need to study a midwifery course in the form of an undergraduate degree, a postgraduate degree, or a postgraduate diploma. Alternatively, you may take the route of a midwifery degree apprenticeship. All of these paths usually require similar entry requirements, including:
Five GCSEs at grade 4/C or above, usually requiring English and a Science subject
Two or three A Levels or Level 3 equivalents
If you opt to study midwifery via an apprenticeship, you will need to apply for the apprentice role with a healthcare provider.
If you don't have any of the above qualifications but are still keen to undergo Midwife training, UK residents can get the results they need with Stonebridge Associated Colleges. There is no need for you to go back to college, you can study our long distance learning courses.
In fact, we offer a portfolio of GCSEs in a range of subjects online, and we also provide A Levels that can help get you to university. Alternatively, if you want to gain a solid foundation of knowledge of midwifery prior to enrolling on a midwifery degree, UK learners can go down a different academic route.
An Access to Higher Education Diploma is the equivalent of 3 A Levels and is widely accepted by most universities as an alternative to A Levels. Please check your chosen establishment's entry requirements before applying as each university sets their own requirements.
To get prepared for degree-level study, we provide a midwifery course online that covers industry-related modules as well as study skills. Our Access to Higher Education Diploma (Midwifery) explores various topics, including human reproduction, growth and development, mental health, and cell biology, to name a few.
Once you have the qualifications mentioned, you will be ready to apply for a place on an approved undergraduate degree.
Can I Do a Midwifery Course Online?
Yes! Our midwifery Access course can be studied online, but when it comes to degree level, it is unlikely that you will find any midwifery courses online. This is because part of your study consists of observing professional midwifery and practising it in a supervised setting. Please check the learning details of your undergraduate programme to discover what is involved in the syllabus.
Studying our Access to HE Diploma could not be simpler as the entire course is delivered 100% online. This means that you can navigate through the syllabus at your own pace and around your existing commitments, making it ideal for full-time workers or those with young children.
What's more, there are no exams! To achieve your Level 3 diploma, you simply need to complete a series of assignments based on the modules covered during our midwifery Access course. All of these are done online.
How Long is a Midwifery Course?
When learning the skills for midwifery practice in our midwifery Access course, you have two years to complete it. Due to the flexible learning nature of our midwifery course, online learners tend to achieve their diploma within 9-12 months, so you can complete it sooner than the agreed timeframe, it's all dependent on you! 
An approved midwifery degree, UK learners, will take you three years to complete when studying full-time. The degree will combine a blend of academic learning and practical teachings.
How Many UCAS Points Do You Need for Midwifery?
There is not one set standard when it comes to UCAS points for a midwifery degree. UK learners should be aware that universities set their own entry UCAS tariff, so the points you need is dependent on the establishment you choose.
How Do I Write a Personal Statement for Midwifery?
If you are hoping to enrol on a midwifery degree, then it is more than likely that you have searched for midwifery personal statement examples. It can seem overwhelming when trying to gather advice, but the core aspects you need to demonstrate are as follows:
The reasons why you want to become a Midwife
Your understanding of the role of a Midwife and awareness of the responsibilities they have
Evidence of the skills you need for a Midwife role, such as time management, communication, teamwork, empathy, and organisation
An understanding of diversity and the importance of not being judgemental
To make a good impression, you should demonstrate awareness of issues within maternity care, as well as provide evidence of why the things that you have previously done are relevant. It is also important to highlight what you would bring to the role and why you would thrive as an NHS Midwife.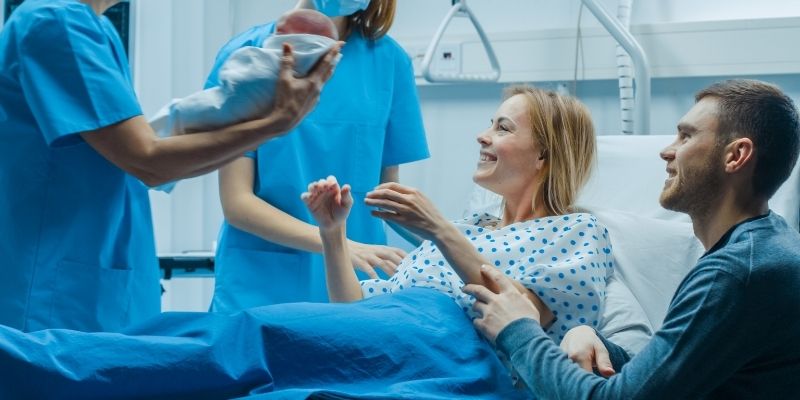 What Can You Do with a Midwifery Degree?
Midwifery degree courses, UK learners, are unsurprisingly designed for individuals who want to become a Midwife. While it is a specialist course, it is possible to venture into other job roles with this qualification. For example, you could use your newly developed interdisciplinary skills to pursue the following careers:
Learning Disability Nurse
Psychologist
Nurse
Care Worker
Community Worker
Can You Study Midwifery Part-Time?
It is possible to study midwifery part-time if you already work in a relevant role. Keep in mind that a part-time course will last around five or six years as opposed to the three years of a full-time one. It is important to note that each midwifery training programme can vary slightly in terms of content.
What is the Nursing and Midwifery Council?
The Nursing and Midwifery Council (NMC) is the UK's professional regulator for nurses and midwives, as well as nursing associates in England. Its purpose is to regulate professional standards for close to 745,000 nurses and midwives. The NMC also provides support to professionals and helps to influence health and social care.
Please note that you need to be registered with the NMC to work professionally as a Nurse or Midwife. Your undergraduate degree also needs to be approved by the NMC for it to be eligible.
How Much Does a Midwife Earn?
NHS midwives earn salaries based on a fixed pay scale. The Midwife career salary for newly qualified professionals will come in at Band 5, with a starting salary of £24,907. The next step up is Band 6, which is a salary range of £31,365 to £37,890.
When or if you reach a senior role, you could progress up to Band 7, which consists of a range of £38,890 to £44,503.
Start Studying Towards a Midwifery Career!
So, are you keen to embark on a Midwife career? To take your first steps towards your goal, get the qualifications you need through our online learning solutions at Stonebridge Associated Colleges. Whether you need to retake your GCSEs to meet entry requirements, or you want to get prepared for a midwifery degree by enrolling on our midwifery Access course, get in touch!
You can find out more information by speaking to one of our Course Advisors on 0121 392 8288 or contact us online. Alternatively, click below to discover more about our distance learning course!